---
2014 Trip Blog,
---
April
Tuesday April 15, Adelaide, SA.
(speedo 19,312 klm)
Finally ……an entry
We are currently camped at Brighton Caravan Park in Kingston, SA. We arrived here on 2nd April, a little earlier than we had planned after receiving a call from Rob asking if we would like to have Sophie as our 'house-guest' for a few days. Of course the answer was a very positive 'Yes'.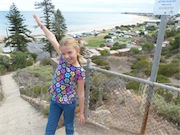 Sophie, a most delightful and interesting 8yo lights up the entire day with her bubbly, happy nature and beautiful smile. We jumped at the chance to share some exclusive time with her.
Rob, Kirk and Soph arrived on the Saturday and Soph farewelled them on Sunday night and settled into our van with us. It was almost like she had camped with us for months, she just fitted in so well. We enjoyed a fabulous week together then sadly waved Goodbye to her on Friday when she flew back to Sydney with her Dada.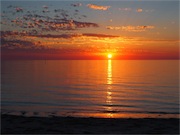 With School Holidays, Easter and Anzac Day all upon us, we decided to stay put here for another week or so until the madness on the roads subsides and we head on North. This Park is situated right on the shoreline with ample opportunity for beach walks and other interesting things to do in the area so it won't be too difficult to extend our stay for a little longer.
We have both been extremely anxious to get back on the road and head West for more adventures and interesting places to discover. My promise to begin the Blog again last October had to be postponed due to various family commitments that kept us on the East Coast. Although we saw and did many interesting things during this time that we would have loved to share, our travels were not consistent enough to post to the Blog. We hope to remedy this once we head off from here towards the end of April.
Many thanks to all those people who have enquired about the continuation of our Blog. We hope we can provide some interesting days ahead and some amazing photos of this beautiful country.
Wed April 30, Port Augusta, SA.
We have finally hit the road and headed North. Our spirits lifted as we left the city of Adelaide behind and headed North up the highway to Port Augusta. It was really good to be on the road again. We enjoyed our stay camped right on the beach but were anxious to head off to the wide-open spaces again.
Being anchored at Brighton for a few weeks gave us the opportunity to purchase a few things either on-line or in the local stores. This also included a nice new bike for each of us. We had tried to fit our old ones in whilst we were in Victoria but we couldn't manage to fit them in successfully. They were too heavy to load in and out the back of the truck and too cumbersome to fit onto the back. Disappointed, we left them behind but with time to look around in Adelaide, we were able to pick up a couple of light-weight Specialized cross-trails with 29" wheels at a very reasonable price. How to stow them for travel? Don would work it out before we hit the road.
With them tucked into the back of the truck we headed back to camp where we off-loaded them eagerly, adjusted them for comfort and headed off along the Esplanade for a 10km try-out. Not only good…Perfect! How good it was to be 'back in the saddle' again. Over the next couple of days Don's project was to find a suitable way of stowing them for travel. This he did of course, he never lets us down.
We had a good time over the last couple of weeks, riding our bikes, taking long walks along the beach and climbing the 105 stairs up to the lookout over-looking the beach each day. This was a great spot to work on our fitness. Brighton Pier was only about a 2km walk along the beach with quite a few good eating spots along the Esplanade. We began to get too comfortable…..time to move on.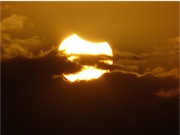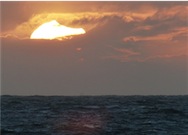 The high-light for us came last night, when we were able to view the 'crescent Sun', an event that occurs on average only once every 73 years. This phenomenon occurs when the Moon is situated between the Earth and the Sun; the Moon blocks out part of the Sun, giving it a 'fat banana shape'. Although Solar Eclipses are not that usual this particular aspect is. This is only the third such event since the 17th Century. Quite a rare event and one we were glad we could witness despite the clouds that hung over the horizon during the sunset.
Tonight we are staying in Port Augusta. Hopefully the parcel we are expecting will arrive at the Post Office tomorrow and we can move on. If so, we will decide which direction to head tomorrow after we have checked the weather etc..
---