---
2014 Trip Blog,
---
July
(speedo 26,128 klm)
Tuesday 1st july, Bush Camp, De Grey River (between Pardoo & Port Hedland) WA
We finally extricated ourselves from the comfort of Broome and headed South down the Coastal Highway.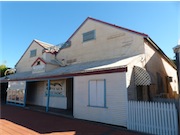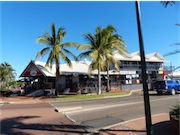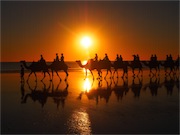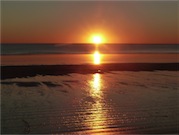 With no alternative track to take South we had to retrace our steps back down the bitumen. This is our least favourite thing. We like to amble along, taking the opportunity to stop and meander around when we see interesting things but on a main highway, especially a main holiday route, this is impossible, so we just sat back and switched off until we reached Sandfire Roadhouse where we stopped for a quick lunch and fuelled up.
We reached De Grey river where there are camp spots along the banks on the North side but continued on over the bridge until we found a dirt track. It did not appeal to us to join the many vans already parked along the North bank of the river. Our experience in the past has not been pleasant when there are more than a couple of vans in the one spot, especially when generators and air conditioners are going full blast.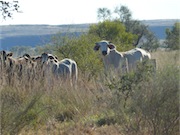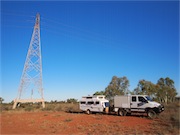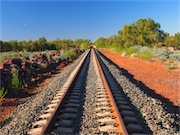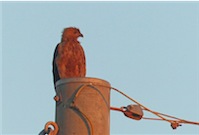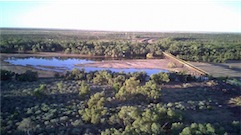 The spot we found was perfect, right next to a railway line and a herd of cows. We set up quickly and explored our surroundings. Perfect again! No wind and enough clear space for Don to practice his ariel manoeuvres with his drone. He had grimaced all the way down the highway so it was nice to see the large smile on his face as he set up his quadcopter. Boys and their toys. They are so easy to keep happy!
We ended the day sitting out under the stars, trying to outdo each other with our knowledge of the galaxy. Life is so good..
Wednesday 2nd July, Bush Camp, (150 kms N of Munjina Roadhouse), WA
We awoke this morning to the sound of the bush birds as the daylight slowly filtered through the open windows of the van then drowned us in sunshine as the sun burst over the horizon and onto our faces as we lay chatting. We were happy and laughing, joking and tickling, we were back in the wide open spaces that we love.
Last night we had opened all our windows and fallen asleep looking up at the stars, shining magnificently in the darkened sky. We had loved being in Broome and were happy with the Caravan Park we had chosen on the outskirts of the town but there is something magical about waking up in the bush that cannot be replicated.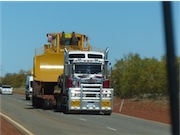 We did not make up our minds to move on until around 1000 as it was such a nice camp spot but on the spur of the moment we decided to push on and packed up and were on our way by 1030, continuing SW towards Port Hedland on the North West Coastal Highway.
We past Pardoo Mine approx 70km from Port Hedland and from there on there were mine operations all along this route. There are not many opportunities to pull off the main drag and have a wander about but we sighted a Repeater Station on a nearby hill about 1 km away with some interesting rocks strewn about along the track to it, so we pulled off the Highway and headed down the track for a look. This turned out to be an interesting stop.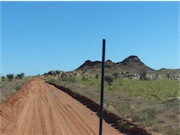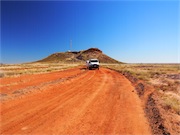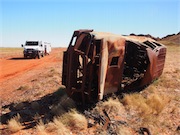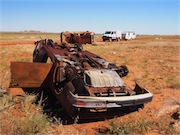 Back on the highway we continued on towards Port Hedland, deciding not to call in there this time around and taking the turn off to South Hedland. We were surprised at the amount of upgrading that has occurred on the roads around Port Hedland and South Hedland. New sweeping highways and overpasses over the rail crossings. South Hedland is undergoing a lot of development also, so next time around we should see some major changes in these areas.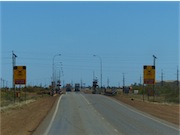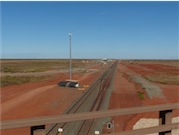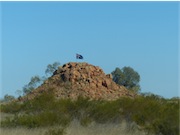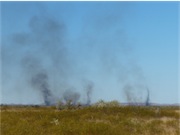 We fuelled up in South Hedland before having lunch and taking a walk around the shopping centre then were on our way again by 1430, continuing on the North West Coastal Highway before turning South on the Great Northern Highway towards Newman. This highway isn't quite so busy as the Coastal Highway but is still limited when trying to find a good camping spot. It was getting towards late afternoon when we spotted a small track leading off just past a large rock formation. Don swung into it and followed it around behind the rocks where we were delighted to find a perfect camping spot, well away from the road.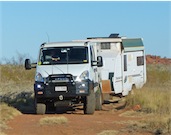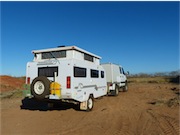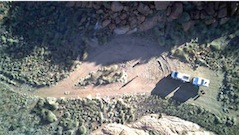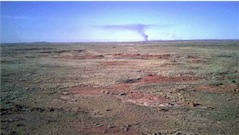 I was quite impressed by the speed with which Don had all 'his bits' set up. I was still fiddling around inside when I heard the unmistakeable whirr of his quadcopter and glanced out to see him deep in concentration as he flew his 'toy' up, around and over the rocks. I had wondered why he had been anxiously looking out for a campsite a lot earlier than we normally would. I actually believed him when he said he was 'tired'. Come to think of it, we made the spur of the moment decision to push on this morning because "it's windy anyway". I must admit this was a bit puzzling as it hadn't seemed at all windy to me, but then again, I wasn't looking at the day through a 'pilots' eyes.
Thursday 3rd July, Bush Camp, (150 kms N of Munjina Roadhouse), WA
We awoke this morning to such a beautiful day that neither of us was in a hurry to move on, so we didn't.
We enjoyed a lovely Sunday breakfast (even though it was Thursday), of Egg and Chiroza on Toast, washed down with a good hot cup of tea. This breakfast always seems to taste better when cooked on the little gas burner out in the bush.
After breakfast we went separate ways to explore. I went SE, Don went NE, climbing over the rocky outcrops surrounding our camp site. Although the spinifex was low and not too difficult to step over, caution was still needed when navigating over these clumps as the spikes on the spinifex are like needles and when stabbed by these little blighters it is some time before the sharp prickling eases up.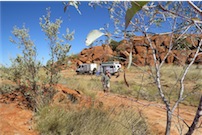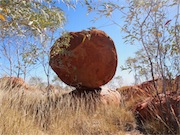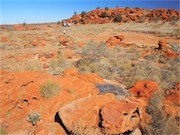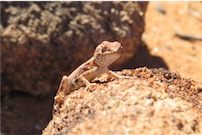 The weathering and erosion on the rocks have caused interesting colours and shapes to form with plenty of places for lizards and snakes and other little creatures to shelter, so after spotting a snake trail and a goanna trail not far from our camp, I was extremely vigilant as I clambered about across the rocks.
Not much luck today though with the wildlife. Only one extremely well camoflauged little Ring-tailed Dragon but he was so cute and friendly. Although he had darted about quickly when I first saw him, he was happy enough to 'pose' for our photos and not perturbed when Don picked him up for a closer look.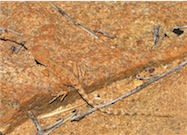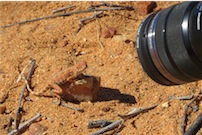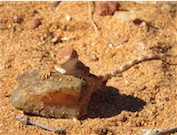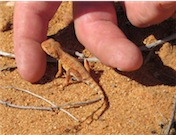 Unfortunately, the most amazing thing was not captured by our camera. Don lowered his camera to within a few inches of the little guy and was focusing for the shot when the little Dragon jumped up onto his hand with lightening speed and gulped down a fly that had been sitting on Don's hand then dropped back onto the rock.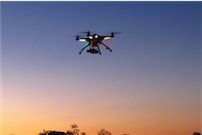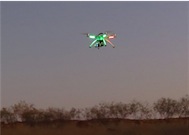 Darn! A great opportunity missed.
Dusk was approaching when Don decided to up his 'flight training' and do a bit of 'night flying'. As the night darkened, the lights on the drone lit up beautifully, creating a weird looking flying object that dipped, hovered and accelerated sharply. Maybe we have solved some of those 'flying saucer' sightings.
Friday 4th July, Tom Price, WA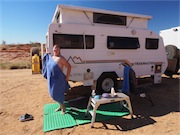 We awoke just after sunrise this morning, the warm rays of the rising sun already providing a hint of the beautiful day to come. We finished breakfast and reluctantly agreed it was time to push on but not before we afforded ourselves that wonderful luxury of an outdoor shower.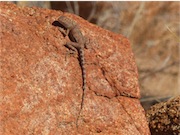 With the warmth of the sun and only a gentle breeze the conditions were perfect. Even though we had plenty of water, conserving water at all times is second nature when traveling, so Don and I 'tag-teamed' as we washed and shampooed our hair. What a great start to the day.
Dressed and enjoying a cup of coffee before packing up, I spotted a Pilbara Dragon dart onto the rock next to our van and pause to sun itself. These little creatures are extremely interesting and always fascinate us no matter how many we come across.
It was just after 0930 before we pulled out from the track and back onto the Great Northern Highway heading South to Munjina Roadhouse, reaching there around 1100. Don fuelled up then we had an early lunch before setting off West along the road to Wittenoom. Red dust covers everything in this area.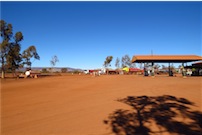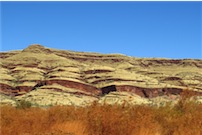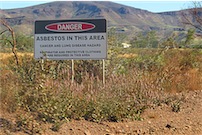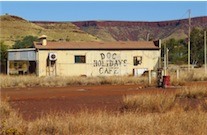 Wittenoom, once inhabited by about 20,000 residents is now a ghost town due to the asbestos tragedy that is still claiming lives. The town was closed in 1966 and the mining of Blue Asbestos ceased but this has not eradicated the potential risk to life due to asbestos dust that still remains in the area. There are still three residents that refuse to leave the town and remain living there despite there being no services provided. All services being cut off and the town's official status being removed. It was officially degazetted in 2007. The town's name has been removed from official maps and road signs and there are now moves to finalise closure of the town. This will include closing or rerouting roads and limiting access to the area and converting freehold land to Crown land, demolishing the remaining houses and removing the residents. The irony is, that this area of the Pilbara is one of the most scenic and beautiful. Such a terrible tragedy born out of ignorance and greed.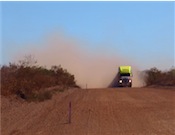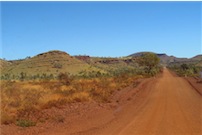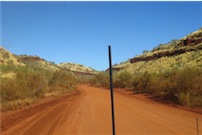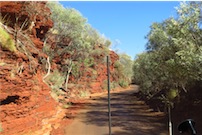 The high craggy rolling hills of the Hammersly Ranges are extremely picturesque. The deep red/brown chocolate rocks are exposed through the sparse spinifex that grows on the slopes, like layers of a chocolate cake. The roadway narrows to one lane as you approach the Hammersley Gorge and a radio alert is required before you ascend or descend to warn other drivers of your approach through the Gorge.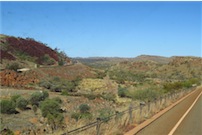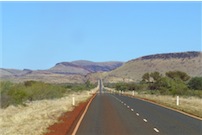 The rolling hills opened out as we left the Gorge and headed South to Tom Price. We did not go into Karijini National Park this time as we had been into the Gorge on a previous trip. It's hard to pass places we have been to and loved but there are so many more things to see and do.
We arrived in Tom Price mid afternoon and booked into the local Caravan Park. Time to do the washing and get it dry before dusk.
Saturday 5th July, Tom Price, WA
On a previous trip, we stopped in Tom Price but did not explore the area too much as it was raining, today we sought to rectify that and opted to stay for another day.
Mt. Nameless looms above the town and is one of the most photographed and iconic features of this beautiful area. Rumour has it that it got its name in the 1960's when some visiting Japanese gentleman, having been taken up the mountain to observe the mine from this vantage point, asked what the name of the mountain was. "It's nameless" came the reply. "Ahhh, Mt. Nameless" nodded the Japanese gentleman. The name stuck.
In 1971 the first Nameless Festival was held and is now in its 43rd year. This Festival is now known as the Nameless/Jarndunmunha Festival after adding the indigenous name of the mountain which is now officially known as Mt. Nameless/Jarndunmunha after the WA Government officially adopted the dual name process that will offer opportunities to incorporate indigenous names of well-known landmarks. Jarndunmunha means 'place of rock wallabies'.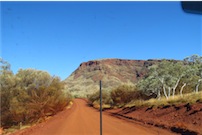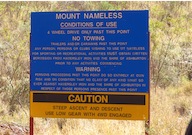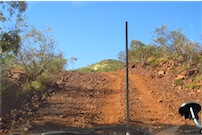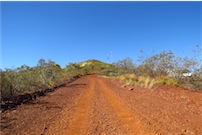 Tom Price is the highest town in WA at 747m above sea level. Mt. Nameless/Jarndunmunha, at 1131m is the highest mountain in WA that can be accessed by vehicle. This 30 minute drive to the top of the mountain was a must, so with anticipation of some great views ahead we took the 4WD only track to the top. The track was obviously steep and winding and quite rough in places but great views began as soon as we started to ascend and continued until we reached the apex. Then the views were awesome!!!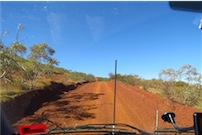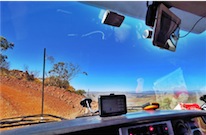 You always know when you have enjoyed a place by the amount of photos taken. Between us we took around 230 of Mt. Nameless/Jarndunmunha. mmmmmmm………I think that means we definitely enjoyed our trip up the mountain.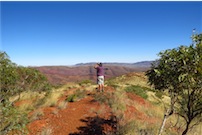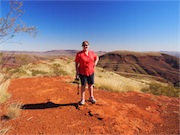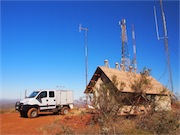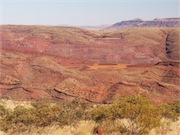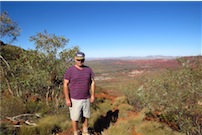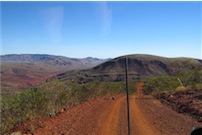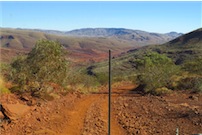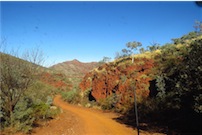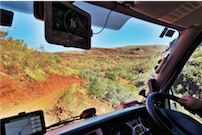 After spending about an hour stocking up on supplies from the local supermarket we headed to the Windawarri Lodge for dinner. This is the Rio Tinto Mess Hall and visitors are welcomed and encouraged to dine there. It is located in the Rio Tinto Workers Accommodation Village and provides quite a Buffet for a very reasonable price. Dining here brought back some nostalgic memories of my Army days. Another reminder of how rich and valued good memories can be. You can't get these sitting on the couch watching television.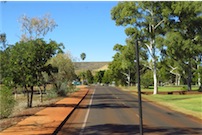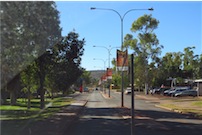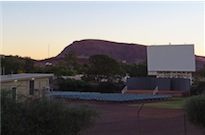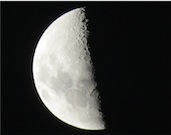 On the way home we passed the local outdoor theatre. A drive-in screen with no car spots or speakers, but a couple of hundred blue plastic chairs neatly lined up in front of the screen. We will definitely have to take in a movie next time we are here.
One last photo before we put our cameras away for the day. Not a bad photo of the moon taken with my new Canon SX50 HS camera by Don, a hand held shot on full zoom.
Sunday 6th July, Bush Camp (20K East Ashburton Downs), WA
We had a bit of a slow start today, being 1015 before we pulled into the S/Stn at Tom Price to fuel up before heading on to Parabardoo which is 80k South of Tom Price.
We have not been this way before so did not know what type of scenery to expect. Wow! We certainly were not disappointed. The Pilbara just keeps on being amazing with its absolutely beautiful landscape and is definitely one of our most favourite places in Australia. Photographs cannot do it justice. It is more than just the scenery. It's the colouring, the lighting, the atmosphere, the peacefulness.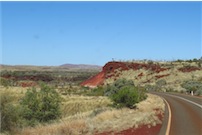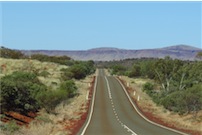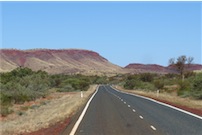 The evidence of this land's ancient history is etched in the brittle, rocky tors that give the landscape its magnificence. The red earth is covered in shiny, dark brown/red gibber rocks, various striated stones ribboned with bands of colour and sharp jutting slabs of rock that have been worn down to ground level. It is fascinating to wander about across this landscape and marvel at the eons that have past across it.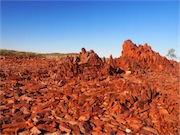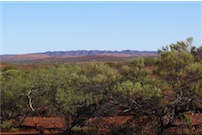 How important we think we are and in reality, just how insignificant we really are in the whole big scheme of things. Still, we
are
important, we just have to keep it in perspective.
We reached Parabardoo around 1130, a nice tidy town and larger than we expected. Like Tom Price, It also boasts an outdoor theatre with chaired seating. We pushed on and headed N towards the Tom Price/Nanutarra Road, turning West for 32k before turning South once more on the dirt track to Ashburton Downs, a station about 60k South.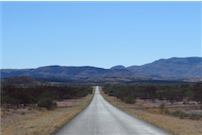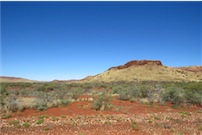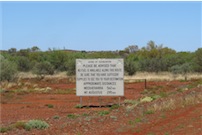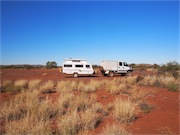 Halfway down this track we pulled over into a nice clearing for a lunch break. We haven't been in a hurry all day and our lunch stop didn't change this. It was an hour and a half before we were back on the track and continuing South, passing Ashburton Downs Station around 1515 where we swung East continuing through the beautiful Kenneth Ranges.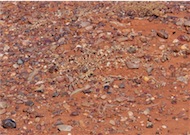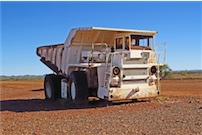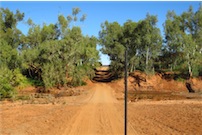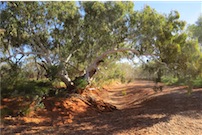 The landscape was still stunning, every turn and every crest producing an amazing vista before us. About 20k East of Ashburton Downs we began to look for a campsite. We hadn't pushed ourselves all day so may as well stay true to form and call an early mark. The thought of camping in this beautiful area was just too pleasing.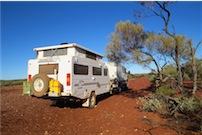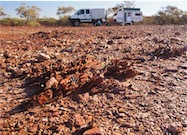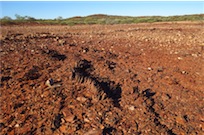 We pulled about 500m off the road and set up camp in a perfect spot to watch the sunset over the hills.
Monday 7th July, Bush Camp (Pinganny Road), WA
This was another great camp site and we were almost tempted to stay another day here but decided to push on. But first, a bit of exploring around the area was a must. The hill behind us was compiled of millions of broken shards of ironstone. Long trails of sharp shards stuck out from the ground making it prudent to take care when walking as they are quite sharp and some only protrude a few inches from the surface of the ground. They are embedded deeply and not easy to break off.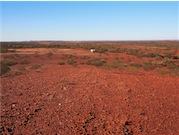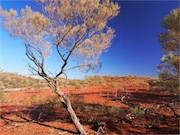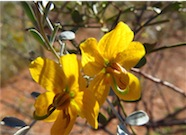 It was well into the morning before we got back on the track continuing SE. The track deteriorated as we crossed over the many dry creeks and wash-a-aways with dips, sandy patches, deep washouts and holes making progress slower than anticipated but not unenjoyable. The rolling hills, flat-top mesas and rocky tors sat alongside each other, contrasting the colours and shapes into an amazing landscape. So many different hues blended together to form a complete palette of outback colours.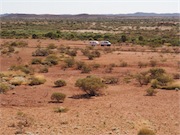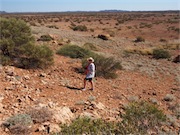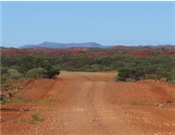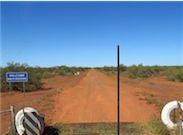 There were so many good spots to get out and explore that time just slipped away from us. At one stop, we climbed to the top of a rocky hill after spotting what looked like a drum on its summit and were rewarded with fantastic 360° views. The drum turned out to be a surveyors mark, an obvious choice of location. The rocks on this hillside were just as interesting, with striated colours and shapes that foretold of the heat and pressure they had undergone in their formation. I wish I had taken that geology course I had always meant to do. I would be far less ignorant and far more interesting when trying to describe these areas.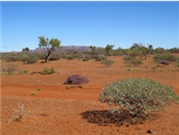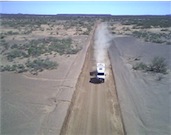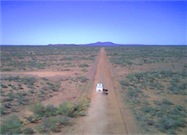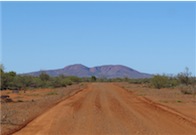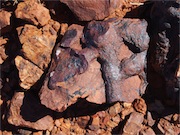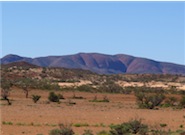 We continued on South until we found a nice spot to stop for lunch and another chance to explore the area a bit more. An hour elapsed before we were back on the track and heading South again. We had been chatting about the amount of water that must flood through here because of all the creeks and water channels when we came across a sign showing the height of the Ashburton River when it flooded in 1997. It's very hard to imagine when you cast your eyes around the flat, dry landscape.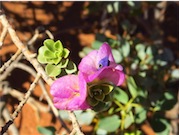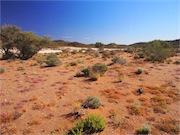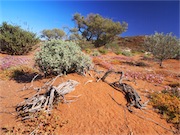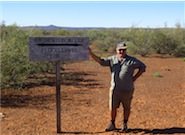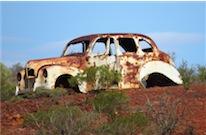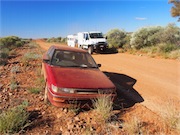 We left the Ashburton/Meekathara road and turned West onto Pinganny Road towards Mount Augustus. The Teano Range was to the South of us, providing more great photo opportunities. We had not traveled far up this track when we came across an abandoned Toyota Corolla that had lost its wheel and hub and wasn't going anywhere in a hurry. It didn't look like it had been abandoned too long ago.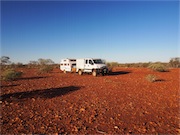 Heading West into the Gascoyne Shire the landscape became more vegetated with thick shrubbery. The gibber stones still abounded but the bright red dirt of the Pilbara had been left behind. It was a bit more difficult to find a good camping spot along this track due to the more abundant shrubbery and lack of clearings, so when we spotted a track heading off into a small cleared area we decided to call it a day.
Tuesday 8th July, Bush Camp (Woodys Bore, NW of Gifford Creek), WA
The campsite was a good one. We were well off the road away from any dust, although we hadn't sighted another car along this route until we were packed and ready to leave this morning. The night had been warm, the dark sky filled with a multitude of bright stars and of course, that golden silence.
The track to Dooley Downs was winding with deep dips and dry creek beds as it cut through the Kenneth Ranges. These were numerous, so a slower even speed was better than tapping the brake all the time. With the hills further back in the distance, exploring opportunities were limited but photo opportunities weren't. As we cleared the Ranges and turned SW, Mt. Augustus could be seen looming on the horizon, a huge blue monolith towering well above the hills in the foreground. Even from a distance, it was an awesome sight. It demanded attention.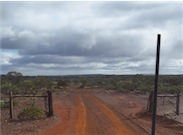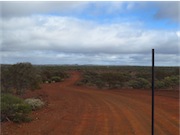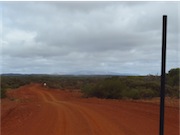 Once through the Ranges the road improved and we picked up our pace. The landscape was quite remarkable to the left and to the right, but it was hard to take your eyes off the massive blue shape of Mt. Augustus whenever it caught our eye. As the road straightened out and Mt. Augustus claimed centre stage, we could only marvel at the impressive mass of this imposing mountain. It really was awe-inspiring.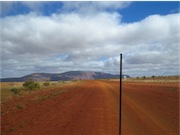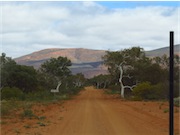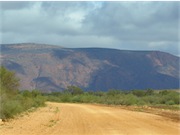 A few kilometres from Mt. Augustus Station we took a 1km detour up to the lookout on Yalaweerie Hill. Not that a lookout was necessary to view this amazing structure but it gave us the opportunity to stop and take photos. The ground on this hill was also made of flint like stone. Sharp shards thrust up through the surface, the broken fragments completely covering the hillside, crunching as you walked upon them. Don picked up a few slivers and tried his hand at knapping but it didn't take him long to realise it was a skill not quickly learnt.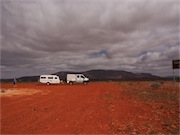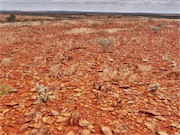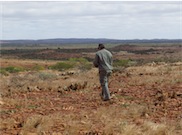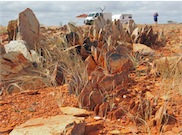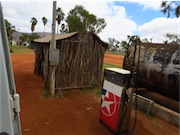 We continued on and arrived at Mt. Augustus Station where we took the opportunity to fuel up, but with no water available at the campsites we decided to push on. We turned West for Cobra, taking the track that ran along the Northern edge of the Mt. Augustus / Burringurrah National Park and past the huge monolith of Mt. Augustus. It was too good an opportunity to miss. This was the perfect time to stop for lunch and try out the quadcopter.
Mt. Augustus,.... Largest Rock in the World
(more than double the size of Uluru)
The breeze would normally have been a deterrent but with Don's increased confidence after his many' training flights', he felt it was time to tackle the 'harder stuff'. It wasn't long before the familiar whirr of the copter was cutting through the silence as Don took it up a few hundred meters and put it through its paces. Mt. Augustus was not within the drone's range to fly over but it was a good exercise and good practice flying it in the windy conditions. The FPV monitor for the camera is approx 3"x2" and as with a normal camera, is quite hard to see in the sunlight. With the camera controls also manipulated from the transmitter, there is a lot going on all at once; flying the quad, panning the camera, keeping the camera level and watching the battery condition.
(With Don's eyesight not exactly 20-20, he mainly operates all these controls by instinct. He really does amaze me.)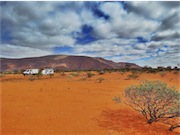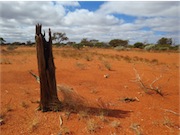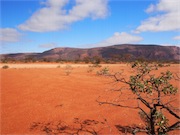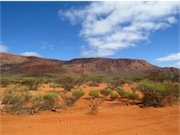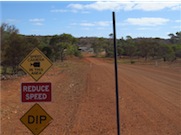 After lunch and with the drone tucked away we continued NW to Cobra. Although Cobra is listed as having fuel, there was a sign at the gate saying none available. Whether this is just temporary or permanent we don't know. Wanting to get a bit further on before we looked for a campsite, we didn't stop at Cobra but continued on 6k before turning West. A few Ks along this track we came across an old abandoned shearing shed and a couple of old derelict stone dwellings. We couldn't pass by here without taking the time to explore. It was 1515 before we set off again, keeping our eyes out for a good campsite.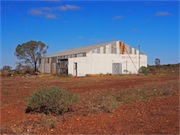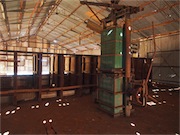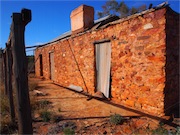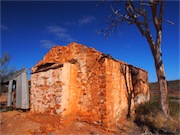 The track swung NW giving a bit of respite from the sun coming directly into the windscreen. About 50k along we saw quite a good spot to camp near Woodys Bore. We set up camp then Don set about changing the filter in the positive air pressure pump on the van which badly needed it after all the red dust we have traveled through.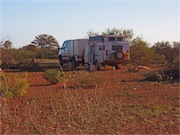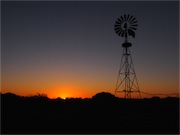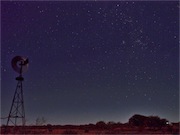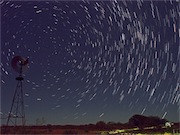 With jobs completed and dusk not far away, there was just enough warmth left in the sun to temper the cool breeze as we opted for a good hot shower, amused by our 'audience' of cows, who stood watching through the entire procedure.
Wednesday 9th July, Gasgoyne Junction, WA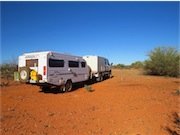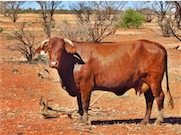 This morning revealed some fresh cattle tracks around the van so I guess we had visitors during the night. We had heard the cattle thundering past last night before going to bed but couldn't sight them in the dark. It was quite a strange sensation to hear thundering hooves passing within the near vicinity.
We left camp and continued NW for 20km then SW to Mangaroon Homestead before turning South. The landscape opened up with large expanses of flat areas dotted with quartz, the low shrubbery less dense. Huge sandstone boulders formed interesting outcrops that just cried out to be explored. A good place for a coffee break.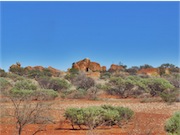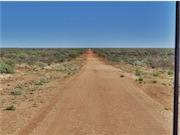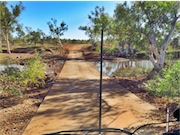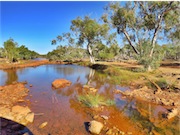 Pushing on again, we had just crossed Booroothunty Creek when a flurry of movement on the road ahead caught our eye. Suspecting it may be eagles we proceeded slowly. Zooming in with the camera it became clear that it was indeed four eagles, one of them straddling the roadkill and tearing chunks from it. We continued moving forward slowly in an attempt to get some really good pics but this was thwarted when an idiot in a ute came boring down on them from the South. Eagles are large birds and easily identifiable from a distance and with four of these beautiful birds together in the middle of the road, you would have to be blind not to see them.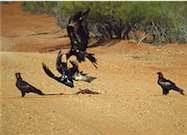 Even though we were still too far away for a good shot I began to click away as I caught sight of the huge dust cloud behind the ute and knew it was not going to slow down. I cursed him as another eagle flew in and attacked the eagle straddling the kangaroo. These shots would have been quite amazing. I clicked madly, the dust cloud grew closer.
Eagles are confident birds, reluctant to leave their feast until the very last moment but the speed with which this ute came hurtling towards them, didn't give them much chance to wait for that last moment. They rose into the air and flapped away as the ute sped right over the roadkill, spitting up dust and stones as it did so. This idiot didn't slow at all. It's common courtesy on dirt roads to slow as you pass another vehicle in order to limit dust or stone damage but this idiot lacked any courtesy at all not to mention the fact that eagles are protected wildlife. What dickhead would act like that???? I cursed him again and hoped that he bit his tongue when he gnawed into his lunch.
We continued on, absolutely enjoying this beautiful part of the country. The Kennedy Ranges looked very interesting from a distance so we decided to go into the Kennedy National Park and have lunch. The Ranges loomed directly in front of us on the 12km straight track into the Park. As we got closer it was apparent just how imposing they were as the track wound right up to the base of the hills. We pulled into the small camping area, already almost full with camper vans and tents. A bit too crowded for us. This is definitely a place we will return to in the future to explore a bit more.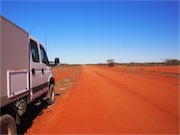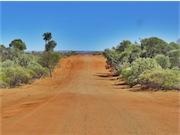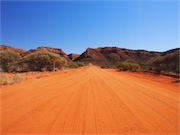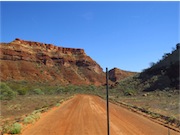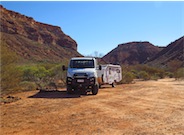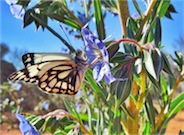 With lunch over we headed out of the Park but stopping a short distance on first, for Don to put his quad in the air for a quick spin.
We were still undecided as to where to camp for the night but with Gasgoyne Junction only 60km away we thought we would check this out first. Last time we went through Gasgoyne Junction it was not very appealing and had nowhere to stay so we were pleasantly surprised when we came into the town to find that it had literately moved 'up a block' from the river with a new Servo, Caravan Park and upgraded streetscaping. With washing a priority we booked into the Caravan Park and headed straight for the laundry. We were really happy as we had not even expected to get water here. The Servo and Caravan Park have only been open for 18 weeks and are still undergoing landscaping etc..
With our laundry done and ourselves showered, we headed to the Servo's Bar/Restaurant for dinner and a beer. Both went down really well. We decided to stay here again tomorrow to check out the town further.
Thursday 10th July, Gasgoyne Junction, WA
It's always nice to support the Outback Towns many struggling to survive, so it's nice to give back when you can. Gasgoyne Junction is one of those towns that have undergone severe hardships and is fighting back. Almost wiped out in December 2010 by flood when the Gasgoyne River suffered its worst flood on record, it has been re-energised and is emerging as a pivotal player in servicing the area for the many tourists that pass through this region.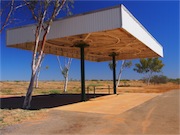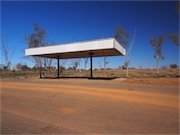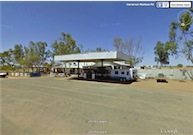 now and then (via Google streetview)
The Junction Hotel, the iconic local Pub was destroyed by the flood waters that engulfed it but the flood waters did not destroy the spirit of the locals. Now occupying higher ground, a new 24hr Service Centre has been erected, along with a modern Caravan Park and new streetscaping.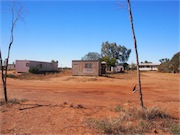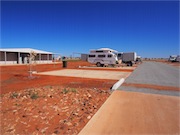 old and new caravan park
The Servo has a Cafe area as well as a Bar/Restaurant, so we decided to breakfast there this morning. After breakfast, we went for a walk around the streets and down to where the remains of the old Junction Hotel once stood. Nothing remains here now except the canopy over the bowser area. With the very picturesque Gasgoyne River close by as well as the Kennedy National Park and Mt. Augustus not that far distant, it is a very desirable area to visit.
Friday 11th July, Gasgoyne Junction, WA
A day of R & R.
Saturday 12th July, Bush Camp, (Three gates Well), WA
We got an early start this morning and headed East towards Meekathara through the lower parts of the Gasgoyne Region. Shell and fossil evidence still remain from when this region was under water a few million years ago. I would need a time-lapse virtual reality video to completely comprehend the changes that have taken place to this land, as the landscape is so vastly different now, to how it was so long ago.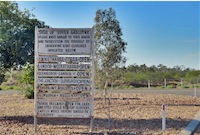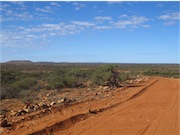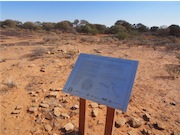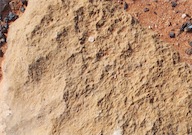 After traveling East for 112km we turned South towards Murchison. We were amazed that Mt. Augustus was still visible in the distance. Throughout this region the historical Wool Wagon Track can still be seen at various places but it's not possible to follow along it, not with our van anyway.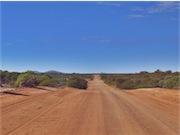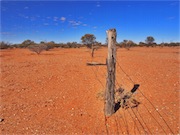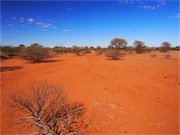 We stopped for lunch at the Coor-da-Wandy Homestead ruins which is now abandoned. Unfortunately there is very little evidence of there ever having been a homestead here, except for the old sheep runs.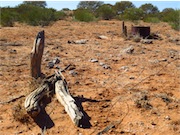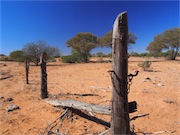 Thirty minutes further South, we pulled in to check out the Bilung Pool, a place of special significance to the Aboriginal people. Don had only gone about 10 paces when he stopped short as a slight movement caught his eye. He looked back at me with a surprised smile as he raised his camera and began clicking away. What luck! A beautiful healthy looking Mertin's Water Goanna was only feet from us.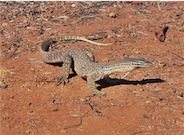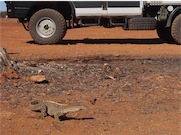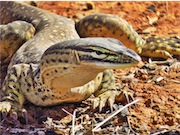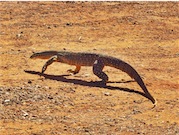 All those stories about how when they are frightened they run for the nearest thing resembling a tree and run up it, mainly your leg, were cast from our minds as we concentrated on getting the 'best shot of the day'. We took our shots, carefully manoeuvring our way around for the best vantage spots, then left him in peace. He wasn't at all frightened and ambled away slowly once we moved away from him.
We continued on South, stopping at Stock Route Well 19 to check out the old Well restored by the Geraldton & Foothills 4x4 Clubs. This Well is in perfect working order now, complete with water and a bucket to retrieve it. We almost set up camp in the bush behind the Well but decided to push on a bit further as there was not a lot of cover there.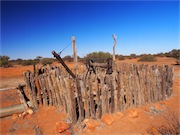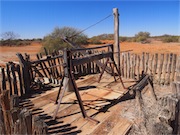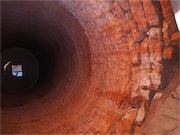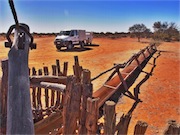 About fifteen minutes later we noticed a narrow track leading into Three Gates Well. This Well is about 400 meters back in the bush and provided good cover. We drove down the narrow track, taking it slow to avoid the overhanging trees and having to shift two large dead trees blocking our path before proceeding further. As we approached the Well the track opened out into quite a large open space, just perfect to set up camp.
As we set about to explore, we noticed a much better looking track leading off towards the South. With a bit more investigation we discovered we had done a 'U' turn just short of this better track that would have brought us into the same area. Duuhhhhh!!!!
The old windmill that stands at the Well site is no longer functional but squeals, groans and creaks as it turns in the wind. I hope there's a big moon tonight and its not too dark and definitely no ghost stories are being told before bed.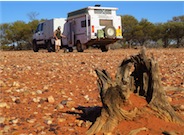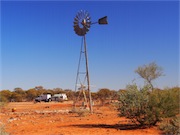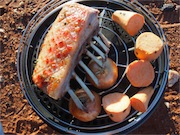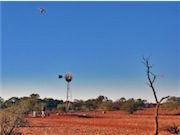 With the camp set up, our exploring done and the Rack of Lamb in the Cob Cooker what better way to finish off the day than a quick fly over the site with the Drone.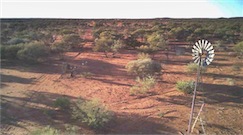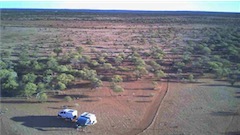 Sunday 13th July, Bush Camp, (Three gates Well), WA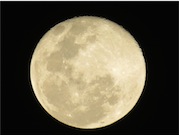 Well, I hoped for a big moon last night, and boy did we get one. A beautiful, big, perfectly round, bright full moon. Once it was high in the sky the whole area lit up like daylight.
A cool breeze put a chill on the evening so with plenty of dead wood around, it didn't take long to get a nice warm fire going. The wood from the local scrub trees is excellent; it is easy to catch on, very little smoke and holds the warmth in the coals. Only a small fire is needed for warmth or to boil the billy. I can't recall too many moments that have given me such a sense of overall well-being, as sitting there watching the flickering of the flames in the campfire, surrounded by the stillness and solitude of the Australian Bush, accentuated in the darkness by the glow of the full moon and of course, being alone together.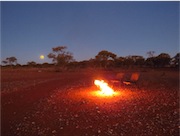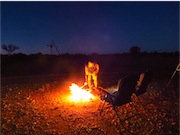 After such a wonderful evening, we awoke this morning and decided it was just too good a campsite to leave so soon so it was an easy decision to decide to stay for another day. After breakfast we went for a walk hoping to come across some wildlife but unfortunately there was not a living thing stirring, except for a small group of cattle resting under the shade of a small tree.
We have no signal here, so no internet nor phone but with the solar panels we have no problem with power so can keep all our equipment charged. Except for our stay in Gasgoyne Junction, we have not had any power nor signal since Tom Price so are unable to communicate by phone or email. This is where the Spot Tracker comes into its own. Our movements are tracked and updated on the website every ten minutes so as long as the 'breadcrumbs' keep popping up, it means we are still alive and kicking.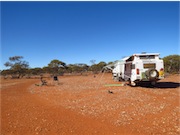 For peace of mind for yourself, family and friends, this little unit is a must for anyone traveling in the Outback.
It was a perfect day today. A pleasant 28° with a very gentle breeze. Our little fire was ideal to cook up a healthy baked bean toasted sandwich and a mug of coffee for lunch. Afterwards we went for another wander about the place; there is always something interesting to look at. Throughout the entire day we only heard two other vehicles in the distance. It was so still and quiet. It was nice to see a couple of finches fly by but other than the finches we have neither seen nor heard any other birdlife. Even the flies were reasonably scarce for a bush area.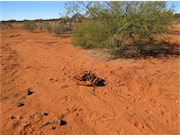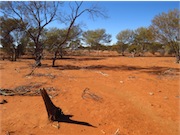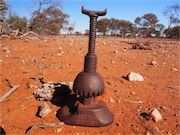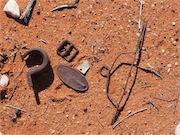 There were a few interesting bits of junk laying about, possibly from an old dwelling since demolished. It is always intriguing to think that people lived, loved and laughed in the very spot that now lies desolate of any resemblance of a home. Their memories now cast to the wind. We are always respectful of that fact as we wander about in today's yesterdays, leaving remnants where we find them for someone else to discover and wonder about. A reminder of how fleeting life is.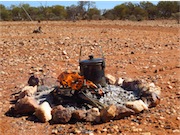 Don busied himself for fifteen minutes or so making a fire stoker, very pleased with himself to have found another little job for the anvil we acquired somewhere along the way. The hot coals did the trick for heating a length of 3/8 rebar in order to bend it by securing one end in a hole on the chassis of the van, the hammer and anvil then proved ideal to fashion it into a poker.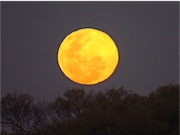 Of course the billy had to be boiled after all this hard work.
The evening brought a very dark sky. We decided to test our bravery and go for a walk to see how far the glow from the fire could be seen. We ended up walking a quite a distance before turning back. I was glad there was no wind to turn the windmill at this time as it was eerie enough in the dark. When the moon did rise above the horizon, it was a huge yellow/orange ball but lacked the bright ambience of the previous evening's moon. Still, it was an amazing moon all the same.
Monday 14th July, Bush Camp (Stock Route Well 9), WA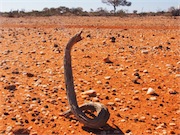 It would have been very easy to stay another day here as it has been such a nice place to camp but we packed up and headed South to Murchison about 1030. No hurry to get going today.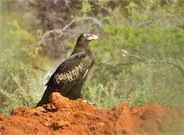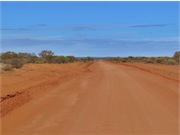 We sighted a number of beautiful Wedge-tail Eagles feasting on a road-kill just as we came over a rise, no time for photographs of the birds feasting, but a good spot to take a walk around the bush. Half an hour later we were back no the track heading South just before the sky clouded over and dropped a light sprinkling of rain. Although the sky darkened and we could see rain falling to the East, we received nothing more than the odd sprinkle..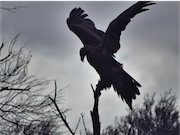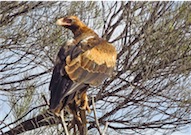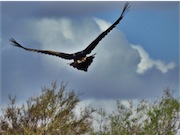 We stopped at the Historic Gate just after Curbur Station. This is basically an old wooden fence with a farm gate in the middle but the gate is a representation of historical significance to this area. In earlier years, there were 100 gates to open between Mullawa and Gasgoyne which proved to be a pain to the drivers that frequented this route. To make life a bit easier for themselves they would traverse the route in convoy, the front runner opening the first gate then dropping to the rear and so on, making the gates a lot less of a hassle when traveling along this route.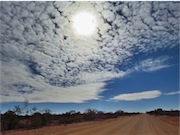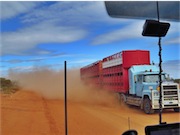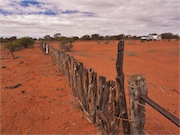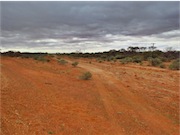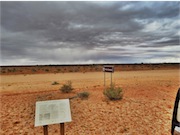 The Gasgoyne area is prone to heavy storms, flooding and hail damage from time to time. Damage from a particularly savage hail storm that came through this area in 1992 is still evident. A lot of scrubland was eradicated by the large hail stones and has never recovered. The road North of Murchison has been re-routed further West for about 50 kms around some large dry lake beds, presumably to avoid the more flood prone areas.
Last time we came through Murchison there was nothing much here except a small Roadhouse. About ten to twelve houses now form the community of Murchison, along with three Polo fields, a RFDS sealed Airstrip, a Caravan Park with three Motel units and a Shire Office along with a new upgraded Roadhouse. It is always good to see these small Outback communities healthy and going through growth rather than run-down and struggling to survive, which unfortunately we have come across.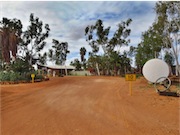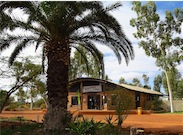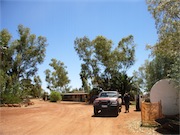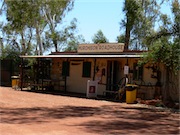 Murchinson Roadhouse and our visit from 2008, fuel was $2.50 a liter then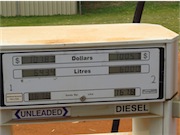 Another welcome surprise was the price of fuel which was close to the lowest we have paid for a very long time. Last time we got fuel here, it was the most expensive we have ever paid. The Roadhouse was very clean and provided a good value meal as well as reasonably priced grocery items. The Caravan park is yet to get washing machines but they believe they are on the way.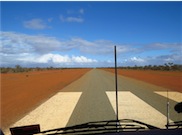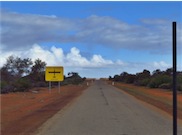 With both the fuel tanks and our bellies full we continued South keeping our eyes out for a good campsite. We had been told there were some good camp spots along the Murchison River but after checking out Stock Route Well 9, about 50 kms North of the Murchison we decided it was perfect for us, although still no signal for phone or internet.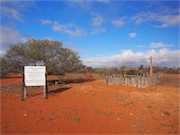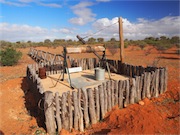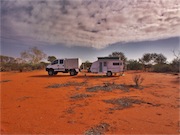 Tuesday 15th July, Bush Camp (Stock Route Well 9), WA
We fell for the trap again, found a camp site that was just too good to leave, so here we are again today.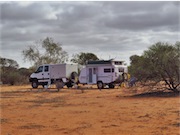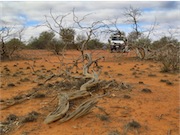 The morning was a bit cool but after breakfast the sun broke out of the clouds and with no breeze, it was a perfect opportunity for a shower. Boy, was it good! The sun was warm on our skin and we were almost dried before using the towel. The strange thing was, that only a few minutes after we had dressed and packed away the shower, the sun went behind the clouds and the warmth diminished rapidly for the rest of the day, the sun only peeping out for quick intervals.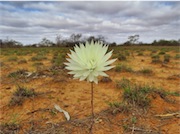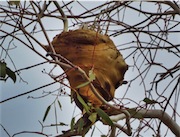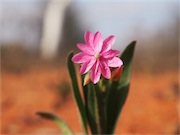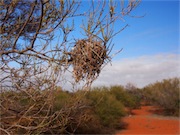 With the lack of breeze, Don decided to fly the drone over the area and in doing so, noticed how dirty the solar panels were on the top of the truck and the van. Once he had finished his little 'fly over' he got out the ladder and gave the solar panels a good clean. It was amazing the difference in input once the Van's panel were cleaned…..1.8 Amps before……2.7 Amps after.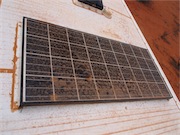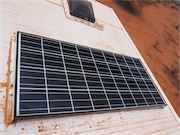 There was plenty of space in this area to ride our bikes along the track and through the trees. The shrubbery is sparse and there is not a lot of undergrowth in between. We went for a ride before lunch then another ride after, riding out onto the road and down it for a way before returning back to camp. The rest of the day was spent walking quite a way into the bush and just enjoying the solitude. We saw plenty of goanna tracks and a few other animal tracks but didn't sight any little creatures today.
The night was still with no breeze, perfect for a campfire, so with plenty of dead wood around it wasn't long before we were enjoying our dinner by the glow of the hot coals.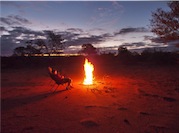 Wednesday 16th July, Mullewa, WA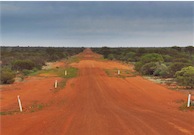 Another late start in getting away but what the heck, it was a nice place to dawdle around.
We finally left the campsite at 1030 and continued South for 21km before turning West onto a narrow dirt track in search of a ruin we believed was in the vicinity, but no luck. A lot of the tracks have changed, either diverted because of the floods or just overgrown through non-use, either way, there wasn't any indication or landmark that might have pointed us in the right direction.
With an 'Outcamp' shown as a little further on from where we turned West onto the track, we retraced our steps and headed back. We never like doubling back over our tracks if we can help it but we were rewarded with the sight of two Emus. We haven't seen too many up this way, so that made the doubling back worth it.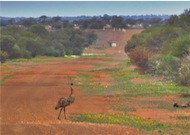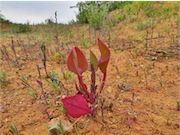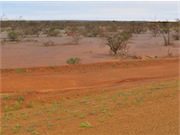 Unfortunately the 'Outcamp' also eluded us, so we continued on to the Murchison River. We had seen a lot of signs of soil erosion and damage to the shrubbery and small trees along this route. A sign showing the flood levels of 2006 made this damage understandable. The Murchison River is quite a large river and very picturesque; it's mind-boggling to imagine the amount of water that must have been flowing through here to reach the height of this flood.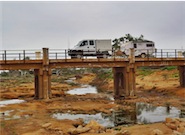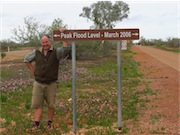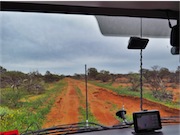 With one more 'ruin' to investigate we turned West down a particularly dodgy track, over-grown and with huge chunks of it fallen away from obvious flood damage. Funny that this was one of the times that Don had most generously 'allowed' me to drive. "Are you sure about these directions?" I asked Don as I negotiated around the holes in this goat-track. It just didn't 'feel right'. A little voice in the back of my head reminded me that although Don is probably the Master of Most Things, Navigation isn't one of them. I could tell by the befuddled look on his face that maybe he was having second thoughts about his navigational ability as well. It wasn't too long before common sense depicted that we find a spot to do a 'U' turn and head back out. Once back on the track South, we did what each of us does best……..Don driving and me navigating.
So with three attempts to find the ruins and three big zeros we gave up and continued on South. The further South we went, the more prolific the wildflowers. They looked quite stunning, an array of colour against the dark red soil. One small yellow flower about 1cm in diameter, looked just like a little ball until you got up close and saw it was made up of tiny little individual Jonquil like flowers.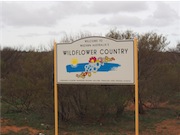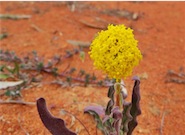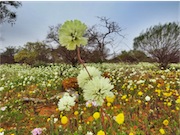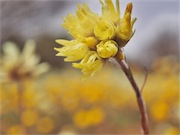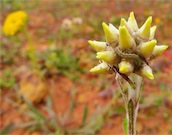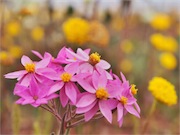 A quick stop at the Vermin Proof Fence, which is strictly maintained and then down past the Urawa Nature Reserve to Mullewa.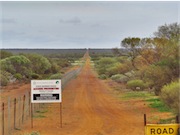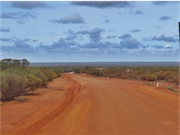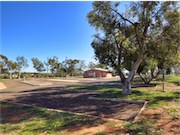 We were a bit sad to be leaving the bush behind as we pulled into the town, stopping to get fuel before heading to the local Hotel for lunch. A little luxury we afforded ourselves; something different to our usual staples we've been living on. After lunch we headed up to the local Caravan Park. Mullewa should be proud of its effort here. The Park is basically like a huge car park with amenities in the centre, including a laundry. The amenities are the cleanest we have come across, not unlike your own bathroom. There is no-one on duty, all bookings and payments are handled by the local Ampol Service Station where we got our fuel. A Plaque set into a rock outside the amenities states that the Caravan Park has been erected in honour of all those previous pioneers who traveled through this area.
Well done Mullewa!
Thursday 17th July, Mullewa, WA
We got our first taste of the cold today. Although it was 19o it was cold enough for us to change into long pants and jumper. It was a bit of a shock to experience goose-bumps again.
We lunched again at the local Hotel, stocked up on a few stores then sought the warmth of our van.
The only other activity for the day was to give the van a much needed wash.
Friday 18th July, Leeman, WA
We stopped in Mullewa for a coffee before heading South. Not too many Ks on we took a short detour up a side track to check out the Butterabby Graves. A place of historical significance to both the White and Aboriginal communities indicating the site where the local Aboriginal people attempted to resist pastoralist expansion. The graves contain the remains of one white settler who was killed by aborigines and five aboriginal men who were hanged for the spearing of another settler who later died from his injuries. They were taken to Perth, found guilty and returned to Butterabby where they were hanged near the scene of the crime as an example to other tribesmen. This is just one of many sites where similar conflict occurred due to the displacement of the Aboriginal people from their traditional lands by the establishment of agricultural and pastoral properties.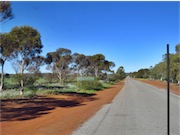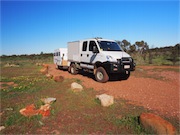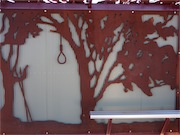 The landscape had now changed to open pastures fully planted with crops of green and yellow canola. This gave an amazing colourful carpet rolling across the land. The bright yellow of the canola crops vivid against the green.
A stop at the historical Wongoondy Hall before we continued South to Mingenew.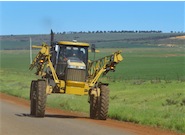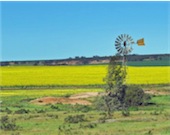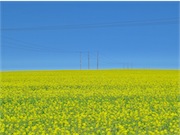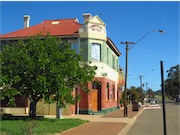 As it was right on lunch time we decided to stop in at the local Hotel and have lunch. It was a nice clean little town, also with a lot of empty shops like Mullewa. Our few dollars probably won't make much difference but it's hard to pass through these little towns that seem to be struggling without putting a few dollars through their tills.
With a good lunch in our bellies we headed West to Dongara on the Coast arriving there about thirty minutes later. We drove down to the water (I must admit it was so good to see the sea again), then did a tour around the streets of Dongara and Port Dennison.
Heading South again we got off the main Coastal Highway and took the Indian Ocean Drive along the Coast to Leeman. The elevation along this route is almost sea level and the roadway is surrounded by grassy sand dunes on either side. We arrived in Leeman, an area not as jazzy or touristy as other places along the Coast so it suited us fine. We need to ease back gently into suburbia. As we encountered more traffic we thought back wistfully to the peacefulness of our little campfire in the bush.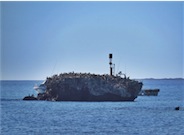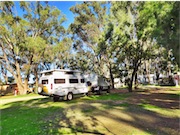 We found the local Caravan Park, a nice quiet little Park and set up camp before taking a walk down to the water. The water is very close to the shore with very little beach. I crunched over the dry seaweed to get close to the water but with literally no beach to walk on I had to content myself with taking some photos. The water looked extremely clear and quite cool as it lapped against the shore.
Saturday 19th July, Cervantes, WA
After a quick drive around the town we left Leeman and continued South down the Coastal Road to Jurian Bay. We didn't spend too much time in Jurian Bay, having been here before and kept on South to Cervantes, arriving there not long after 1100.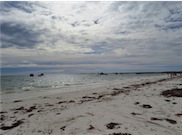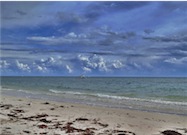 It didn't take long to find the Caravan Park and we quickly set up camp, noticing the clouds darkening the sky. It was only a short walk to the beach so we made our way down to the shore and snapped off a few photos before the rain started to come down.
The rain was intermittent the rest of the afternoon so not much chance for many photos.
&nbsp
Sunday 20th July, Cervantes, WA
Well the rain has finally caught up with us. It absolutely poured down over-night and was still raining heavily on and off this morning. We had hoped to take some nice photos of Nambung National Park but unfortunately, it is very dark here today. Still we decided to brave the wind and the rain and head out to the National Park anyway.
Firstly, a stop off at Lake Thetis to check out the Stromatolites. Lake Thetis is one of only a few places in the world with living marine Stromatolites, known as 'living fossils'. The microbes that build Stromatolites are a species of bacteria, similar to those found to be the earliest record of life on Earth.
The Stromatolites look like rocky lumps (a bit like cow pats). They are formed as a layer of bacteria on their surface, deposit calcium, cementing sediment into bulbous structures. These structures are very fragile.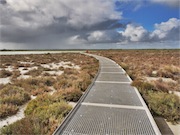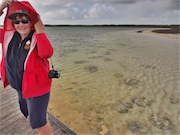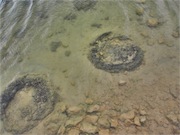 The board-walks are excellent and provide a very pleasant walk through the low shrubbery to the Lake's edge to view the Stromatolites. The signage is also well-placed and very informative. It was a shame it was so cold and windy as it would have been very enjoyable to take the 1.2km walking trail around the Lake. Another for our list of 'to do' things next time around.
We left Lake Thetis and headed South for about 10kms to the Nambung National Park, home to the famous Pinnacles. Another place we will have to return to when the weather is much nicer, the rain once more forcing us to take the 4km drive around the loop instead of the walking trail. We were in luck though, as the rain stopped briefly in patches and we were able to get out and take a walk through the Pinnacles. Amazing……is the only word for these unique formations.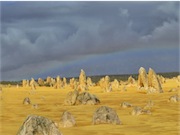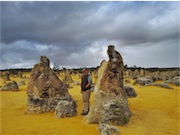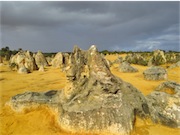 Scientists are still in debate about the origin and creation of these amazing limestone pillars, ranging up to 4m tall. Their shapes and sizes vary greatly from smooth and cylindrical weathered spires to jagged, sharp-edged columns. They are believed to be around 500,000 years old, being exposed to the elements then covered and exposed again over thousands of years. Calcite, lime-rich sand, leaching, quartz, erosion, calcrete and other things that I don't know enough about, were all instrumental in creating these amazingly unique structures.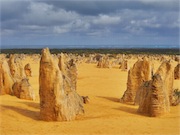 There is also an Interpretive Hall and Gift Shop located at the Entrance to the Park for those interested in learning more about the Park's eco system and hypothesis of the historical formation of the Pinnacles.
We did not stay as long as we would have liked due to the weather, but it was well worth the visit and we will definitely get back here again on a more weather-friendly day.
Wednesday 23rd July, Freemantle, WA
We are in Perth for a week and unfortunately it looks like rain most of the time we will be here, so no chance for any real quality pics.
If we do luck out with the weather and get to do some fun things, I will post it on the Blog. Otherwise we will be on the road again and heading for Cue at the end of July, so will be back on line then.
A chance for me to say 'Thank You' for all your comments and good wishes. We appreciate them.
Safe and happy travels to you all.
Tuesday 29th July, Bush Camp (Mouroubra Bore), WA
It was raining when we got to Perth and it was raining when we left but besides the weather we had a really nice four days catching up with family and revisiting some favourite places.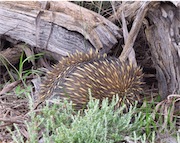 We didn't rush to pack up this morning hoping to give the peak hour traffic time to thin out. Once on our way we had quite a good run heading NE through the suburbs on to the Great Eastern Highway with a quick stop at Mundaring to post a letter.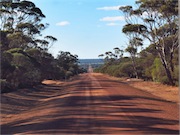 We passed through Bakers Hill, Clackline, Dowerin and Wyalakacham then turned North to Koorda where we fuelled up before continuing on. Not far North of Koorda we came across our first sighting of an Echidna. He was almost to the side of the road and moving quite fast so not much of a chance for a good photo but it was nice to see the little guy.
We turned East for about half an hour when we hit Bonnie Rock Road then turned North up the Mouroubra Road. This is a dirt track that cuts up through the lakes to Paynes Find. It was after 1630 when we came across the Mouroubra Bore which looked like a good spot to camp, so that was a good enough excuse to call it a day.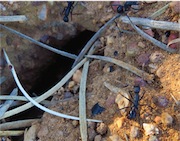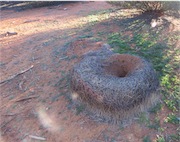 This turned out to be a very interesting place. I came across a large Munga Ants Nest (Polyrhachis Macropa) which cannot help but impress with their ingenuity in laying protection for their nest. These ants are black and quite large. I believe they mainly forage at night so I was glad I got to see a couple of them around their nest. They didn't stay on top for long and once they went back into their nest they didn't reappear. Although there were quite a few nests in this area, some very small, I didn't see any ants about on the ground.
It seemed our 'city visit' wore us both out, as darkness wasn't long upon us before we snuggled down to sleep.
Wednesday 30th July, Cue, WA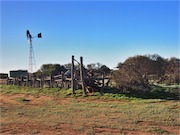 It was so good to be back in the bush. We awoke early to a myriad of birds chirping just as the sun was casting it's first fingers of warmth on the cool ground. It was good to look out the window and see the old Windmill and the old rusty water tank above the low shrubs . No hassles, no stress just the quietness of the bush. How lucky we are and how appreciative we are that we are able to be here to enjoy this beautiful land.
We packed up our camp and headed North, glad to see a few Kangaroos hopping about. The majority we have seen have been keeping the birds fat and happy. We crossed through the Lakes area, stopping to take a few photos along the way. We spotted another couple of Kangaroos and two Emus. It's always nice to see healthy wildlife.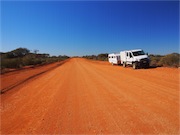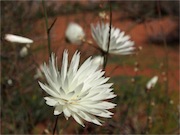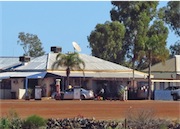 We arrived at Paynes Find around 1030. There have been a few changes to the Roadhouse since we were through here in 2010 but it has retained it's unique character and still serves a great cup of coffee. We continued North on the Great Northern Highway and reached Mount Magnet around 1230 where we fuelled up then continued on, deciding to have lunch at one of our favourite spots just a few Ks out of Mt. Magnet.
The Granites is a very picturesque spot, perfect for a lunch break. It is quite close to Mt. Magnet so is a good spot for the locals to enjoy a picnic. No over-night camping is allowed. The place was exactly how it was when we went through here last time. So am I, I guess, as looking back on the photos I took from last time we stopped here, they were almost identical to the ones I took today. It was quite bizarre how consistent they were. Unfortunately though, we didn't see any little lizards like we did last time.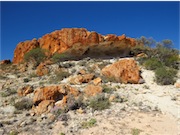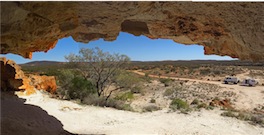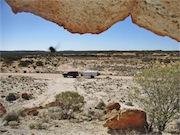 &nbsp &nbsp &nbsp &nbsp &nbsp &nbsp The granites &nbsp &nbsp &nbsp &nbsp &nbsp &nbsp &nbsp &nbsp view from granites now &nbsp &nbsp &nbsp &nbsp &nbsp &nbsp and when we were here in 2008
The Granites are an escarpment about 15m high, formed by the erosion of the soft white granite from beneath a hard red brown iron cemented capping. The caves formed in the soft granite have fantastically sculptured surfaces formed by the small curved quartz veins in the cemented capping. Aboriginal carvings and paintings can be seen at several sites at The Granites which is a place of strong cultural significance to the Badimia tribe. We spent quite a bit of time wanderng about here before continuing on to Cue.
Oh Yes! How good it was to drive in to Cue again. We just really love this place. There are only a very few buildings here which all have a unique character and not much else, but we love it. The Caravan Park has undergone quite a face-lift since our last visit but it hasn't detracted from the open, casualness of the place. The old tin shed that used to house the Ablution Block has been replaced with a well-designed Toilet/Shower area, Kitchen, TV Room and Laundry with the Camp Site area also extended to accommodate more. But the character has not been lost in the improvements, as is often the case.
Once we had set up camp, Don headed down to the street to pick up the new tyres he had delivered here prior to our arrival. Whilst he hoisted the tyres into the back of the truck he had quite a natter to the guy he had picked them up from at the Freight Depot, then once done, he announced he could do with a beer after all that hot work and would head off to the Liquor Store. He thanked the guy, drove around the corner to the Liquor Store in the Main Street. He had to smile when the guy walked out from the back to serve him….…….it was the same guy who he had just picked up the tyres from. "You couldn't give me a haircut as well" joked Don. The guy didn't get it. Oh Well…….
Thursday 31st July, Cue, WA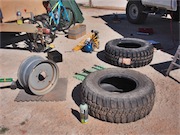 Don's agenda today was to change the four truck tyres over for the two new ones plus the two new spares we had, retaining two of the best tyres for spares. I was quite impressed with his enthusiasm. These big truck tyres are ridiculously heavy and with only Don's muscles and a few tools I figured it was going to be an interesting day.
Well, all I can say is……….Don, you never fail to amaze me!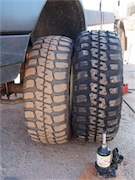 With very little fanfare and next to no noise (Don put the air pump in the back of the truck to mute it when blowing up the tyres) Don had the four old tyres off the truck and the new ones on in only a few hours. The last one almost beat him, taking almost as much time to get the tyre off as the other three put together but with sheer tenacity it finally popped off and the new tyre was on in next to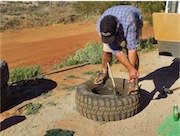 no time. One guy came up to him and made the comment that there was still 'a lot of miles' left on the old tyres. Check out the comparison of the Old to the New in the photo. It's amazing just how much rubber has been burnt. I'll go with Don's judgment.
Don was dripping with sweat by the time he was ready to pack up and headed off for a well-earned shower before we drove out to the local Tip to dump the old tyres. This was his reward……..a fossick through a 'real' Tip. He was really pleased with himself when he returned to the truck with a 'really top chisel' in his hand.
By the time we were ready to go to bed Don was finding it a bit hard to move around. We checked him over for 'sore bits' and found one large bruise on his upper arm and two large scrapes on his legs. He also discovered a few extra muscles he hadn't used for awhile. mmmmm………..Now wasn't the time to tell him he would be a lot sorer tomorrow.
---