---
Landrover Lightweight aka Airportable aka Half-Ton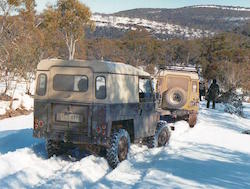 I saw my first ever Lightweight on a LROCV trip to The Victorian Snowy High Plains in the early 1980's, It was a Series 2A, The owner bought it out from England with him, as they were never sold to civilians or used by the Australian Military they were never imported to Australia. I never knew they existed until I saw his (no internet in those days), I have to admit thinking it a Series 1 because of its flat sides, I did not know what it was..... but I liked it !!!
That was possibly the first ever lightweight imported into Australia, and now lives at the Wilmington Toy Museum in South Australia.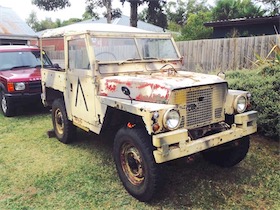 Fast forward 30 something years and I have only ever seen three Lightweights in all those years until finally I have the opportunity to purchase a non runner, a 1973 Series 3 with only 83,667 original miles (pictured at left) .
It had an ugly coat of Candy Apple Red under a peeling GW1 paint scheme.
First job was to trace it's MOD history from Military Reg no 15FM37 . I acquired the "B-Card" from MOD Archives and it shows my Lightweight spent its entire military career in HongKong and spent most of its time there with the Gurkhas.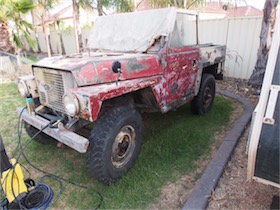 As much as I like a Gulf War paint scheme, it had to come off as the vehicle was never deployed there, I also tested the Inverted chevron "Friendly ID" on the door, it was regular black paint instead of IR sensetive paint that would have been used on the real deal. So off comes the paint. And speaking of the Red paint, I did hear that a fellow clubmember had spotted a Red Lightweight in Cairns many years ago whilst on holidays. I'm guessing this is that one.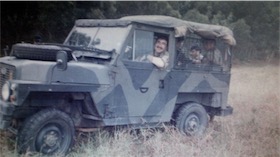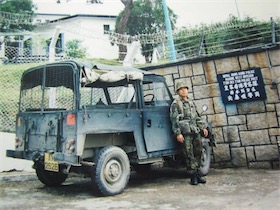 One of these old photos above could even be of my Lightweight, in service with Gurkha regiments. My rear tub has evidence of where the same 'dog cage' was brazed onto my galvanised capping.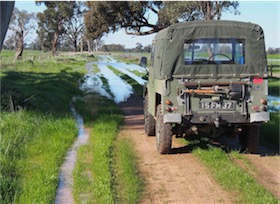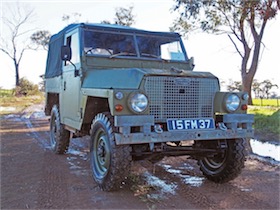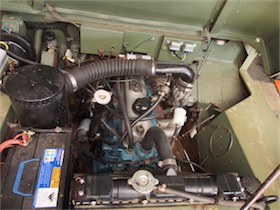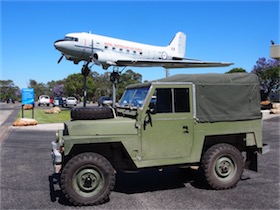 No expense spared in 'restoration' brushed on Wattyl solaguard paint, mixed at Bunnings .
some before and after photos (click images for better view)





---
Landrover Defender & Trakmaster Caravan
(click any image below for enlargment)
This section is about prepping the Defender and the Trakmaster van for outback touring.
Our choice is to travel solo, not in a group, and as such need to be self sufficient and prepared for any outcome. Land Rover Defender is my choice being fit for purpose and simple to service and repair.
On our 2008 Trip we had a Landcruiser 1HDT Timing belt fail, so to avoid that sour taste again I have spent the last 12 months going over the Defender to make sure its more dependable.
Vehicle Preparation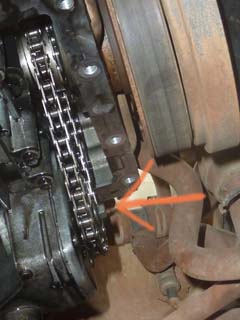 After a 15 year gap of non LandRover ownership I was happy to be back in one, I was not suprised to find they still had their 'quirks'. Soon learned how good the 5 cylinder Td5 engine is, despite the fact that the Td5 is derided by some of the Land Rover community because of its electronic control I think it the best ever LandRover engine.
One of the quirks was subject to a UK Recall, the bolt that holds the oil pump drive socket in place has been known to loosen with disastorous consequenses I pulled the sump on mine to find the cleanest engine I've ever seen. Replaced the finger tight bolt with a new part, (which comes with thread lock)
I was suprized at how clean the insides of the engine were, no sludge or deposits on the bottom of the sump or anywhere else, the Td5 has a 2 stage oil filtration system with a regular spin on filter as well as a centrifuge filter, factory oil change intervals are 20,000 klm but I'm happy to report this one is done every 10,000 klm.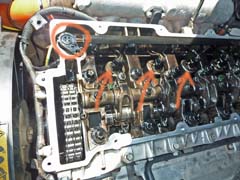 Another Td5 "issue" is oil ingress into the injector loom, if left this can become a real problem as oil finds its way into the ECU under the drivers seat via capilliary action. The dodgy loom under the rocker cover is easily replaced with an upgraded version with viton seals, a regular check for oil leaks in the electrical plug at the front on the rocker cover is all thats required once the job is done.
I also threw away the plastic engine lid and alloy turbo shield, with these removed its much easier to see the engine and keep it clean. Any oil or coolant leaks can be seen and fixed before they become a problem.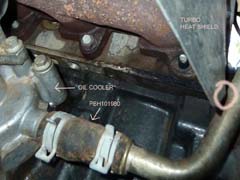 In paticular its impossible to see the oil cooler hose and oil pressure switch with the alloy turbo sheild in place, The oil cooler coupler hose part no PBH101980 goes brittle and fails from heat in close proximity to the turbo & hidden from view under the exhaust manifold. On mine the alloy sheild was also rubbing into the metal cooler pipe behind it (circled in the photo)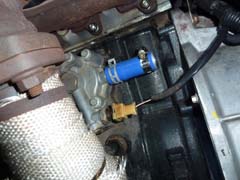 I subsequently removed the hose altogether, as its not needed once the EGR & EGR cooler plumbing is removed, in all about 1.5 meters of un-necessary plumbing can be removed. I blocked my oil cooler water pipe with a silicone hose and alloy bung. The oil cooler itself sits in the water gallery and has a full water flow, the external pipe is not required, and a bonus is the cooling system is easier to bleed.
The other common Td5 issue is the Starter Motor solenoid, In fact the starter motor is not the problem at all, the Fuel pressure regulator which sits at the back of the head fails and leaks fuel onto the starter, which causes the problem. If the engine is kept clean & leaks checked the starter should be trouble free.
Whilst preparing the engine I fitted a Provent 200, (round black thing behind the inlet manifold) this seperates the oil from the crankcase vent fumes and stops it coating the insides of the turbo and intercooler. About 200ml waste oil is collected and drained off via a tap under the car each time I grease the prop shafts (5000klm). I removed my original intercooler and found it to be coated internally with a mess of blow-by oil. This was replaced with an Allisport (UK) Intercooler which has about 3 times the air flow.
As a result of the larger Intercooler and Td5-Inside ECU Remap the Exhaust Gas Temps are at least 100 &degC cooler on a long hill, which means much more reliable and easier on the engine.
---
Underneath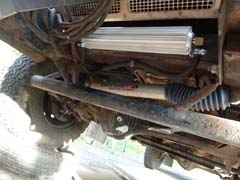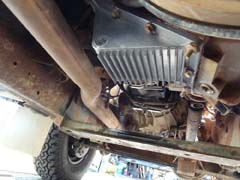 As the Defender is going to be Towing a lot in hot temperatures I added an external cooler for the R380 Gearbox and a bigger finned sump for the LT230 transfer case. Both run noticebly cooler now = more reliable.
Whilst underneath I also fitted an X-Brake disc handbrake, The Original LandRover handbrake was dreadful, it was a struggle to hold the Defender still on a gentle slope, The disc brake easily holds the Van as well. The caliper is from a JCB Tractor so should be up to the task. The brake is also more compact and smaller diameter than the drum brake giving better ground clearance. (not that that was ever a problem)
Landrover design went a step backwards in 2002 and the Salisbury rear axle was discontinued in favour of the weak and feeble RangeRover P38 rear diff, (shakes head) lucky for me the previous owner retrofitted a Salisbury with Maxidrive axles. I also fitted a pair Eaton (Detroit) Truetrac (LSD) carriers inplace of the open diffs, in conjunction with the Defender traction control it is now adequately capable offroad.
The other thing I was suprised that LandRover has not fixed on the Defender is the Track rod, that has been an issue since the RangeRover was introduced in 1974. How is it that the track rod can be the lowest part of the car, right at the front, first thing to get damaged and makes the car undrivable. That is so stupid. People buy heavy duty Track rods - that dosent help, if you hit them they still bend - only bend worse or break something else if they dont.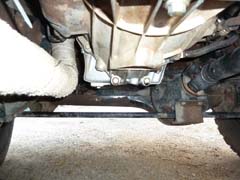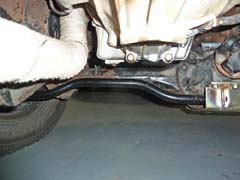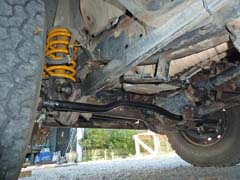 To me the answer was the RockWare cranked or offset track rod from Expedition Exchange USA. Not like I'm likely to go rockcrawling and bend a track rod in Central Australia whilst towing a caravan, but running over some roadkill is a very real possibility & I have bent one on a wombat in the past.
Whilst on the underpinnings, the Defender Trailing arms are somewhat inadequate, with a P38 diff they are probably OK but with a Salisbury rear end the arms are prone to bending as they become the weak point. The Heavy duty Lower Control arms are 'Foundry 4x4' items with Nolathane 48040 bushes
---
Fuel Tanks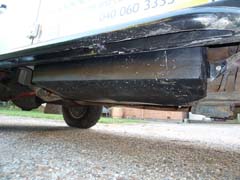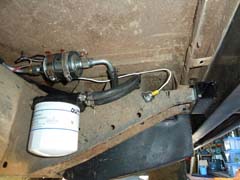 In standard form the 110 only has a 75 litre fuel tank, The previous owner fitted a Dolium 45l wheel arch fuel tank as well as a 40l stainless water tank on the other side (thanks). I also fitted a Brown Davis 50l sill tank, giving 160 litres . I fitted a Chev V8 Diesel lift pump and marine filter / seperator to transfer fuel to the main tank. Sensible driving now gives about 1000 klm range whilst towing the van.
---
Inside
Im not hanging it on LandRover, but Td5 wading depth = 500mm - what are they thinking ?? why the hell would LandRover fit the electronics, including the vital ECU and ABS computer under the seat, They could not find a lower place if they tried. That is just plain stupid.
pics below show the box under the drivers seat containing the ECU, ABS, Fuses and relays, 2nd pic is the empty box after I removed the main loom and control units, only the accesory wiring and fuses will remain, 3rd pic shows the vital electrics relocated in a high box between the seats.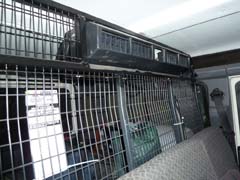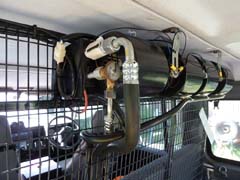 Whilst at work on the inside I ripped out the useless LandRover airconditioner, This is apparantly an Australian designed & fitted airconditioner - what a joke. As well as only cooling the passengers knees it takes up all the passengers legroom and a good chunk of realestate across the underneath of the entire dashboard. I bought a Minibus Airconditioning Evaporator from ebay for about $250 and cut a hole in my Milford cargo barrier to mount it, and Andrew at KarAir in Ferntree Gully in Melbourne plumbed & gassed it , total cost $1060 . end result - bloody fantastic .
---
Trakmaster Caravan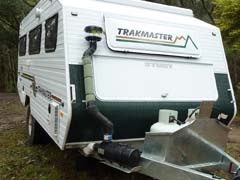 We chose a Trakmaster Van as they are highly regarded, are locally made and all their experience is with offroad vans, ours has the same wheels as the Defender and after a few shakedown trips we are pretty happy with it, exept one big failing, despite being told they are good in the dust it defenitly is not dustproof. I guess I was being naive to expect it to be.
I guess most people are happy with them out of the box but the first thing we changed was the innerspring mattress which was terribly uncomfortable. The second thing we changed was the hyland hitch for a Trigg Bros hitch, Hyland hitch was very noisy & jerky - unberably noisy off road.
I made a posetive pressure system for the van, similar to what I made for our old Jayco OB Penguin. Donaldson Aircleaner with cyclonic precleaner on a raised air intake. Air is drawn into the van via a 163 cfm Bilge Fan housed inside a seat box. There are numerous holes and gaps that also need to be sealed, As well as making covers for the door vent and for the cooktop exhaust vent I used about 2 tubes of caulking silicone. - dust proof …... pigs arse !!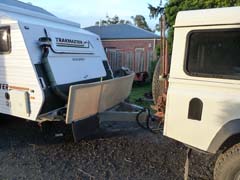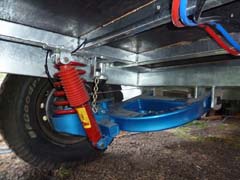 One thing I must say the suspension on the van is brilliant, I found a jaffle iron still sitting on the external gas bottle after about 250 klm of outback NSW dirt road, left it there after breakfast that morning !!
see more on caravan below , bad wrap for Trakmaster !!
---
Defender Progress Report, June 28 2013, 11,500klm from start of trip
Today I did the first repair on the Landy, I noticed the PCV hose from the Provent was sitting on the Turbo Wastegate, the hose itself was still sound but the heat shielding was a little sad, when I put the hose in last year I was sitting up no problems but I guess the high ambient temps & corrugations have helped it settle, I've been watching the EGT guage carefully (Exhause Gast Temp pyrometer) , the gas inside the manifold is usually sitting about 520°C (before turbo)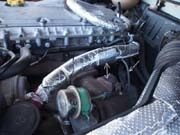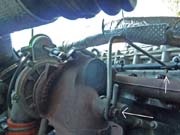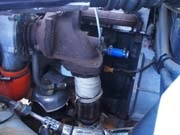 I made a support rod out of a tentpeg , attached to a spare bolt on the turbo housing & other end on a convenient hole in a bracket on the head, then patched up the heat sheild on the hose. 15mins job done, hose sits well clear of the manifold now.
On the trip, we have done 11,468 klm so far, Defender is going like a charm, apart from todays small job and the occasional dust out I have only had to change one blown park light globe, and fix a star chip on the windscreen with some of that stuff from Super Cheap Auto that you inject into the hole - worked a treat.
The rear tyres are getting chewed up a bit. They are BFG 235/85r16LT All Terrains. The Front tyres & the Van tyres are still fine, BFG's explanation to this is that I'm driving over Rocks in 2WD, … DUH, Dont they know that Landrover have all been Constant (full time) 4WD since 1980 ??? The damage is not caused by rocks being thrown up from the front tyres because the rear shockers would be full of rock pit marks but they are only sandblasted !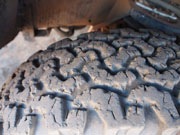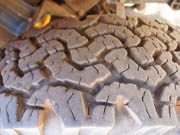 I also religiously grease the universals and propshafts every 5000klm , and change the oil & filters every 10,000 , plus gearbox & transfer case every 20,000 . Before the trip I modified the hubs to run in oil from the diffs so I never need to grease the hub bearings.
On the Caravan I have had to replace a broken Slider on the Dometic Awning ($50), The Town Water pressure regulator was leaking - fixed by removing & glueing in the 4 stainless screws that holt it together. And the occasional creeping cupboard door hinge pins (a drop of superglue fixes that) , all good!
Plus a 10,000 k service Removed Brake drums , cleaned out & adjusted brakes & greased the Bearings & fitted new seals.
---
Progress Report, Gearbox Fail
Well so much for the R380, at about 186,000 klm , just after its last oil change ( $30 a liter Syntrans too) the Gearbox has run a bearing, suspect rear support bearing , Layshaft or 5th gear. Apparantly the R380 does not give much trouble and they are fine for towing, (that is with a standard tune). Haveing some 'performance enhancements' I never need to change back to 4th on hills & apparantly 5th cant take the strain of towing , (eventho the engine feels no strain)
I drained the oil to find no more hair than usual on the magnetic plug and no chunks fell out. After a lot of thought about course of action some options I considered were a second hand but good box and lots of help from AULRO members, a Quaife sequential 6 speed (ratios too close), a Quaife dog conversion for the R380, or rebuilding mine, The winner was an rebuilt Ashcroft R380 with bored out rear housing & Heavy Duty rear support bearings. While the box is out a new DMF abnd clutch kit will be going in. The clutch is fine at present but stupid not to change it as the Dual Mass Flywheels are known to start playing up at anything from 150,000 klm.
will update this bit as work progresses.
The Defender is skating on thin ice, no more breakdowns will be tolerated !!
Gearbox Fixed, 15 Aug 13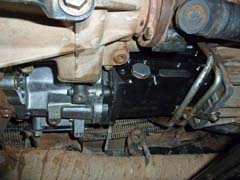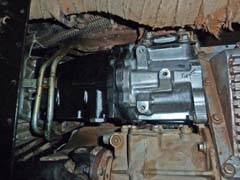 yay, New Ashcroft R380 Gearbox is fitted, Took only one week to arrive in the mail from UK, (thats even faster than sending a letter from Melbourne to Longreach) . The difference the gearbox has made to the car is amazing, its so much quieter, perhaps we had a noisy gearbox all along and just thought it was normal.
The DMF was almost due to fall to pieces, so very lucky I got a new Flywheel and clutch kit sent in the mail too !!
Any way I have no second thoughts about towing in 5th gear now (except I'll change back to 4th early )
Big Decision, Friday 13 Sept, 2013
As good a Vehicle as it might be, due to the percieved reliability Issues down the line we have decided to move on from the Landrover to a roomier and more capable 4x4. On its own The Landrover is a great overland vehicle but it seems is just not up to our task of full time towing. Handed over the $$ for the new Iveco Dacily 4x4 .
The Defender is with a new owner now and once again off on another round Australia Trip with another long time Landy owner and his family !! ( hope we dont see him on the side of the road .. ouch !)
---
EDIT: Trakmaster Sturt, Caravan Progress Report, April 2015,
The Caravan is almost 3 years old now, We have sold the Defender and now towing it with an Iveco Daily 4x4.
The Chassis and suspension of the caravan are supurb. But for a company that specialisers in, and only makes "Off Road" caravans, I'm very dissapointed. Perhaps I was being Niave when I requested, and was told, it would be dust proof" .
The van is Far from dust proof. I proactively made the posetive pressure system to pump the van with filtered air @ 3 cfm, The van does not bulge at the seams or explode when pump is running so the clean air is leaking out, which in theory, means dust cant get in - right ? wrong !! -
Australite windows leak dust and water - have no place on an "Off road Van", complained to Trakmaster - they agree (so why fit them), Dust enters through the top length of the windows, the window winder boxes fill with dust and water - creating mud, they need replacing every 12 months.
The Dometic 150L 3 way fridge burst an ammonia pipe near Mt Dare Station, I was advised to remove fridge and bring it to a Dometic agent in Alice Springs for repair, but found the fridge 50mm too wide to exit through the caravan door. I had to dismantle the fridge inside the van to remove it in pieces. Toi be fair the warranty in the Van had expired but Trakmaster liased with dometic and my fridge would be repaired at minimal cost, but I did not proceed with that offer.
Under the fridge was 2kg of dust. There were marks behind the fridge where the condensor was hitting against the wall. The thought of a fridge too big to remove from the van in one piece did not make sense to me so I decide to buy a new Waeco 140L Compressor Fridge. Then completely seal the van to stop losing air pressure & hopefully solve dust ingress for good. Unlike 3 Way /Gas fridges, Compressor fridges do not need venting to the outside. 3 way fridges have no place in an "Off Road" van, yet most Trakmaster vans come with the standard and compressor fridges are an option.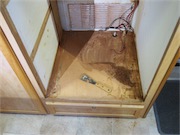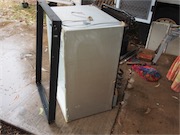 1/ Original fridge 2/ Dust under fridge 3/ Pulled front off fridge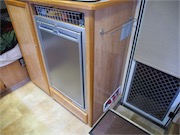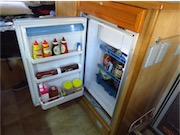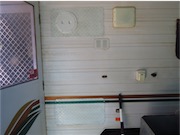 4/ New fridge - with new storage above it 5/ side vents for air circ. 6/ all exterior vents sealed
---
and now for a bit of history
1980 - 1990, LandRover Club years!
---
(click any image below for enlargment)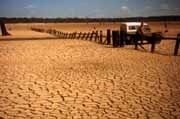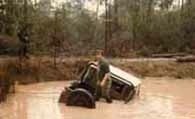 First Landrover, unmodified, Lake Glenmaggie and a few year later at a LROCV event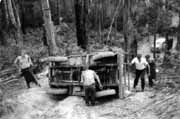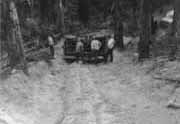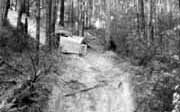 Same Landrover, Holden Engine, Turning on a hill is not reccomended. Bruce, John Highland & Geoff Portman helping. Rollover off Marginal road, near Two Hills Road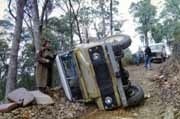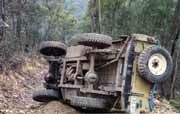 109 Series IIA fitted with P76 4.4 V8 / RangeRover gearbox & Early LandCruiser 3.7 diffs & Axles, with custom made wheels, Seeing how far I could drive up the side of the track before it rolled over & it did !! Somwhere near Woods Point on a LROCV trip.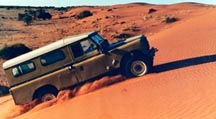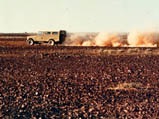 Same Landrover as above but fitted with LWB Hardtop roof instead of ute roof, on a Burke & Wills LROCV trip to the Gulf.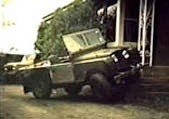 one of my Series Ones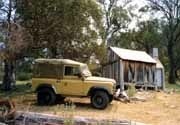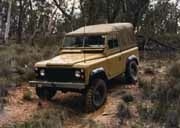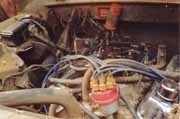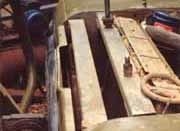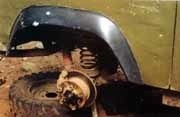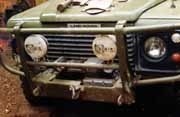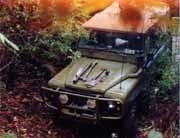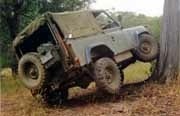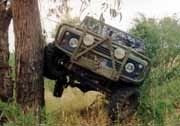 This is my Home Made Landrover 90, I saw the 90's used in the Australian Camel Trophy and decided to make my own, Pretty Schmico for 1988 when I put it together, Run of the mill nowdays, Had a Ford 302W from an F100, C10 Auto with Low Torque lockup converter, Maxidrive front & rear difflock, Nissan G60 transfer case, Commodore Mcyl & booster. Firestone SAT 750-16 tyres, The winch never got used. Engineers Certificate? Whats one of those ?? Would climb any tree or anything else you pointed it at ! Not much crossup with standard Rangie suspension - but didnt really need it!!