---
2014 Trip Blog,
---
September
(speedo 33,655 klm)
Tuesday 9th September, Bush Camp, (Binns Track South of Boxhole Meteor Crater ), NT
After having spent two weeks in Alice Springs we are on the move again. There is still more around Alice that we wish to explore but once the restlessness sets in, it's time to move on. It gives us something to check out when we come back this way again.
We were lucky to have Rob, Kirk and Soph fly in to Alice for 24hrs and we made sure we fitted as much as we could into the time. It was great to spend some time with them.
First stop after picking them up from the Airport at 1230 was Anzac Hill. Although the hill doesn't look very high, the view of the town and the surrounding countryside is fantastic. Signage boards give plenty of information on the local landmarks.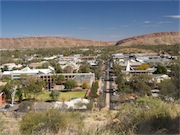 Then it was on to Simpson's Gap, about a 20 min drive West. This is a 'must see' when you come to Alice. A stroll down the wide, dry river-bed is a great introduction to this beautiful place. The large, old trees with their colourful, gnarled old trunks give a hint of their age as they bend majestically out of the sand.
Further up into the gorge a small billabong throws off the reflections of the large pink/purple rocks that lay embedded in the sand beside it. The colours of these rocks are truly beautiful, worn smooth by many hands and bottoms that have found a quiet, resting place to sit and watch the tiny Rock Wallabies that dart about amongst the rock-slide on the East side of the gorge.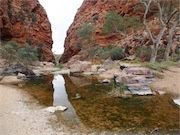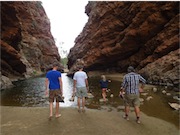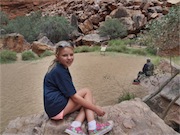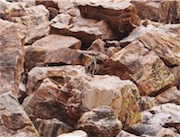 Past the billabong and around some more large rocks, cool waters run between the Gap and up to the sandy shore between the large red/brown cliff faces that create Simpsons Gap. The huge rock face on either side of the Gorge is an awesome sight. The deep red/brown of the cliffs completely overwhelm you when you gaze up at their sheer magnitude. It's almost vertigo in reverse as the cliffs loom overhead, giving the impression that they may topple down onto you at any moment.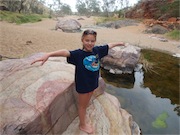 The absolute serenity of this beautiful place cannot be described in words. Nature has done a perfect job of creating the most peaceful, harmonious oasis just perfect for the little Rock Wallabies to make their home.
I stood in this exact spot so many years ago with my Father and watched these little guys hop about the rocks and marvelled at them then. The wonder of this place was still there. Memories so precious of a time long gone.
We took our leave of Simpsons Gap and made our way back to Alice, doing a quick trip out to the Old Telegraph Station before heading on to the Campground.
The next morning we headed out after breakfast and took the track South towards Chambers Pillar. There was not enough time to go too far, but enough time to drive far enough to see the beautiful deep red sand dunes that abound in Central Australia. We had a lot of fun climbing to the top of a large red sand dune before we continued on to the Ewaninga Aboriginal Rock Carving Site.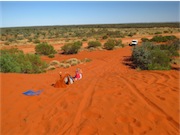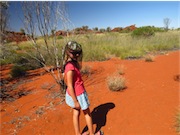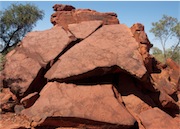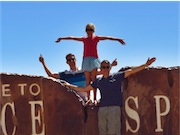 These ancient rock carvings have a wonderful story attached to them and the area is extremely significant to the Aboriginal People. The signage is excellent and gives a good insight into the historical significance of these carvings. The rock carvings were easily accessible and the walking track easy going. The main cause for exertion was the constant 'Ozzie Wave' as we fought a losing battle against the flies.
Too soon it was time to head back to the Airport again and wave Goodbye to Rob, Kirk and Soph. What a fabulous 24hrs. Thanks guys!!
Monday we caught up on our washing etc. before packing up ready to head out Tuesday (today).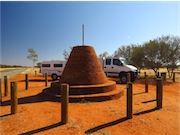 Today………….Cont.
We left Alice Springs around 0900 and headed North along the Stuart Highway, stopping at the Highest Point Marker that denotes the highest elevation along the North/South Route of Adelaide to Darwin.
We turned East at the Aritunga Road and followed it for 50kms before turning North. It was so good to get off the Highway. We hadn't gone far when we spotted a Dingo in the middle of the track, a beautiful golden Dingo. He turned away from us when he saw us coming and started running up the track. It was most strange, he didn't head into the scrub but followed the track as it curved around to the right then continued to run along the track until we closed the gap. Only then did he take to the scrub, pausing a few hundred metres in to turn and check us out before moving further into the long grass and disappearing.
We hit Binns Track around 1130 and turned East towards Harts Range. These Ranges are quite magnificent as they loom large on the horizon. We called into the Atitjere Community to refuel before continuing on. Atitjere is a nice clean little Community with a very clean General Store, only small but well-stocked.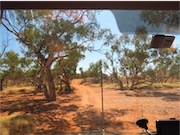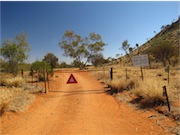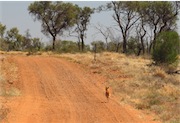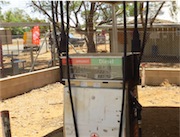 We stopped about half an hour East of Atitjere and had lunch. It was extremely hot at 38°c with very little breeze to take the edge off the heat. After lunch we continued East until we hit the turn-off to the Boxhole Meteor Crater, about 50kms North. This was a continuation of Binns Track.
The turn-off into the Crater is right on the property boundary of Dnieper Station. The track turns right just before the Station and once through the gate the track is easy enough to follow as it winds its way through the bush. A fence has been erected across the access to the Crater to keep the cattle out but it is easy enough to climb through. From there it is only a short walk to the Crater's edge. Quite an impressive Crater too. Don took the opportunity to launch the Quad for a quick flight over the Crater before we headed back down the track, out the gate and back South.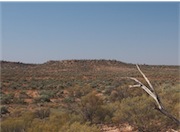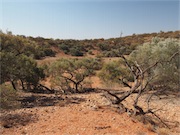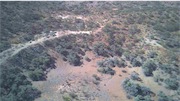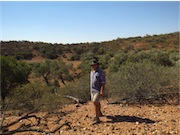 It was well into the afternoon as we headed back down Binns Track and we were both quite tired from walking around in the heat, so neither of us put up any argument when we spotted a nice little place to pull in behind the trees and camp for the night.
Although the trees impeded our view of the sunset, we were treated to the most glorious moon rising. A large, deep blood red moon that dominated the dark night sky. It is so nice to be back in the bush again.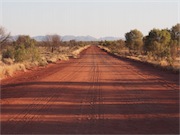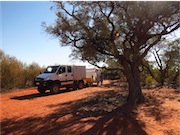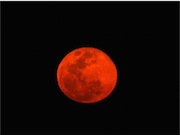 Wednesday 10th September, Bush Camp (East of Anatye), NT
We pulled out of the camp at 0830 and set off South down Binns Track to the Plenty Highway, then turned East.
The landscape was flat and sparsley vegetated with a veil of dust that hung across the horizon, giving a strange glow similar to the lighting when a storm is coming. The cattle along this route were a lot thinner, their bones prominent in their saggy hides. We always take care to pass them slowly so as not to cause them extra exertion.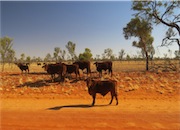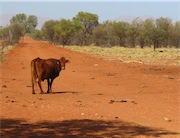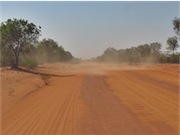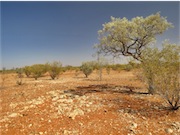 We passed a floodway that went for about 10kms, it was hard to imagine this area in flood up to nearly 2m high. It must be quite an amazing sight. We stopped for coffee near the Mica Mining area. Easy to see why, as the red earth glistened and sparkled in the sunlight with tiny specks of Mica. The surrounding rocks held large flakes of Mica that flashed in the sun. Very pretty.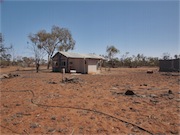 We finished our coffee and continued East for a short distance before turning North up a track that we thought may take us up to a Mica Mine. We didn't find the Mine but came across an abandoned Quarter with some outbuildings. Evidence of the hard life in the Outback.
Back on the track and heading east, the landscape was flat and sparsly treed which highlighted the large hills on the horizon. Large, long flat Mesas alongside high pointed outcrops that looked like they had been dumped there. These were the Umberumbera Hills and the Bulinburra Knobs. It was very picturesque. An opportunity came to get a better view when we came to a crest with large stoney outcrops on either side, looking out over the grasslands below.
I headed off to climb the outcrop on the Northern side, Don headed for the large hill on the South. This was definitely worth the climb. A large white hill could be seen to the South which we presumed may have been a Mica Mine, something to explore next time. We hadn't realised where each other was until we looked across into the distance and saw the other waving from the opposite sides of the road.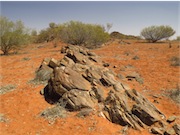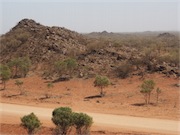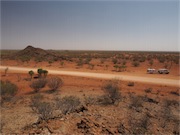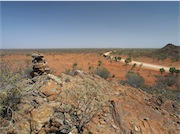 Back on the track again we could spot something stationery in the distance. As we neared we saw it was a vehicle parked next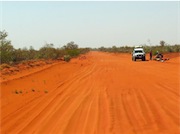 to a rather pathetic looking motor-bike which lay forlornly on its side in the dust, heading West. We stopped to offer assistance but the couple in the 4WD had the situation in hand, waiting for the German tourist to unload all the gear from his bike so it could be up-turned.
The area where he came adrift was in a section approx 10km long that consisted of deep drifts of bull dust and corrugations. How he kept his bike upright as long as he did was quite a feat in itself considering how over-loaded it was. The ground surrounding his bike was covered in his belongings and he had only unpacked a portion of it, there was no way he was gong to get it upright without unloading everything. He must have had a ton of stuff attached to it. The motor-bike was a KTM 650.
After assurances from the couple in the 4WD who were also heading West that they were able to manage without us, we continued on, leaving the disgruntled German tourist still cursing and moaning at his misfortune and showing very little gratitude for the assistance he was lucky to be getting.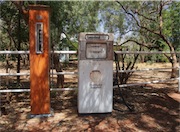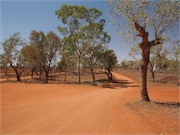 We arrived at Jervois Station and decided to fuel up whilst we had the chance. This turned out to be a 'fat chance' as there was absolutely no-body in attendance to serve us. We risked a second ring of the buzzer, ignoring the sign that stated 'one ring only' but was still unsuccessful in raising anyone so we headed back out onto the track and continued on.
As it was almost 1300 we pulled off the road next to a Well and enjoyed some lunch and some down-time in the company of some cows; always pleasant company.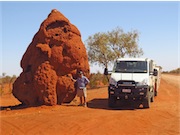 Back on the track and heading NE we began to notice the extremely large termite mounds dotted in amongst the scrub. Not unusual to see termite mounds in this area but these were absolutely huge! Per chance the largest one we have ever come across was situated right next to the South side of the road. Don pulled the truck over next to it for a photo and a size comparison. The truck is 2.6 m high and the termite mound was easily double that. It was HUGE! It would be very interesting to know how old this mound was.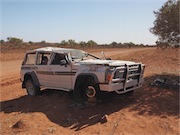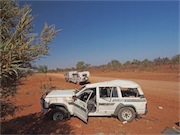 There were quite a few large rocky outcrops we took the opportunity to climb and enjoy the view from a higher vantage point. It was never a disappointment. Not far on from one of our stops we came across a Nissan Patrol that had come to grief. It appeared that it had rolled by the extensively damaged roof which was caved in to seat level in the front. Closer inspection revealed German magazines in the back seat, so perhaps another German tourist has had his holiday shortened. It was a bit sad to see a fishing rod laying on the ground next to the vehicle, an esky in the back and other personal items strewn about. We can only hope that the occupants were luckier than the vehicle they were traveling in.
Except for some bad patches of bull dust and corrugations the Plenty Highway hadn't quite lived up to its terrible reputation. We passed one road crew busy at work grading the road and there was evidence that there had been some upgrading done in one or two small areas so perhaps the worst of it has been ironed out.
It was getting late in the afternoon when we passed the road-works so we had our eyes out for a good place to camp and it wasn't long before we came across what looked like a good spot. We headed off-road and wound our way in behind a large hill about 500m off the track. Just right for our camp and with a hill right there in front of us just waiting for us to climb.
We set up quickly then with cameras in hand, climbed up to the top of the hill. The surface of the hill was gravelly with very loose stones so caution was needed but the climb to the top was definitely worth it with amazing views our reward.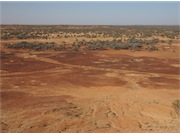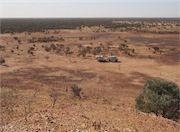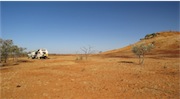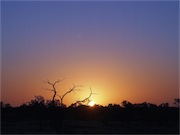 Thursday 11th September, Bush Camp, (North of Roxborough Downs Station), QLD
We took our time to pack up this morning, taking advantage of the lovely sunshine to take a shower. The cool morning breeze created a few goose bumps but it felt so good. We didn't pull out onto the Plenty Highway until 1015. Don was having trouble with his eyes after getting some dust in them and they were quite sore, so I drove.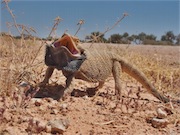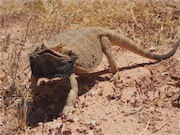 As luck would have it, we saw three very sprightly lizards enroute, managing to get some good photos of one of the little guys, a very handsome Bearded Dragon.
We pulled into Tobermorey Station for fuel, just before we hit the NT/QLD border. No trouble getting fuel here. The service was excellent and the area surrounding the Homestead was well maintained with a really nice grassed area for campers. We pulled back out onto the road and shortly after we reached the NT/QLD Border, stopping in a quiet spot a few Ks further on to have lunch.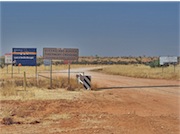 An hour later we were on the road again with a change of driver. Don's eyes were much better and he was champing at the bit to get back in 'the saddle'. We headed East for Boulia but were still undecided exactly which direction we would end up going. We ummed and ahhhhed until we came to the turn-off to Roxborough Downs Station heading North. We paused for a moment or two, then turned the truck North onto the track into Roxborough Downs Station. Neither of us felt we were quite ready to go further East just yet.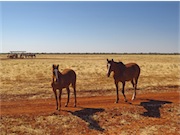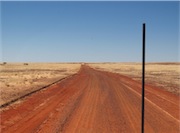 We passed through Roxborough Downs Station, pausing to chat to some horses enroute. The red earth against the flat, golden grasslands was extremely picturesque with very few trees visible on the horizon. Once we reached the river channels the earth turned from red to grey and the vegetation became thicker. The landscape alternated between red earth, flat, golden grassland and few trees, to grey earth, more undulating tracks and more foliage.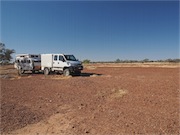 We passed through the Northern boundary gate of Roxborough Downs Station into Linda Downs. Crossing into QLD meant our time had moved forward half an hour and with the afternoon shadows beginning to lengthen, we thought we better keep an eye out for a camping spot. We had to be mindful that we were on Station properties so finding an unobtrusive little spot we could camp for the night was a little more difficult but we managed to find a small open area that had some shade. It is important not to leave any 'footprint' when passing between Station properties just as it is in National Parks or anywhere else.
The day was topped off with a medium rare Scotch Fillet and veggies, yummy !
Friday 12th September, Bush Camp, (East of Turners Well), QLD
We were back on the track and heading North by 0830, passing through Linda Downs Station then Carandotta Station Homestead. It was another beautiful day with the colours highlighted by the blue sky and the bright sunshine.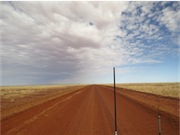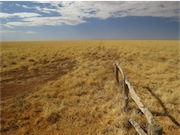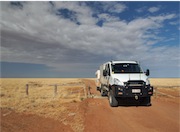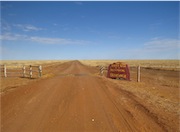 We reached a T Intersection and took the Western track towards Urandangie, passing the Thorner Station Homestead enroute. Most of the Stations out this way have their own airstrips due to their isolation and the size of their properties. All are well maintained and in close proximity to the Homestead.
We were only about 10 minutes from Urandangie when we passed a group of Aboriginals sitting around their vehicle which had obviously broken down. There were about eight of them. They were smiling cheerfully and in good spirits. We stopped briefly to make sure they were OK but not having any smokes we could be of no assistance to them. They waved us on with a laugh and a smile and we continued on to Urandangie.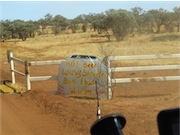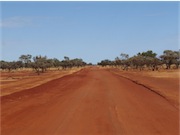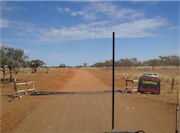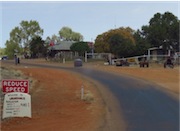 We had intended to get Fuel at Urandangie but this didn't eventuate. There were about 100 Aboriginal people congregated in the area and upon enquiry from some young Aboriginal boys seated on the verandah of the Pub, we discovered that there was a funeral in progress, a Grandfather of one of the young boys. He told us that the Pub would be closed until after the funeral. As the fuel pumps were accessed from the Pub, this meant that fuel would also be unavailable until after the funeral.
We weren't sure how much longer the funeral might go for, nor the 'wake' afterwards, so we decided not to intrude and to move on. It didn't seem right to impose ourselves on them at this time, so we headed back to the truck. As I was about to get in, I heard a timid voice call……"Miss, Miss." I turned around to see one of the young boys about ten years old, football in hand, standing at the end of the Pub verandah calling to me. I smiled and responded. He said….."You have a really nice truck Miss."
How cute was that!! I asked him if he would like to see inside it. "Oh Yes!" he replied and he practically jumped the verandah railing as he hurried over, a huge smile on his face. Next minute I was surrounded by about six more young fellows all clambering for a look inside the truck. "I bet this goes everywhere" said one young boy. "Yes, over the sand and even through the rivers" said another.
One of them spotted the Road Atlas in the door pocket. His eyes lit up as he pointed to the 4WD on the front. I took the Road Atlas out and opened it. "Where are you going Miss?" they asked, crowding around the map of Australia where I had opened the Atlas. "Are you going to Mt.Isa?" one of them asked. "Maybe Adelaide, or Melbourne?" another said. We spent a few minutes looking at all the possibles routes we might take in Australia. They were very animated and very interested. I finally put the Atlas back and the first young fellow I had spoken to said forlornly, "Are you leaving now?" When I replied we were, he said, "Well, have a really nice trip Miss". I left with a lump in my throat.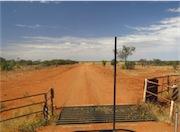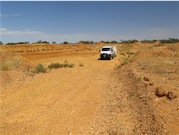 We took the track East to get back onto the Diamantina Road that would take us South to Dajarra. About an hour along this track we stopped in a 'borrow pit' to have some lunch. This provided a good wind break and a lot of area to fossick around. There were some really great specimens of Chalcedony. Don practiced his 'knapping' skills and produced a beautiful piece with an edge sharp enough for cutting. (I'll probably find it in the kitchen drawer with expectations I use it as a vegetable knife.)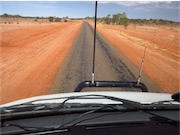 We reached the Diamantina Developmental Road about an hour later and turned South. This road is sealed but is only one lane width. The landscape was really interesting with hills and rocky outcrops, plenty of places to climb and explore. We reached Dajarra Roadhouse not long after 1330, fuelled up then had some lunch before hitting the road again. We traveled South for about 15kms then turned East along a track that took us to The Monument. This track was extremely undulating with corrugations and deep dips and a lot of dry creek beds to cross, so the going was slow but the scenery was fantastic. The colours, the hills, the rocks, we were so pleased we had opted to take this route.
We reached the turn-off to The Monument and could see it in the distance but Public access had been restricted because of the Phosphate mine in the near vicinity. This was a bit of a bummer. There had been no signs warning that access was prohibited along this route until we had actually arrived, so we were a bit disappointed but we turned South instead of North to the Monument and found that Public access had also been prohibited along this route as well.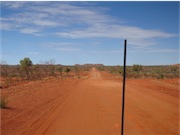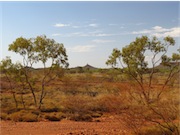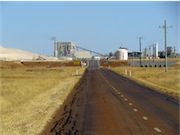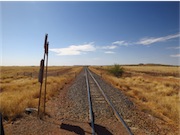 Hmmmmm……..we are usually very mindful of road signs but this was a bit ridiculous. The thought of turning around and heading back was not an option so we forged ahead, sure that the track South must lead somewhere off this Mining road. All we could see ahead of us was the huge Phosphate Mine looming across both sides of the road in the distance. We kept going. As with all Mining areas, we have found that the roads you think are there, have quite often been diverted to accommodate the Mining Traffic, restricting general access. But in this case, the access road just came to a T Intersection and then access was prohibited.
We were almost to the Phosphate Plant when another road turned East to another Phosphate Mine. With nowhere else to go, we turned down this road and followed it around past the huge hill of Phosphate, then suddenly spotted another dirt track heading East. No sign post, no sign of any sort. But……this was definitely the road we had been looking for, so without hesitation we headed East along this track, our confidence high again. We were very glad to have left behind all the signs threatening everything but death if we had proceeded along the Mining route.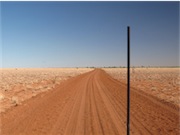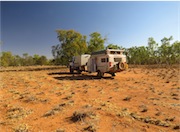 The track East wasn't too bad, soft ridges of fine powdered dust and corrugations but flatter and not as undulating and generally easy going. With the afternoon closing in on us we looked for a camp site. Once we left the flat treeless landscape and came into the river channels there were a number of options. We found a good spot next to a dry creek bed and set up camp a few Kms East of Turners Bore.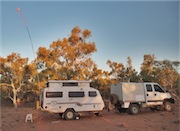 Even though we have kept up with the Blog each night we have not had any mobile or internet coverage since we left Alice Springs, so have been unable to upload the Blog or check emails etc.. so Don decided it was time to be inventive. He rigged up a 10m pole, put the modem in a plastic bag and tied it to the top of the pole, then crossed his fingers. He figured that with the Mine not that many kilometres away he may be able to tap into that signal. Well, it might have been mega slow but we did manage to get enough oomph out of the signal to upload the Blog and receive our emails. Amazing really.
Saturday 14th September, Boulia, West Qld
We packed up and were headed East to Chatsworth Station. The track was fine, powdery bull dust with loose drifts and corrugations. We passed Chatsworth Station about half an hour later and turned SW, crossing over the sealed Mining road that had cut down from the Phosphate Hill Mine and led to the Osborne Mine.
The track cut through deep, dry river crossings as we came down through the river channels. It was extremely dry everywhere; fine dust whipped up into Willie Willies and raced, rotating across the landscape until they thinned and dissipated. Even traveling slowly, a large dust cloud trailed behind us.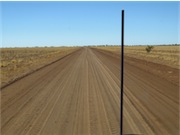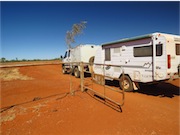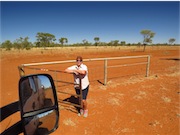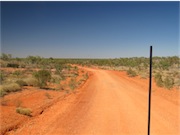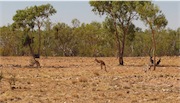 The cattle congregated in large herds around the Bores and birdlife abounded near these watery oasis. Large flocks of Galahs took flight, squawking loudly as they took refuge in the trees as we passed by. A large mob of Kangaroos stood watching us curiously before hopping away slowly, farther back into the bush. One Kangaroo with Joey was a bit more reluctant to leave the shade of a tree and stood calm but alert as we drew to a stop only metres from them. We only stayed a moment or two before moving on, they watched us go then lay down again under the tree.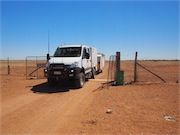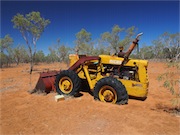 There is always interesting old machinery abandoned in the Outback and this route was no different. A Loader lay forlornly on flattened tyres about 200m into the scrub. A photo opportunity Don couldn't pass up.
We reached the Old Police Barrack Site around lunch-time and pulled in to have lunch. We had checked out this site last time we were in this area and found it extremely interesting. In 1875 a Unit of Native Mounted Police was established at this site. It was situated on the banks of a natural water-hole which has great significance to the local Aboriginal people and of critical importance during drought periods. Regular Mounted Police detachments were stationed here until the first Police Magistrate was appointed in Boulia in 1884 and they moved the Barracks into the township of Boulia.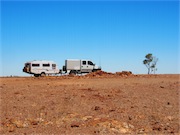 There is nothing much left to indicate there ever was a Police Barracks here except a couple of piles of rocks. When we came through here last time we had found a number of artefacts and placed them on the rock wall for others to muse over. We were pleased to see that they are still there; interesting memorabilia from the past.
We enjoyed a leisurely lunch and were about to leave when we saw two lines of bulls about 150m away, walking towards each other. We watched as the two lines met, wondering what they would do. As if they had given instructions, the two lines met, then turned to face us in one long line, inching forward a few steps at a time. They stopped about 100m from us, remaining in line and every eye upon us. We stood there watching them. They stood there watching us. A Mexican stand-off.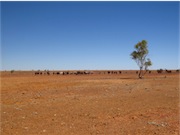 Not wanting to disturb them too much we walked to the truck and climbed in. They moved forward a few more feet then stopped again, still in line. As we moved off slowly, the middle bull jumped a little with his front legs then turned. All the other bulls turned with him. As we moved off across the stoney ground to the track, they moved off in the other direction, not looking back. I guess they thought they had shooed us away successfully. We continued South down the track to Boulia.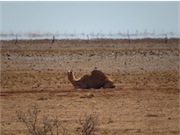 There is a famous Camel Race held at Boulia in July each year so there are always a few camels around the area. We were a bit late for it this year but there were still a few camels relaxing in the nearby paddocks as we came into the township. A really interesting 'ground map' was laid out beside the Roadhouse, showing the inland sea that covered much of the Northern part of Australia about 100 million years ago. Fossils of large sea mammals can be viewed at the Stonehouse Museum.
The Caravan Park is situated right on the banks of the Burke River, a tributary of the Georgina River, although this time of year there is only a small puddle in the middle of the wide sandy bottom. The Burke River flows South through Boulia into the Simpson Desert and the Lake Eyre Basin.
As we set up we could see a group of Aboriginal children playing in the dry river bed, their happy laughter mingling with the chirps of the many birds darting about in the trees along the river banks.
Sunday 14th September, Boulia, West Qld
A day of relaxing, washing, relaxing and then relaxing. Time to work out which direction we might head tomorrow.
Monday 15th September, Bush Camp, (NE Diamantina National Park)
We left Boulia at 0830 and headed East along the Kennedy Developmental Road. About 15kms from Boulia we saw a recently abandoned 2WD on the side of the road. Wrong type of vehicle for this part of the country.
We continued on for about 25kms then took the Springvale Station track SE to Diamantina National park. The landscape was extremely flat and dry, barely a tree anywhere. The cattle kicked up little puffs of dust as they trudged along in single file to the Bores, their well-worn path etched deep into the dry dust. Their trails easily visible cutting across the dusty plain to the Wells.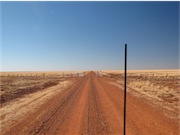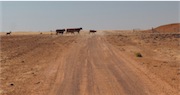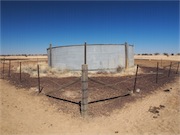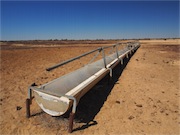 As we passed through Springvale Station we came across quite a few beautiful horses. Big, strong animals with glossy coats, obviously very well cared for.
Once through Springvale Station it was only about half an hour before we entered the NW Boundary of the Diamantina National park. Last time we had come through here we had entered from the SW and left down the SE track. As we had explored through this area last time around, we decided not to stay in the Park and continued on, crossing over the many river channels and out through the NE Boundary.
Not far out of the Park we came across the Mayne Hotel Ruins. Very little is left of these ruins that catered to many a thirsty drover in this area from 1888 to 1951. The vast amount of broken beer bottles attest to the amount of liquid amber that must have passed over this Bar in years gone by.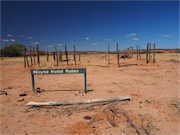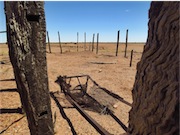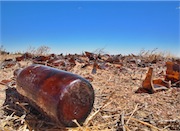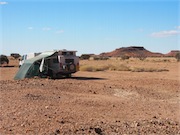 With the temperature hitting 44° we decided to call it a day. We found a reasonably good area to camp not far from the ruins, set up camp then had some lunch. It was really hot but Don had put the awning out on the van and it was cooler inside than out, so we weren't too uncomfortable.
After lunch, we went for a walk back past the Hotel Ruins to a small cemetery. A sign stated there were seven bodies known to be buried there. Their stories are buried with them, only their graves a poignant reminder of harsher times. Contemplation brings some sense of appreciation for the hardships of the past, a healthy reminder to appreciate our present.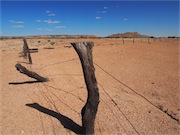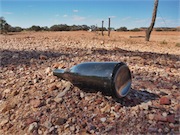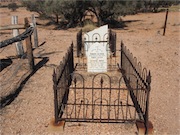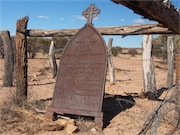 The afternoon sun was hot and the air still, ideal for Don to capture some of the surrounding landscape with his Drone, so he found a shady tree to stand under whilst he launched his Drone into the air and flew over the old Mayne Hotel Ruins before taking a birds-eye view of the surrounding countryside.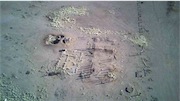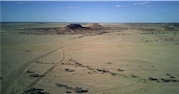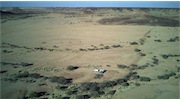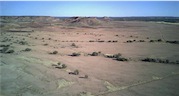 It's now 1800 as I type this Blog and the temperature is still 35°. It looks like we are in for a hot night but perfect for checking out the stars in this rather remote Outback area. The skies are so dark out here and the stars so numerous and bright that you feel you can almost reach up and touch them.
Tuesday 16th September, Bush Camp, (Diamantina River West of Cork), Qld
The campsite we had chosen was a reasonably good one, far enough away from any dust that may be kicked up from the track, some screen trees and a beautiful view……but….the flies!! You couldn't step outside the van without a swarm of flies attacking every orifice, up your nose, in your ears and up under your sunglasses into your eyes. After a few futile attempts, I gave up and donned the 'fashionable' fly hat over my head but even after swallowing the odd fly or two in the past, Don seemed oblivious to them. He's a braver man than me! It's bad enough when they just 'fly in and fly out' but these bush flies just stick to you and stay there. That fly hat and me became inseparable.
Other than that……..the night sky was as amazing as we had expected.
We packed up and left around 0900, heading NE towards Old Cork. There were plenty of cattle on the track as we passed through the Stations. Although the landscape is powder dry the cattle looked to be in reasonably good condition. We spoke to a Station hand clearing debris from one of the cattle grids across the track and according to them, rain hasn't been seen in this area for seven years. The thick bull dust underfoot certainly gives testament to that.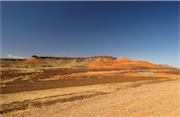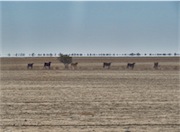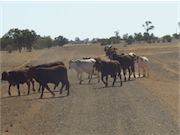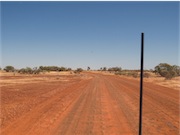 The track wasn't the best we have been on but it certainly wasn't the worst either but the deep, sharp dips, holes corrugations and thick bull dust made it slower going than normal. We crossed numerous dry creek beds and channels with little evidence of any recent water through them.
We came across a forsaken old truck resting on its chassis under a shady tree. Although it looked very sad, it would have been a restorer's joy; easily repaired with enough love and attention.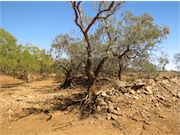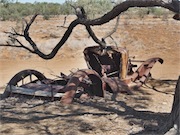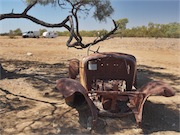 It was extremely hot again today, 36° and with not too many trees around the sun's heat beat down uninterrupted. We don't mind the heat but a brimmed hat and water is a must when venturing out to fossick around.
We came to the Old Cork Ruins, a place we had missed seeing last time and the reason we had chosen to come along this route. This homestead was one of the first substantial properties established following the pastoral district being proclaimed in 1873. The homestead was erected around 1880 of local sandstone and timber imported from SE Qld. It is located on the permanent Cork water-hole on the Diamantina River. It is recognised as a place of great historical significance to the Winton Shire. The building was abandoned and has been unoccupied since the 1960's and has since suffered from neglect and theft. Attempts to curb further deterioration is planned by the Winton Shire and others by erecting a roof and fencing it off to thwart further vandalism.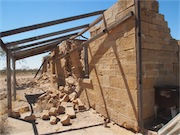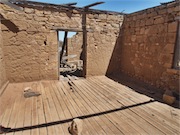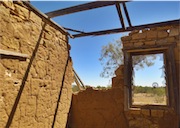 We spent a fair bit of time wandering around this Old Homestead. The old 'Out-House' brought back memories of my childhood as it was almost identical to the one my family used when I was a little girl. The only difference being that our 'Out-house' was built out of timber. mmmmm……..maybe I shouldn't have admitted that, but it was definitely later than the 1880's!!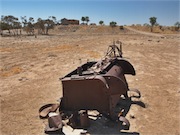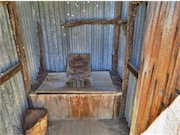 By the time we had finished wandering around the ruins, neither of us was very energetic; the heat very quick to sap our energy. We left the old ruins and headed down the track which ran adjacent to the Diamantina River. We contemplated the long, dusty track ahead and then cast our eyes towards the line of shade trees that ran along the river's edge. Without either of us speaking, we turned towards the shade trees and the river. There was definitely going to be no debate about this decision.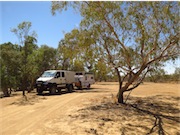 We found a perfect little spot quite close to the river and pulled in under some shady trees. As soon as we got out we knew we had made the right decision. A cool breeze filtered through the trees and the sight of the river was almost joyous. Without giving it any thought, we had expected this river to be dry as well, we had not seen any significant water for awhile. We stood there mesmerised as we watched three Pelicans cruise gracefully down the middle of the river. Slight ripples broke the surface of the water as their legs paddled strongly beneath the surface. A myriad of small birds darted about above us on the shore, flitting in and out of the branches above. A small lizard scrambled quickly up the tree near the van. This place was just magic!
It didn't take Don long to get a couple of chairs out and place them under the big gumtree facing the river. I laid back on the chair with the cool breeze fanning the heat from my body as I watched the graceful movements of the Pelicans on the water. At that moment, I couldn't think of any other place I would rather be.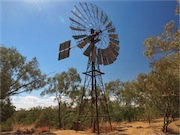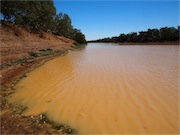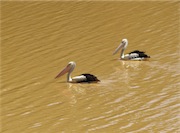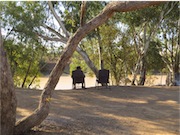 The river flowed past gently, the breeze rippling the surface just enough so as to distinguish the flow of the river. A flock of cockatoos squawked noisily on the other side of the bank, congregating in the trees, taking flight over the water then settling back into the trees. The old rusty windmill, still in working order, sat motionless about 30m from us until the breeze was strong enough to turn its blades, then it squeaked and groaned as the wooden con rod moved up and down, pumping clear water in spurts through to pipes underground. Small jets of water gurgled past the piston seal in the pump, creating a squelching noise with each spurt. It's quite amazing just how long these little things can hold your attention.
The river, the bird-life and the peacefulness of this place has definitely recharged our batteries. Best of all……….very few flies!!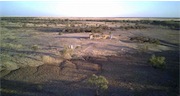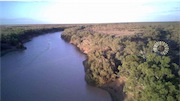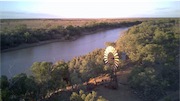 Wednesday 17th September, Bush Camp, (West of Lochern National Park) QLD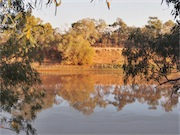 Neither of us were in a hurry to pack up this morning. It was a beautiful camp site and we were a bit reluctant to leave. The river was totally still, reflecting a perfect mirror image of the treed bank above. The birds started their morning early, chirping and darting about as the morning sun rose over the horizon.
The shower was particularly good this morning as the sun shone its warmth on our naked bodies. No goose-bumps this morning. I lingered slightly longer than I should have it felt so good.
We had just finished showering when Don spotted an Emu about 50m from our camp site. It was a very large, plump bird, extremely healthy looking. We stood still and watched it as it ambled only metres from us, foraging along the ground and stretching up to peck at the low branches above it. It didn't seem to be bothered by our presence. It moved down along the water's edge then tracked back along the same route it had come, strolling leisurely, giving us no more notice than a casual glance as it passed by and went up the hill.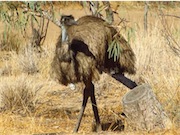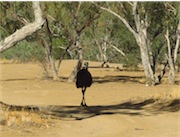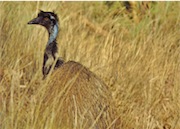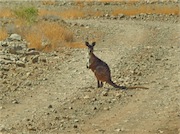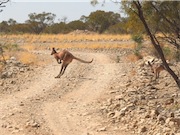 It was almost 1000 before we finally got ourselves moving.
We had only gone a few hundred metres when we stopped to let a mob of Kangaroos cross the track ahead of us. One of them stopped right in the middle of the track and stood there, watching us. We finally had to make the first move as it made no indication that it was going anywhere. We moved slowly forward and it hopped off the track after the others. We turned East and headed to Cork.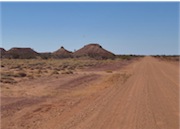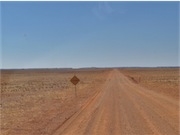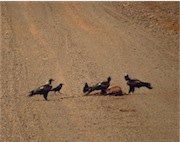 The wildlife was far more plentiful than we had seen in recent weeks, we presumed because of the water nearby. We came across a number of Eagles feasting on road-kill but they took off before we got close enough for a good photo. We continued on, opting for an early lunch when we stopped at a look-out point that gave great views of the surrounding area. Although the wind had picked up a bit, Don put his Drone up to try to take advantage of the view.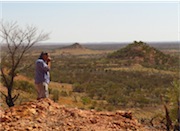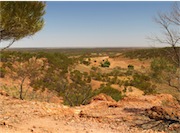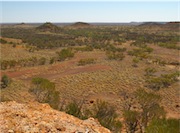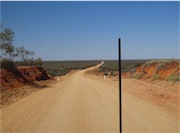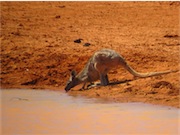 It was 41° when we got back in the truck and continued on a short distance before turning South towards Jundah. The earth still looked very dry but as we were now in Channel Country there were far more trees and shrubs on the landscape. As we passed by a dam that actually had water in it, I spotted a lone Kangaroo drinking from the far side of it. Don did a quick 'U' turn and I jumped out and crept along between the trees to capture a photo. They are extremely jumpy when drinking as they are more vulnerable so I took it very slow and careful as I crouched down between the branches to get the pic. Standing up slowly, I only made the slightest movement and it pricked its ears up, stood up and bounded away.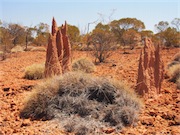 The termite mounds became more numerous as we headed South, creating what looked like, 'little cities'. Some of their shapes are quite extraordinary.
The track swung around to the East then about 40kms on, the Jundah track swung South and we continued on towards the Lochern National park. We found a good camp site West of the Park. Tomorrow we will head on up to Longreach.
Thursday 18th September, Longreach, Qld
The night had been quiet, the sky dark and sparkling with a multitude of stars. We awoke early, refreshed and ready to head on to Longreach which was only about 150kms away. The sky was an amazing pink as the sun rose, casting long fingers of light across our campsite.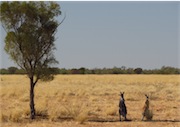 We packed up and pulled out onto the track just before 0800. Two small Kangaroos were sitting just back from the roadside under a tree. They seemed unfazed by our presence as we pulled out slowly; just sat there watching us, only hopping back a few paces as we drew alongside.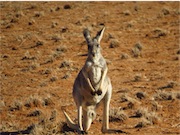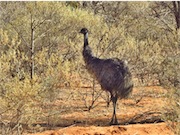 We had not gone very far and were still traveling quite slowly, when a large Emu wandered out from under the trees and strolled along the track before turning and disappearing into the trees again. It is always so good to see the wildlife and even more so when they seem relaxed and unafraid.
We reached Lochern National Park in under an hour. Not far into the Park there was a sign indicating to the left for the RFDS Airstrip (Royal Flying Doctor Service). The track to the Airstrip was not well-worn but also not over-grown. We headed down to take a look. A large area had been cleared for the Strip. Nothing more to see but the Airstrip and the white markers indicating the side of the Strip but it was still interesting to see.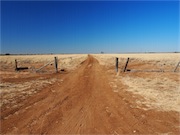 We continued on through the Park passing the old Waterloo Station, with the original sign post still standing. The black wording on the white sign had almost worn off but was still visible……Waterloo - 10 Miles. Not far ahead a new sign pointed to Waterloo Station and a cluster of well maintained buildings could be seen on the rise. Visual affirmation of the fading of history and the emergence of modern-day.
We knew we were nearing water as a flock of cockatoos swooped and screeched into the nearby trees. It wasn't long before we crossed over the Thompson River and out of the National Park. There were numerous cattle along the way, all bulls. They are such interesting creatures. After coming across so many cattle we have come to know their different mannerisms and can never just pass them by. They all have different personalities and are extremely curious although cautious.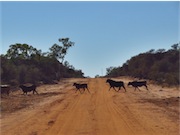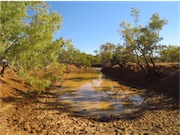 We were expecting to get to Longreach by late morning but there were so many interesting things along the way that it turned out to be the longest 'short' stretch we have done.
We stopped at the Tocal Hotel Ruins around 1015, thinking it might be a good opportunity to boil the billy for a coffee, but we never did get the billy boiled as we spent so much time wandering around the old Hotel site. Very little remains to show that there was an actual Hotel on this site, except three concrete steps that lead up into fresh air where the front door used to be and a couple of concrete slabs where some outbuildings would have sat. There were broken bottles and other interesting artefacts strewn across the site that gave an indication that this was once a very well serviced 'Watering Hole'. A twisted chicken-wire fence lay tangled around rotting fence posts and rocks placed strategically in various areas gave evidence of some Outback landscaping.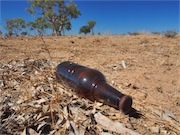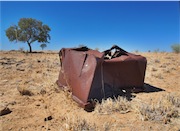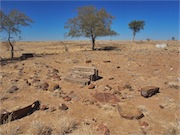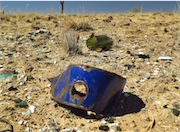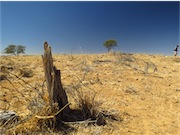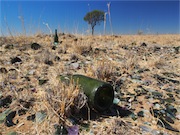 The Hotel was built before the turn of the 20th century and served as a Mail Change for Cobb & Co Coaches and surrounding properties traveling to and from Longreach. It was also the District Social Centre. The Hotel burnt down on 27th November, 1960.
(Just an observation, but it's interesting to note how many Hotels across Australia burnt down in the 1960's when Australia was under-going a 'Credit Squeeze' when the economy had gone into a brief recession.)
An hour later we gave the coffee a miss and continued NE towards Longreach. Plenty of Kangaroos were out and about, taking shelter from the sun under the trees. It seems all the Kangaroos have migrated to Queensland.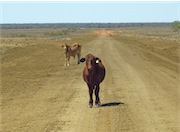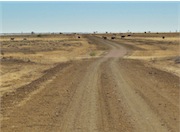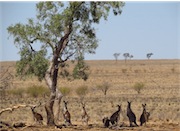 It was nearing midday when we came across the Arrilahlah Town Site. Although there is no longer any buildings or very little evidence of any township at all on this site, this used to be a thriving community. The township was formed in the 1870's when it was believed the Rail Terminus was going to be built there. The town grew until Longreach became the planned Railway Extension. In its heyday there were all the necessary businesses for a successful town, including three Hotels. By 1905 only one Hotel and several businesses remained. The Hotel operated until the mid 1940's.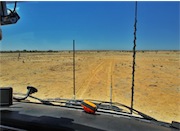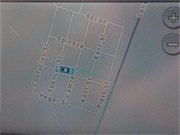 This stop produced mixed emotions for us. As we drove along the track into the site, the GPS showed not only the street layouts but also the names of the streets. We were driving literally in a paddock with no evidence of there ever having been any streets so it was a bit weird. We both got out and did our usual…….I headed in one direction and Don in the other. Somehow we always manage to meet back at the starting point at the same time.
We both wandered around with our heads down and it was almost an hour later when we looked up and saw each other. "How did it make you feel as you wandered about here?" I asked Don. "Sad" he replied. I had the exact same feelings. It was the little things that had been left behind amongst the dust and the cow pats that had slowly changed our enthusiastic interest into subdued melancholy. A rusty belt buckle that lay next to a metal button, a once proud Coleman Stove displaying its 'Made in Canada' on the burner, laying dinted and forlorn not far from a saucepan, now useless with a large rusty hole contrasting against its blue enamel coating. A small delicate pearl button with an intricate design lay half buried in the dust, provoking an interesting reverie as to who the wearer might have been and how it had come to be left behind.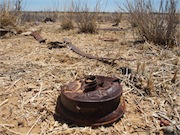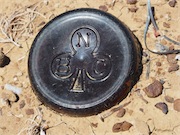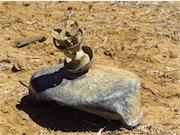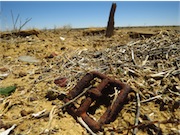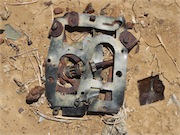 I guess it was this 'wondering' as we ambled about looking, touching and photographing things that caught our attention that brought on this feeling of sadness for this town, a town that had grown out of the expectation of a bright future with the anticipated Rail Terminus being located here only to have their hopes and dreams turn to dust literally, when the planned Rail Extension was built in Longreach. Now there was nothing left of these dreams except a multitude of broken bottles, rusted household items and a few personal pieces that lay half buried in the dust.
We left the Town Site and crossed over the road to where a Racecourse was once located but decided to explore this another day. It was extremely hot and we had just spent an hour wandering around the Town Site, so we got back on the track and headed to Longreach. Plenty of Kangaroos and Cattle to interest us along the way.
We arrived in Longreach about 1330 and booked in to the Caravan Park where we had stayed before. New owners but still a great Park. Before heading to the site we went back into Town and put the van through a car wash. Months of red dust poured off, covering the paving with pink suds. It felt 40kgs lighter as we towed it back to the Park. We set up quickly then headed back into Town for something to eat. It felt good to be back here again.
Friday 19th September, Longreach, Qld
Today was a day of cleaning. With the van fresh and clean on the outside it was time to freshen up the inside. We went through the entire van, taking down the curtains and washing them as well. By the time we had finished, the place not only looked bright and clean but smelt great also. All ready for the next dusty trail.
Thursday 25th September, Bush Camp (40km South Torrens Creek), Nth Qld
We left Longreach around 0900 and headed East to Ilfracombe. It had been a good week.
We stopped in Ilfracombe for a coffee before turning NE to Aramac. The road was a one lane sealed strip for part of the way but once the gravel began it deteriorated quite badly, with deep ruts. But there was plenty of wildlife along this track to keep us interested.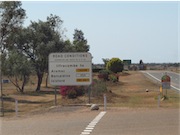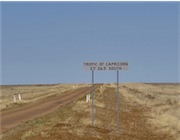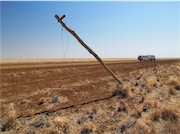 Kangaroos and Emus were plentiful and we were especially lucky to see two pairs of Bustards prancing haughtily along, seemingly without a care in the world. We have never yet seen a Bustard in a hurry. Pigs seem to be quite plentiful in this area as well; we passed three large recently dead ones as well as a couple of old carcasses.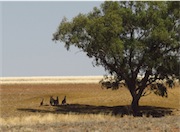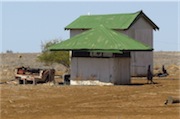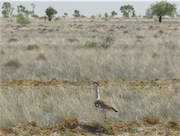 As we approached Dun Donald Creek we came across a working shearing shed and took a break to check it out. The machinery has been modernised with electricity, the shed spotlessly clean.
We reached Aramac and found a small, neat little community with good town facilities but not much in the way of Cafes. The local Hotel didn't serve food but they directed us to the Cafe at the local Servo. We would have had to camp the night before we got served here. There were two people still waiting with no sign of them being served as the girl was busy with two previous orders, so after waiting ten minutes just to pay for two cold drinks, we decided to stop further up the track. This worked out well and we enjoyed some good old fashioned scrambled eggs in a nice little spot under a tree.
With lunch over, we continued North through the many Stations and past Forest Den National Park. Still plenty of Kangaroos, Emus and the odd couple of Bustards. We came to the Moorrinya National park and contemplated camping there but decided against it and continued on for about another 20kms before spotting a good camping site. Today had been quite hot again with the sun quite fierce through the windows, so we were glad to call it a day.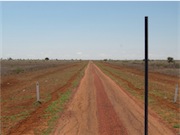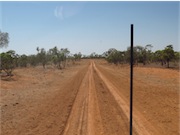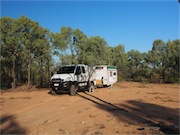 It was 1630 when we pulled off the track and set up camp. The bush in this area is very scrubby so we were very pleased with the camp site we had found a good cleared area away from the scrub. No flies, no mosquitoes, no ants…….perfect.
Friday 26th September, Bush Camp (East of Gregory Springs), Nth Qld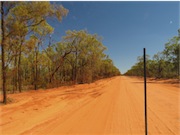 This morning we awoke refreshed after a good night's sleep. The night sounds of the bush had been quite incredible. We packed up and continued up the track North to Torrens Creek, a very small community.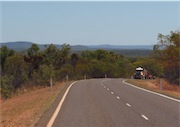 We fuelled up, then headed East along the Flinders Highway, through the White Mountain National Park to Pentland, where we took a NE track that would bring us out just past Gregory Springs then onto the Kennedy Development Road.
The landscape was much different now, greener and far more hilly as we approached the Great Dividing Range. It was amazing how quickly the landscape had changed. Trees as far as the eye could see, far different from the flat open, treeless plains we had become used to.
It was around lunch-time when we arrived in Pentland but the local General Store has not had their kitchen put in yet, so they directed us to the little Cafe at the local Caravan Park. We waited in the little store for about 10 minutes without any acknowledgment. We could see that the man was flat out with two customers, so we continued on, turning North just outside of the town where we pulled up in a nice cool spot for lunch.
The road was extremely undulating, dipping down quite sharply as we crossed over the creeks and rivers, through gullies and gulches. The bridges over the river crossings were quite unique. They had been made from rail lines.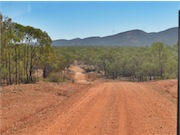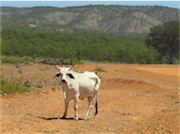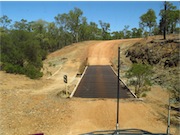 We passed a couple more dead pigs as well as a family of live ones. It was refreshing to see the lovely, clear water that now ran through a couple of creeks we crossed over. It is still quite a novelty to see any type of water course.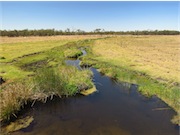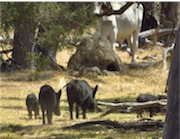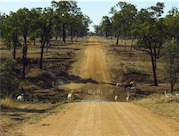 It was quite hot again today. Plenty of Kangaroos and Emus along this route. Some of the Kangaroos were a very dark brown in colour with lighter tan up towards their shoulders and chest. There are always plenty of cattle along these tracks through the Stations, some in a lot better condition than others. Some of the cattle we saw today were just skin and bones, it was quite sad.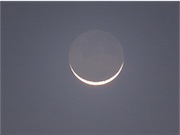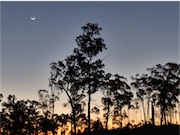 There were very few places along this track that would be suitable for a camp site. The track was narrow and the scrub came right up to the side of the track with very few opportunities to pull in away from the dirt. It was late afternoon and the shadows were long on the track making it hard to see any large holes or dips. I don't know how but we always seem to come across just the right spot at just the right time. We came over a crest then levelled out to see a cleared area just far enough off the dusty road for a camp site. We had been lucky again.
Saturday 27th September, Forsayth, Nth Qld
The night had been still and almost silent, different to last night with a multitude of bush sounds. The night sky is quite different now with most of the Southern Cross below the horizon, very strange not to see it in the sky.
The morning sun, although not long up was already full of warmth. I took the first shower and was just towelling off as Don walked around the van, naked with towel in hand, ready for his shower. Suddenly there was a long, loud burst of laughter from a couple of Kookaburras sitting in the trees opposite. It was very timely. "Thanks a lot!" muttered Don.
We showered, packed up and set off again. Large boulders and outcrops of Basalt covered the landscape, the ground covered in smaller Basalt rocks protruding through the grasses. We passed through Gregory Springs Station and not long after met up with the Kennedy Development Road where we turned North.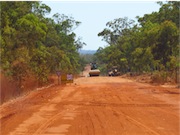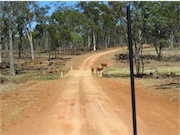 The Kennedy Development Road had patches of sealed sections but the areas of gravel were in various states of 'bad'. Rough corrugations and holes were the norm. The road was not as undulating travelling North as it had been cutting across West but was in worse condition than the minor track we had been on previously. We had not sighted another vehicle for over two days before we came across the roadworks. But knowing this was a main through road we figured it wouldn't belong before we began to see some traffic.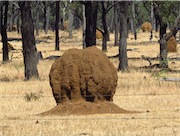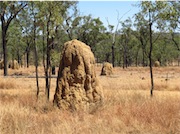 We passed through Blackbraes National Park continuing North. The termite mounds that had been popping up here and there now became far more numerous. The different soil now producing yellow sandy coloured mounds instead of the dark red/brown mounds further West.
We reached the Oasis Roadhouse at Mt. Garnet around midday and stopped in for a steak sandwich and coffee before turning NW to Einasleigh about 75km further on.
We arrived in Einasleigh and were surprised to find a Hotel there as well as a little community. We had thought it was another Homestead. The railway bridge that runs across the junction of the Copperfield and Einasleigh Rivers is extremely interesting. Part of the Forsayth to Cairns railway system. This railway must have done a lot for the small communities along its route.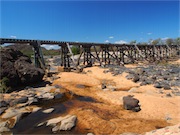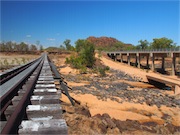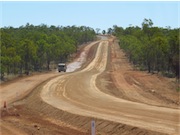 Leaving Einasleigh, we turned West for Forsayth. The views were quite beautiful as we passed through the hills. The termite mounds began increasing. They were everywhere. We have often seen the mounds built up through dead trees or stumps but it was interesting to see quite a few of the white road-side posts with mounds already half-way up them.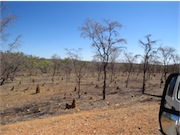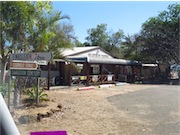 As we neared Forsayth the mounds were as numerous as the trees, even more so, dotted across every hillside and along the verge of the road. It was quite an amazing sight really.
We reached Forsayth at 1530, a very small community and checked in at the local Caravan Park. Next door to the Park was the General Store, where it was Fish & Chips and Movie night. Forsayth is the start of the railway to Cairns and is quite a unique little community.
Sunday 28th September, Undara Volcanic National Park, Nth Qld
We left Forsayth and headed North to Georgetown. At the risk of sounding boring, the termite mounds are just incredible! They are mesmerising. They are dotted over the entire landscape. I must have taken a hundred photos of them, probably all the same but I just find them so fascinating.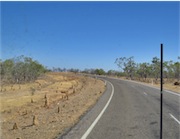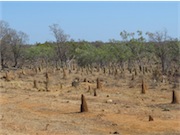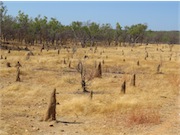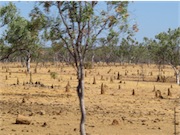 We arrived in Georgetown, which is situated on the Etheridge River. The Etheridge is an extremely wide river which eventually merges with the Einasleigh River downstream of Georgetown. The river is currently dry with only a few channels of water running through its width last year. It would be quite a sight to see this large river with water lapping its banks.
Georgetown seemed a nice little town, neat and clean but with quite a few vacant buildings around. We stopped at the local Cafe, located at the Caravan Park to spend a few dollars before continuing on East.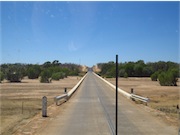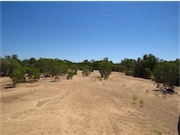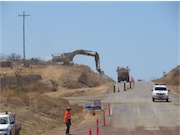 The road is mainly sealed but we encountered quite a few areas of road-works along the way. We never mind stopping at the roadworks as its always interesting watching the laying down of the roads. The Savannah Way has become a very popular tourist route so the dollars spent in upgrading it will in turn, be good for the small settlements along the way.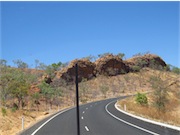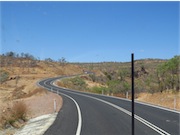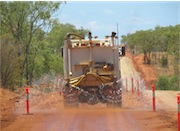 We were almost to Mount Surprise when we came across an Emu with three chicks wandering casually along the side of the road. They seemed totally unfazed as we slowed to take a photo.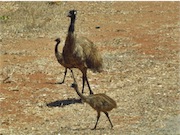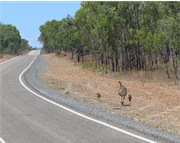 We arrived in Mount Surprise, a rail stop for the Forsayth to Cairns rail-line. The name Mount Surprise was apparently derived from the following story. Ezra Firth, who was bringing his family and livestock of sheep, cows and bullocks to settle in the North, set up camp on Junction Creek about 10K West of the present day town of Mt Surprise. Over night one of his prize bullocks broke loose and went walk about. Ezra and his son set off to look for it.

They tracked down the bullock who was grazing at the base of a small hill. They had tied it up and were preparing to lead it back to camp when they heard a rather loud commotion coming from further round the base of the hill. Curious they went to investigate.

They came upon a group of Aboriginals engaged in a corroboree. The Aborigine's were truly startled beyond belief, so were the Firths. So Ezra decided to name the hill Mount Surprise.

No-one knows if the Aborigines were more startled at the sight of the white men or the huge 4 legged animal. Kangaroos being the largest animal in the region.  Horses, Cows and other large animals were introduced much later.
We pushed on from Mount Surprise and arrived at the Undara Volcanic National Park early afternoon. We made our way to the Undara Lodge Caravan Park and were quite surprised to find such a well set up area. We booked in and organised to join the tour tomorrow to see the Lava Tubes. No private access to the Lava Tubes is allowed; firstly because of safety and secondly because of the fragile eco systems that abound in this area.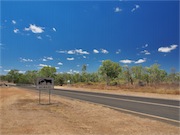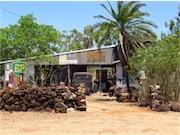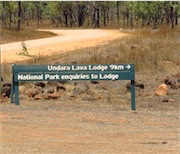 The campsite is strategically placed amongst the bush to encourage the natural birds and wildlife to roam freely. It was nice to set up camp to the chirps and songs of the bush birds with a family of Kangaroos grazing nearby.
Monday 29th September, Undara Volcanic National Park, Nth Qld
We both slept well. The night had been a bit cooler and with all the windows open the breeze flowed through nicely.
Last night as Don undressed for bed he suddenly jumped up and let out a gasp, swatting at his shoulder. I was in hysterics as I saw the tangle of black cotton getting beaten to death on the floor. But there is always pay-back.
This morning I was enjoying a reasonably good shower, even though the shower cubicle was rather small. It was one of those moulded ones with a shower curtain across the front. I'm not keen on shower curtains in small cubicles as if there is a slight breeze blowing they keep blowing in on you. This happened this morning and as I was reaching around to wash my back, I pushed the curtain aside at the same time and almost leapt out of the shower cubicle. There perched on the shower curtain at waist level, was the biggest, fattest Huntsman spider I had ever seen. It took me all I could not to scream.
A dozen scenarios raced through my mind as I stared at this big brown hairy thing but it was a bit of a catch 22. With the cubicle being so small, if I splashed water on it, it would most likely either jump onto me, or fall on the floor and the visual of me dancing around trying to get out of its way, didn't appeal to me. So I figured it was better off to leave it where it was where I could see it. I can assure you, it was the fastest shower I have had with my feet missing out on a wash altogether; there was no way I was going to bend down in front of this guy.
With my shower done, I was well and truly revved up for our tour. Just as well, as Don is allergic to crowds and tours so I needed to be energised and enthusiastic just to get him to the bus. But all turned out well. We sat in the front of the bus where Don couldn't see all the people and he rather enjoyed the experience.
The tour to the Lava Tubes was quite amazing. Our guide, Simon explained everything very clearly. These Lava Tubes were formed around 190,000 years ago, relatively young in geological time. These particular volcanoes are similar to the ones in Hawaii, not spurting out in aggressive eruptions but oozing lava out slowly at varying times, hence the multiple layers of basalt from the different flows.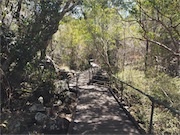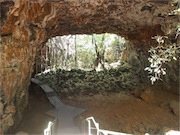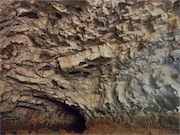 The Lava Tubes are formed as the lava slowly followed a water course, cooling quicker on the outside of the flow and forming a wall that the molten lava inside continued to flow through. With the wall being of varying thickness, ensuing earthquakes weakened the thinner areas causing them to collapse and fall into the tube, leaving a 'skylight'. These skylights can be small in diameter or quite large.
The flow to the NW continues for over 160km. To date a multitude of these Lava Tubes have been discovered and many more are expected to be in existence. In one of these tubes an actual 'wave' has been caught in perpetuity as it froze in time as the lava washed up against a tube wall.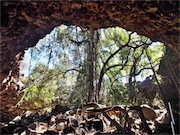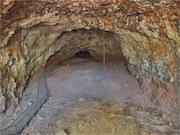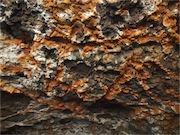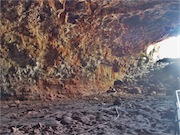 As we walked further into the darkness of the Lava Tube, our torches on, the flash of Don's torch shone on a large boulder to my left. Memories of the this morning came rushing back as I checked out the huge spider that was perched upon the rock. This was also a Huntsman.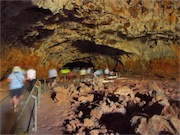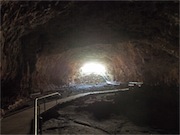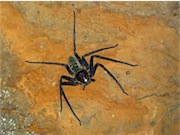 There are quite a few steps as you descend down into the tube and a few of the older people found it a bit exerting but I heard none complain. I'm sure they found the tour as interesting as Don and I did. A very unusual phenomenon of nature that we discovered about our ancient Australian past.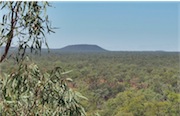 After the Lava Tubes we took a quick hike up a nearby Bluff that looked out over the surrounding landscape. The views were great; we could see the Kalkani Crater that we are intending to visit once we leave here. There are numerous ancient volcanos dotted all across this region, the history of the Gulf Savannah is extremely fascinating.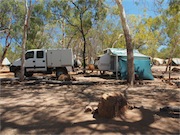 Back at Camp we headed into the Bistro for a light lunch. This place has been very tastefully done. A large, covered, open area is surrounded by old Queensland Railway carriages that have been outfitted with dining tables in between the carriage seats but still retain their authenticity. It has great atmosphere. The covering roof is high and being open, attracts the birds to fly in and perch near the tables trying to procure some titbit. We were joined by a very persistent Kookaburra who although being consistently shooed away by staff, kept flying back to our table. A very beautiful bird indeed.
We have really enjoyed our stay here, the Kangaroos hop about quite freely and colourful Rosellas chatter noisily in the trees. A definite to go on our list of return places.
Tuesday 30th September, Bush Camp, (South of Eight Mile Creek), Nth Qld
I showered with caution this morning, my eyes darting around the cubicle just in case Mr. Hairy was back again, but all good. We packed up and headed out of the campgrounds and made our way to the Kalkani Crater, located on the Eastern side of the National Park.
We had been told the track to the Crater was very rough with corrugations but the truck drove over them with ease. There is a well-maintained picnic spot at the bottom of the Crater, with toilets and picnic tables. The bush setting made it very appealing.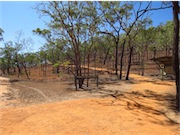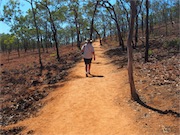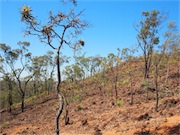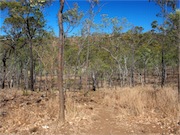 Although the height of Kalkani Crater is only 70m from ground level, the winding track leading to the rim is 600m with a 2.5km trail around the rim once you reach the top. There are information boards placed strategically around the rim trail.
The trail to the rim of the Crater is not difficult. Tall thin trees cover the hillside so views are limited until you reach the top. Once at the top of the rim many of the dormant volcanoes can be seen, rising up from the flat landscape below. It is really hard to imagine the ancient landscape, alive with spurting, gaseous eruptions and smoking, molten hot lava flows wending their way across the land. Inside the rim, it is not unlike the depression left by a Meteor impact.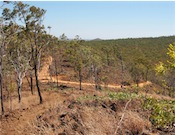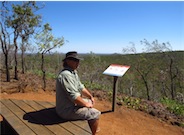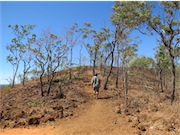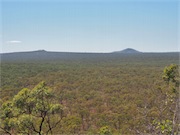 It was extremely windy at the top of the Crater but Don was fairly keen to put the Helicopter up to try to capture an aerial view of the Volcano. When we came down from the Crater there were a couple of other cars in the Picnic area so we went about half a kilometre up the track before getting the Helicopter out.
It was not as windy at ground level but as the Helicopter was not staying at ground level I was a bit concerned that the wind would be too strong for it. But I should know by now…….never get in the way of a man on a mission!
As Don prepared the Helicopter for its flight, i couldn't help glancing up at the treetops bending and swaying with the breeze. "Are you sure it will be O.K.?" I called. "Just leave it to me O.K.?" Don replied bluntly. Sometimes a girl just has to know when to keep her mouth shut. This was definitely one of those times. With that old saying in mind.……. one man, one thought, one job……. I decided that now was not the time to take his mind off his job.
The Helicopter buzzed into action and amid a cloud of dust, headed upwards. "I can't see a bloody thing!" Don called as he squinted at the small screen on the control panel. Well, maybe 'control panel' was not exactly the right word in this instance, for Don had no visual of the Helicopter and no idea where it was. He could not see it on the screen due to the sun's reflections and could not pinpoint it in the sky. The usual drone of the motor was also inaudible. So for the next ten minutes he stood craning his neck skywards in an effort to get some idea of where it was. A tramp through the bush in search of it was looking imminent and not one that was very appealing.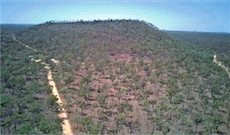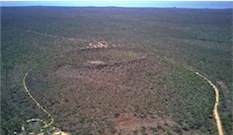 But I had faith in him, he always seems to be able to do the impossible. After what seemed like a very long time, with his finger on the 'full speed down' button, we finally heard a very faint humming. The humming raised our spirits as we scanned the sky, but still no visual. Then the humming receded and became almost inaudible. "Where the hell is it?" Don said as he continued to swivel around, his eyes glued to the sky. Then the hum became louder again and a small dot could be seen high above.
The last 100ft descent took ages as the Helicopter fought its way downwards, then was whipped skywards again by the wind. Finally it hovered directly overhead and Don guided it back to earth a little bit quicker than he intended but he was happy to have it in his hands again.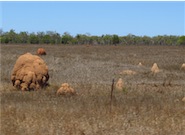 We were back on the road again and turned East on Savannah Way to Mount Garnet. The road was sealed and the views were good. I can't help myself but I just have to mention this one more time………the termite mounds were amazing! They were much larger along this route with their colour changing from sandy to grey to red. Another one hundred photos.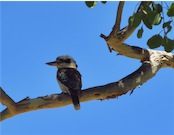 We arrived in Mount Garnet around midday and called in to the Roadhouse for fuel and a meal. The meal was excellent. It was a good break. We turned back West to head back to the turn-off to a track South that we had planned to take. Bummer! The track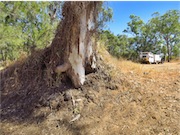 was closed due to flooding. With no other alternative we retraced our route back 92km. The road was sealed and we made good time. We turned South, passing through the Forty Mile Scrub National Park.
We decided to call it a day a bit earlier than usual and pulled into a nice little spot beside Eight Mile Creek. This creek, although only small, actually had water in it. It was very relaxing sitting under the trees and listening to the water as it babbled over the rocks.
---