---
2014 Trip Blog,
---
October
(speedo 37,092 klm)
Wednesday 1st October, Townsville, Nth Qld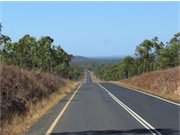 We left our bush camp by the river this morning a little reluctantly knowing we will probably not be camping in the bush for awhile now that we are heading South and into more populated areas. We are unfamiliar with this part of QLD so you never know, we may be lucky.
We kept South to Greenvale, taking a drive through the township and around the residential area before continuing on. It appeared to be a neat, clean little place. It was too early for a stop so we continued on South to Blue Water Springs RoadHouse, arriving there around 1100. The RoadHouse is not very appealing externally but the service and the food were quite good.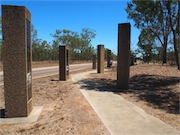 After lunch we continued on down the Gregory Development Road towards Charters Towers where we had planned to stop for a few days but when we passed by the turn-off that went East through the Hervey Ranges we pulled over and debated for a minute or two before doing a 'U' turn and heading East towards Townsville.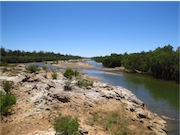 We hadn't planned to head out to the Coast at this stage but the Hervey Range Road looked interesting. The road itself has a very interesting history, being the first main route between Charters Towers and Townsville. An historic monument has been erected depicting the history of the road and is worth the stop to take a look at it.
We crossed over the Burdekin River then through the Townsville Military Field Training area. Huge granite boulders jut out from the hillsides along this route. One boulder must have been 7.5 to 8m high with a girth to match.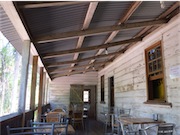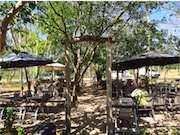 We called into the Heritage Tea Rooms located at the top of the Hervey Range. This property stands on the original site of the former Eureka Hotel built in 1865, once the local watering hole and overnight accommodation for bullock teams and the Cobb & Co. coaches enroute to the Gold Fields. It is the oldest known building in North Queensland and remains one of the few split log inns still left standing.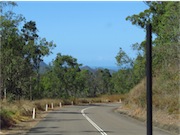 It has been faithfully restored back to its former glory and is situated in a very peaceful bush setting. The food and coffee is excellent, the apple pie having that old-fashioned taste that is rarely found today unless you make it yourself.
We continued on down the Range which affords some beautiful views with the steepest hill being a 9% gradient. We arrived in Townsville close to 1530 and located a Caravan Park close to the Charters Tower road.
Thursday 2nd October, Charters Towers, Nth Qld
We had debated whether or not to stick around in Townsville for a day or two and check it out but decided to push on today. We are planning to come up the Queensland Coast sometime next year and will check it out when we have more time. This detour was more about the roads to and from Townsville rather than checking out the town so we packed up and got on our way. We are not quite ready for the extra people and traffic just yet.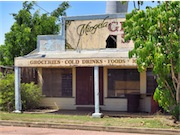 We stopped at Calcium (strange name for a place) and fuelled up before continuing on West. The most interesting place along this route was Mingela, a very small community about 50km East of Charters Towers. There is really not much to see or do here except check out the Pub but it was a good place to take a break.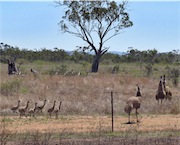 We were back on the road by 1100 ad headed for Charters Towers. It was nice to see a few Emus along the way, especially a pair with seven chicks in tow.
We arrived in Charters Towers about half an hour later and checked into the caravan Park on the NW side of town. We set up then headed into the town to check it out and have some lunch. The Cafe we chose turned out to be excellent. We both ordered a Roast with Vegies and Gravy which was delicious and extremely reasonably priced.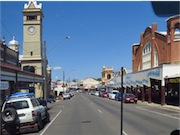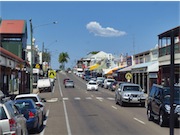 We took a drive around the town then out around the newer residential sections. It seems like quite a nice little town and located within a reasonable distance to Townsville, Cairns, Hughenden, Longreach and the Gem fields to the South. Also, the towns people are extremely friendly, which always makes a difference to your stay in any town.
The WW11 Aircraft Bore Sight Range and Compass Swinging Platform used by the US Airforce was also an interesting stop. The Bore Site Range is the only known example of its type in Queensland with an adjustable nose wheel platform to accommodate aircraft such as the P-39 Airacobra, A-20 Boston, B-25 Mitchell, and B-26 Marauder.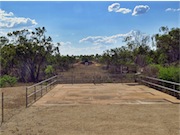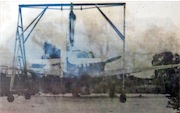 The Airfield Bore Sight Range and Compass Swinging Platform remain substantially intact. The bore sight range retains its concrete hardstand, cleared range and earth butt. The circular concrete slab of the compass swinging platform remains adjacent to the wartime runway, and retains its compass rose inscription.
There were also 42 bunkers built at Towers Hill. These were used by the RAAF for the storage of munitions, including bombs, ammunition and parachute flares.
It is easy to overlook the history of these little places and the important role they played in the development of our country.
Wednesday 8th October, Charters Towers, Nth Qld
Today is our last day of a really good week spent in Charters Towers. The heat and extra humidity has lulled me into a relaxed state of laziness I'm afraid, so my computer hasn't had much of a work-out since we arrived here.
Charters Towers is an extremely interesting place, steeped in history. The beautiful architecture is one of the first things that strikes you as you turn into the township.
The Stock Exchange Arcade, built 1888 is a beautiful old building. A Cafe at the front of the Arcade provides a good meal for a reasonable price with a choice of eating inside or at one of the tables placed in the Arcade. The Arcade is open at both ends and provides a cool breeze-way. The Arcade has the atmosphere reminiscent of those character-filled buildings before modern Department Stores took over.
The World Theatre stands next door and if you like architecture is another old building that shouldn't be missed. Henry's Restaurant occupies the front of the building and is an excellent choice for a meal if you are looking for old-fashioned service at a reasonable price. The decor is true to the period style of the building which provides a relaxing and pleasant atmosphere with real cloth tablecloths on the tables (not butcher's paper which even the 'expensive' restaurants are using these days).
In the centre of the building is the Theatre Complex which has a 660 seat capacity Auditorium as well as a Movie Theatre. This beautiful old building immediately exudes warmth and atmosphere.
The Telegraph and Post Office, established in 1892 features a Clock Tower that chimes subtly every half hour. Memories will be jogged as you enter the Target Store, housed in the old Pollard's Building and gaze into the old-fashioned display windows at the front. The Zara Clark Museum has the Lampson Aerial Cash System that used to be in use in the old Pollard's Building. Another memory jogger. There are plenty of other historical buildings to catch your interest as you wander about the town.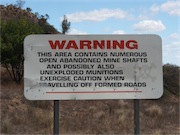 Towers Hill is an absolute must if you want to get a real feel for Charters Towers. It seems to encompass all of Charters Towers' history all on that one little hill. Gold was first discovered at the base of Towers Hill in 1871 and over the next 52 years approximately 30 shafts and tunnels were dug below Tower Hill. Many of these are still visible.
One of the remnants of those boom years is the remains of the Pyrites Works on the Eastern side of the hill. The largest surviving remains of a pyrites chlorination works in Queensland. The 55m chimney from these Works was demolished in 1942 as it was deemed a navigation hazard to military aircraft who passed directly over it to land on the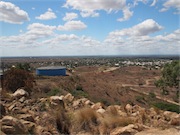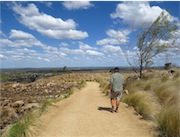 nearby runway of the then US Army Airforce Airfield, which is the site of the present Airport today.
Two water reservoirs on Towers Hill store the town's water supply which is pumped from the Burdekin River. The first reservoir supplied water as early as 1890.
Many of the concrete Bunkers that were used by the RAAF during WW11 to store bombs, detonators and ammunition are clearly visible, dotted across the hillside and it is not difficult to take a look inside. There are a few walking tracks that take you down past the Bunkers as well as one that gets you to the old Pyrite Works.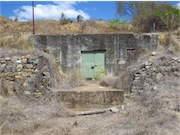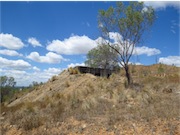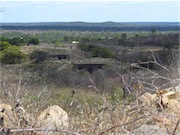 The grasses and boulders on top of Towers Hill make a great foreground for photographs of the surrounding countryside, the Great Dividing Range to the East, the Great Basalt Wall to the West. Early morning is best if you want to catch sight of the Rock Wallabies that have made the top of Towers Hill their home.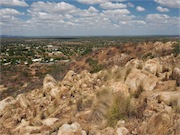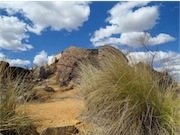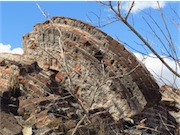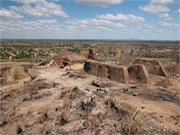 Towers Hill is also home to the Seismograph Station, first installed in 1958. This Station has been part of the US worldwide network of 120 Seismic Stations detecting earth motions, since 1962. A mining shaft extends approx 90m inside the hill where sensing equipment is located.
The 'Magnetic Hut' shelter on the Towers Hill road, built mid 1980's is one of only six in Australia. Its job is to measure changes in the earth's magnetic field.
In its heyday, Charters Towers boasted 92 hotels and had its own brewery, today there are 8 hotels.
There is a lot of history in Charters Towers that should provide some interest to most. We enjoyed our stay here and as usual, there is always something else to see when we come back.
Thursday 9th October, Bush Camp, (Mt.Coolan / Elphinstone Rd), Nth. Qld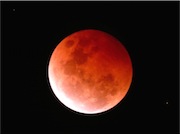 Last night we had an amazingly clear view of the 'Blood Moon'. It looked like an enormous balloon floating a few hundred metres above. With a clearly visible lunar eclipse.
We were on the road again early and headed back to Mingela 50km East of Charters Towers. We intended to stop at the Burdekin River and take some photos but roadworks on the bridge prevented us from stopping safely. We continued on to Mingela and took the turn-off to Ravenswood.
We had been looking forward to checking out Ravenswood as we believed most of the town had been classified by the National Trust. We were unsure of what to expect but what we found was a skeleton of a once bustling goldfield town with the buildings that did remain as authentic as any we have seen. The only disappointing aspect was the lack of signage to the town and the sad and faded info boards within the town. This is in no way a criticism as it is evident that a lot of effort has gone into the maintenance of the historical buildings and structures that remain. It appears that a lack of funds may be the problem which is a shame, as this town has genuine potential and is well placed on the road South to the Burdekin Dam.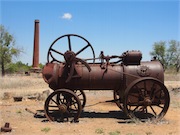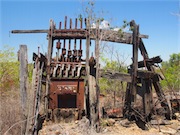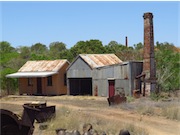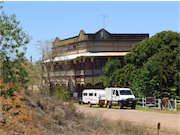 We stopped in at the Railway Hotel for an early lunch and then went for a wander. Everything is within easy walking distance which was good as the temperature was hitting 39o by noon, with no breeze to offer any relief from the heat. We spent a good hour ambling about, checking out the old Assay Office, the old Rail Carriage, the various chimneys that were still standing and the authentic old Miner's Hut.
The Miner's Hut was especially interesting, faithfully fitted out both inside and out with everyday items that may well have belonged here, right down to the hat on the kitchen table. The people who lived in these times would be totally aghast at what the modern person today 'just can't do without'.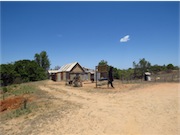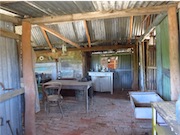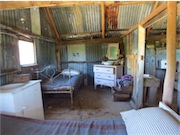 We left Ravenswood around 1230 and continued on to the Burdekin Dam about an hour South. We pulled in at a look-out point over-looking the Dam a few Ks before the Campground and were a little under-impressed. The amount of water in the Dam was certainly impressive, and very blue, but as far as a view went it was not quite as picturesque as we had hoped, so we continued on, a little less enthusiastic about what might lay ahead. Were we in for a shock! (More accurately, I was in for the shock, Don just got a very nice surprise).
We drove past the Campground, turned around at the end of the road and thought……O.K. this is a bit disappointing. No vantage point to check out the weir. We had not intended to camp at the Dam and figured that we would need to park and walk if we wanted to see the Dam Wall. The temperature was still hovering around 39o, the air was still and very hot, so we opted to continue on South where we may get a chance to view the Dam from further down.
This chance came a bit sooner than expected and a lot more close-up and personal than we both were anticipating!
We drove past the Campground and took the turn-off to Mt. Coolon. The road descended quite steeply as it wound down around the hill. As we rounded a bend and passed a 'WATER OVER THE ROAD' sign, I caught a glimpse of what looked like a very wide, rock strewn waterway down below. Then looking ahead all I could see what this huge Dam Wall with water gushing out of a smaller spill-way to the right of a very narrow strip of road that passed right by it then undulated across the bottom of the Wall to the other side of the 'canyon'.
Now I would love to say it didn't phase me at all, but I have to admit………..I freaked out!!! All I could see was this narrow strip of road disappearing into the gushing water…….. 'WATER OVER THE ROAD??'……'How much bloody water??' 'Had we taken a wrong turn? How on earth were we going to turn around down there?! How on earth were we going to turn around before we even got down there?!!!'. I'm embarrassed now at my obvious lack of fortitude but in my defence, I really thought we had taken a wrong turn and …..'How the hell were we going to get out of this one'!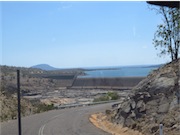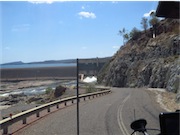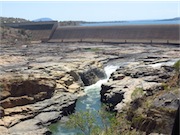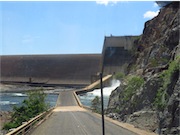 In between my OMG's I glanced over at Don for some empathy for my distress but he was SMILING and actually ENJOYING this ride down into oblivion. "Nothing to worry about" he said nonchalantly. Now my trust in Don is absolute, when he says it's O.K. it always is O.K. but…….all I could see was this gushing water and this little narrow strip of road…….."keep convincing me!" I shouted.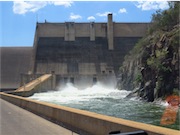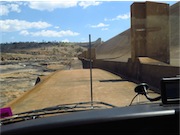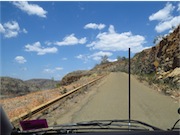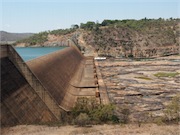 Well of course it was O.K., as I'm sure it has been for the million other people that have crossed over this DAMM DAM WALL, but it was scary!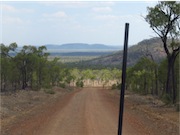 Once we were across to the other side of the Dam we continued on the track South to Mt. Coolon. There were a couple of steep descents, one with a 12% grade then the road just settled into 'bad'. Deep ruts, holes, gullies, gulches and numerous dry creeks every 300m or so. The track was rocky, bumpy and uneven but on the upside, there was a lot of wildlife.
We arrived in Mt. Coolon around 1600 and decided to continue on SE and find a campsite. This is getting to be more difficult as we come into more populated areas. The fences are very close to the sides of the road and there is very little clear space beyond the trees. We were lucky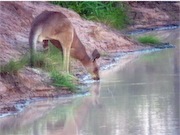 again though and came across a good spot near a water-hole about half an hour later.
We had seen quite a few Kangaroos enroute and with it almost dusk we figured we may get lucky and see one come down to drink. One did which was great but not much chance of a clear photo as they take off easily and we didn't want to make a movement that might disturb him. Plenty of birds about too, ducking and dipping into the water. It turned out to be a really good camp site with the water giving us a 'psychological' cooling down after an extremely hot day.
Friday 10th October, Bush Camp, (Nth of Capella), Nth Qld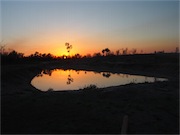 Wow! One of the best things about camping in the bush is the sunrises. After another beautiful orange moon last night, we awoke to the sun rising directly over the water-hole. The water was still and the reflections were a mirror to their backdrop. It's almost like an alarm clock goes off, as first light casts its pink hues across the horizon and the sun emerges in all its glory, gradually giving light to the surrounding countryside. The stillness is broken by the chirps and calls of the many birds as they flit about and busy themselves for the coming day.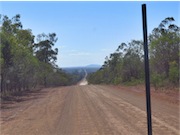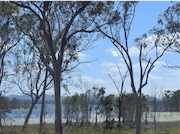 We packed up and continued on East towards Elphinstone. We were still on dirt and it still had not improved from yesterday. Holes, washouts and corrugations but once again, plenty of Kangaroos and Emus with bundles of chicks following behind.
We were surprised to see what looked like huge mining hills in the distance and soon found there is quite extensive coal mining in this area with eleven coal mines located in the Nebo district.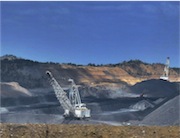 We arrived at Nebo Junction and fuelled up before heading onto the township where we stopped for Coffee at the local RoadHouse. Nebo was only small but impressive. Very neat and clean, with good energy about it. The coal trains were as lengthy as any mining trains we have seen. One passed by with an engine at the front, one at the back and three in the middle. There is just something about trains that is captivating, whether they are stationary or moving. Unfortunately we were not in a good position for a photo.
We turned SW to Moranbah, then S to Dysart, where we stayed only long enough to pick up some supplies at the local General Store. Dysart was also a very neat and clean little community.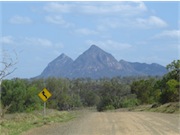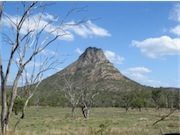 We continued SW towards Capella, passing through the Peak Ranges which were quite exceptional. There were trucks as well as quite a bit of mining traffic along this road so we weren't very hopeful of finding a camp site before reaching Capella. It was still only early afternoon when we did spot a small area set about 100m off the road in a small grassy spot below the road level, only about 40mins short of Capella. This turned out to be a suitable spot so we called it a day and set up early, giving Don a chance to put his helicopter up to check out the surrounding hills.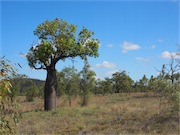 Don never fails to bring a smile to my face. This is what comes from calling it a day too early and having too much time on your hands……………….
At the moment he is sporting two self-inflicted injuries. The first, a small but pronounced indentation on his bum where he sat on the hole prong of his belt buckle (I kid you not, it didn't bend at all but went straight in through is undies) and the second, as follows.
We had been discussing a 'fact' that we had read that said it was very difficult to open your jaw if a hand is forcing it upwards, the theory being that the upward movement is not as strong as the downward movement. Never one to just believe a 'fact' but needing to prove it, Don proceeded to clamp his jaws shut with one hand on his head and the other under his chin. He then proceeded to 'prove the theory wrong' by attempting to force his jaw downwards………………. end result………..he is now sporting quite a deep gash in his lower lip. …..theory not yet proven.
Saturday 11th Otober, Rolleston, Central Highlands, Qld
The slight pattering of raindrops on the roof awoke me early this morning. It was only 0345 but as I had gone to bed quite early I was wide awake and unable to go back to sleep. So by 0400 both Don and I were up and ready for breakfast.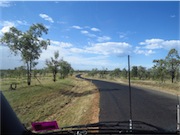 There were quite a few Mine vehicles on the road early but the dust was no problem as we were down below the road. It wasn't the ideal campsite but not the worst either. We were packed up and on the road by 0700 and heading South for Capella.
There was still plenty of wildlife about. Kangaroos were many, a few Emus and even a Bustard with plenty of Hawks, Crows and other smaller birds taking advantage of the poor Kangaroos that didn't make it across the road.
We arrived in Capella then turned SW to Rubyvale. The road was surprisingly good and we arrived there around 1030.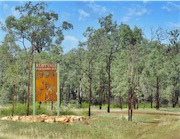 Rubyvale was a very pleasant surprise. The small community is very appealing with the Rubyvale Gem Gallery & Cafe providing a very pleasing first impression with its warm rock exterior. After a look around the town we returned to the Rubyvale Cafe; its external facade lending credence to the promise of 'excellent coffee', a promise we hoped it would fulfil. It did! Not only was the coffee excellent but also the 'early lunch' we ordered. (We did have breakfast very early this morning).
After our meal we wandered into the Gem Gallery attached to the Cafe. I expected to have a brief look only as I didn't think Don would be very interested in jewellery but was surprised to see him wandering about looking intently into the showcases. It was the striking, individual designs and the amazingly beautiful Sapphires that had caught our eyes. Beautiful blues, greens, yellows and even multi-coloured.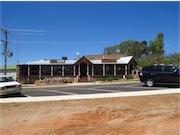 We took the opportunity to watch the short DVD located on the verandah and began to appreciate a little more, the journey of these Sapphires from mining to finished product. The story was even more appreciated when we realised that Peter the owner of the Rubyvale Gallery not only mined the stones but also cut, polished and designed the jewellery that now lay on display in the Gallery. This jewellery is stunningly beautiful, exclusive and well worth the price tag attached. Care has been taken to get the most out of the colour and brilliance of each stone, probably because Peter has put in the blood, sweat and tears to bring it from Mine to ShowRoom.
I could not help but be extremely impressed at Peter's genuine passion in not only his own business but in the promotion and education of all the remarkable wonders that lay within this region and beyond. Without prejudice to the other Gem businesses within the area, I can strongly recommend that a trip to the Rubyvale Gem Gallery & Cafe will not leave you disappointed.
If we were not on a time limit to get to Brisbane we would have stuck around this area for awhile. This was a reconnaissance trip for next time. A very interesting area.
We continued South through Sapphire then turned East at Anakie for Emerald where fuelled up then turned S to Lake Fairbairn. This was another surprise. We were very glad that we chose to take this detour. Lake Fairbairn is a large lake of bright blue water (the drive over the Wall was not nearly as scary as the Burdekin) and the picnic area over-looking the Dam is a great place to stop for awhile.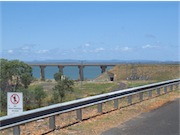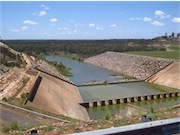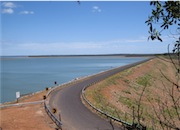 The only thing to beware of though is the resident Magpie, who I found out personally is very protective of his space! Don was no help to me though, as the Magpie swooped me continually as I ducked and weaved back to the truck. I jumped up into it to find him almost doubled over with laughter…………mmmmmmm……..payback is a bitch!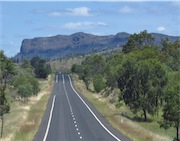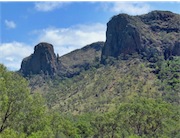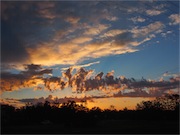 We got back onto the main road S and continued on through Springsure then on to Rolleston, where after a really good 'early dinner' at the local Pub, we decided to call it a day and stay in Rolleston for the night. It was still only 1430 but the early morning start had caught up with us.
Sunday 12th October, Banana, Central Highlands, Qld
That's right! We are staying in the township of Banana! We had to come here to actually see the Town Sign to believe it, but Yes, it's true. Banana is an actual town.
We left Rolleston this morning rather late (1000) as we were undecided whether to stay another night or not but decided at the last minute to push on, our curiosity getting the better of us. Banana here we come!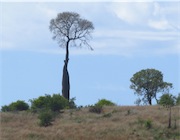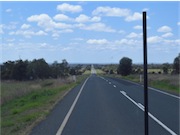 The road from Rolleston to Moura is sealed but can best be described as….akin to travelling 150kms in an aeroplane experiencing extreme turbulence! Give us a dirt track with corrugations and washouts any day. Being sealed, the road is very deceptive. You get used to the rocking, rolling and bumping about but suddenly find yourself almost airborne when you hit a large deep dip in the road that is very well camouflaged by the grey tar. You expect this on dirt but not for 150kms of sealed roadway.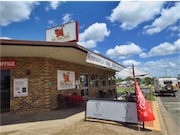 We arrived in Moura around 1130, choosing the Fat Dog Cafe for coffee and a bite for lunch. This was a great choice. The Cafe was clean, the coffee hot and tasty and the meal was presented beautifully and tasted the same. Well done to the Fat Dog Cafe!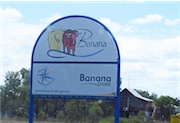 We left Moura and continued on to BANANA. (I can't help myself, I still can't believe this is the real name of a town). Enroute we could see more Coal Mining activity; it's certainly big business in this region. Finally we could see a Road Sign ahead but it wasn't until we actually saw it that I had to believe it…………..BANANA 5 Kms…………Well, I'll be……..
We arrived in BANANA at 1230 and there was no doubt that we were going to spend at least one night in BANANA, so we located the local Caravan Park and setup camp. (Don did remind me that we have known about ORANGE, NSW for years……….but BANANA?!!)
P.S. Normally I wouldn't mention this, but……there was that Magpie incident at Lake Fairbairn………….with the sharing of our duties, I have learnt not to 'suggest' how the clothes should be hung on the line for optimum drying. The 'as if I need to be told' look from Don had silenced me long ago. With Don hanging out the clothes and bringing them in off the line today, I began my bit and started folding them. 'He never turns his sleeves in the right way' I mumbled to myself as I slipped my hand into his shirt sleeve to pull it out the right way. 'What's this?' I thought as I encountered a large wet 'lump' in the end of an equally wet sleeve. I pulled out the sleeve and inspected the 'lump'………a pair of tightly wadded undies, still soaking wet.
He was so proud of his hanging out too! I know I'm not going to tell him otherwise.
Monday 13th October, Munduberra, Qld
We left Banana and headed South to Theodore. We took a detour into the Dawson Mine but were unable to get to the viewing platform so back on the track South again. We reached Theodore just after 0930 then turned East through Cracow. Cracow was not quite what we had expected. Other than the local Hotel all the other buildings in the small community are literally as they stood back in the Gold Rush days. They are empty and in need of repair but are the genuine article and definitely of historical significance but there doesn't appear to have been any attempt to preserve these buildings nor capitalise on their tourist value. But having said this, we did not make any enquiries regarding this so may well be wrong.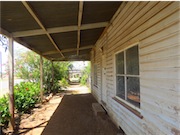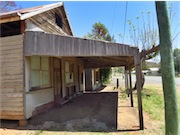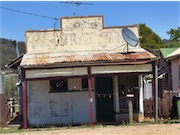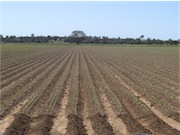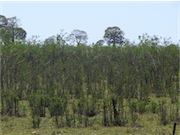 There were many crops throughout this area that were unfamiliar to us but we came across a farm For Sale, which identified the crops as Leocaena, a legume fodder crop. We had just taken off after reading this sign when a couple of large birds caught my eye. I had to look twice to make sure I wasn't seeing things but sure enough, there were three Ostriches striding through the field. A male in all his magnificent plumage and two females.
&nbsp
We pulled over quickly and as the field was on Don's side I handed him my camera and asked him to take a few shots before they went up over the hill, which he did. As he handed the camera back to me he said, "I think they were Cassowaries". "Cassowarries??" I replied laughing, "they weren't Cassowaries they were definitely Ostriches!" "But the one at the back had bright red on him" Don replied.
Now keeping in mind that at the distance, even with the telescopic sight, all Don could see was a moving shape with colours. I was a bit puzzled at the very red hind quarter of the Ostrich but knew it was definitely an Ostrich. We had a bit of a laugh about it and continued on our way, reaching Eidsvold where we stopped for lunch at the local Pub before turning South for Munduberra.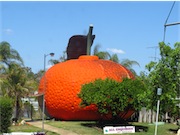 Munduberra turned out to be a really interesting town. The Caravan Park was the cleanest and neatest we had seen for awhile. We found out that it had to undergo a complete refurbishment due to the floods of 2013 which completely engulfed the main office to door-top level. The Park grounds were excellent and well cared for, the gardens and surrounds well-maintained. We booked in for one night then took a look around the town.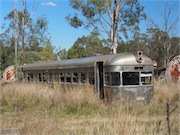 Qld seems to have an abundance of old railway carriages just laying around in paddocks in various states of disrepair. Some have been put to good use, as we saw at Undara National Park but a lot are slowly being strangled by weeds, the paint almost peeled off and the wood rotting. Such a shame for these grand old carriages.
We returned to the Caravan Park and as usual, Don down-loaded the day's photos. Well………it turned out that Don's 'Cassowarie' photos were indeed Ostriches, but the mystery of the red hind quarter created an even greater mystery. "What on earth is that?" we both exclaimed. After a bit of online investigating the answer was revealed. We were both astounded with our new-found knowledge. It turns out that the male Ostrich has a 15" penis!
I apologise to all those more gentle-minded souls that may read this, but to not only find out that the male Ostrich has a 15" penis but to actually capture this rather amazing sight on camera was such a revelation that we felt we definitely had to share it. Who would have thought???
Tuesday 14th October, Lake Somerset, Qld
We left Munduberra early and headed South to Durong then East to Wondai then South to Memerambi and Kingaroy, the famous peanut country. DrIving into Kingaroy we got our first taste of the suburbia that we had managed to avoid for so long. It was incredibly busy, cars going every which-way. We negotiated our way through the town and found the road East……then kept going. We just couldn't handle all the traffic. Consequently, we didn't take away a lot of memories of Kingaroy, except the beautiful red earth in the fields and the Peanut Vans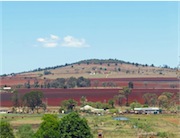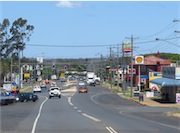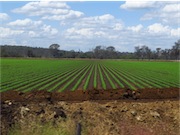 We arrived in Nanango where we stopped for a break. It was a nice town with a number of eating places. We chose a nice looking Coffee Shop and ordered lunch, which turned out to be really good, especially the coffee. After lunch we took a look around the town, stopping at the Peanut Van near the river. We couldn't leave this area without buying some of their famous peanuts.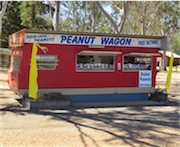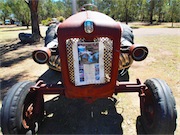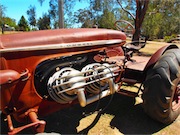 We continued on to Yarraman then Blackbutt through the extremely picturesque Blackbutt Ranges. It was still too early to stop for the day so we continued on to Kilcoy. There was no Caravan park in Kilcoy but a small area near the river had sites available. We went by there but there were a number of vans there already so we decided to push on. The only place that looked like it might have a Caravan Park was further South at Lake Somerset. We were entirely out of luck for roadside camping now that we were this close to the East Coast and in the ranges.
We headed South for Lake Somerset about 20kms on, not knowing what we would find there or if camping was allowed. We were in for a very pleasant surprise. The camping grounds at Lake Somerset were quite extensive and set in amongst a natural bush setting. There was one powered site left but we opted for the unpowered, park anywhere arrangement. The campground was relatively busy down one end, with only a few tents set up amongst the trees at the other so we were very lucky to find a great spot over-looking the water and away from the tents. It was just like a campsite in the bush, except we had paid for the privilege…..money well spent.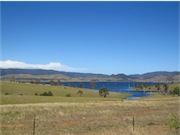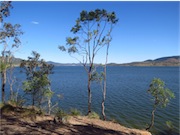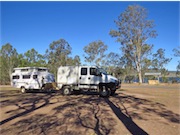 Wednesday 15th October, Bribie Island, Qld
After a really good night we headed back into Kilcoy and then acoss to the Coast to Caloundra. After spending a couple of hours here we headed South then out onto Bribie Island.
Bribie Island is one of those places where you can completely relax and just chill out for awhile, so here we will stay until moving on further South at the end of October. With a gentle surf beach, great bike paths and plenty of good eating places we are looking forward to 'living' here for a couple of weeks.
I will be making this my last Blog for awhile as there is very little I could write about the would be of interest to anyone. We are now getting out of our comfort zone………….more traffic, more people and less animals.
We will be in Sydney to share the New Year Fireworks with family then will be heading off again, but not sure where yet. No need to plan, life has a way of unfolding just as it is meant too.
Best wishes to all, we will catch up on our next adventure.
---