Arduino AFAM - Diff Lock Controller
An enhanced Diff Lock control system customised for Iveco 55S17W
(click any image for enlargment)
---
Original Equipment AFAM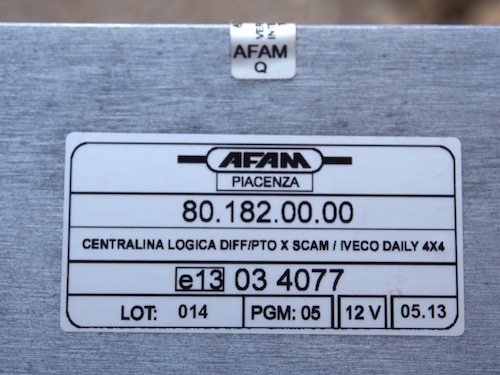 The AFAM is the "CENTRALINA LOGICA DIFF/PTO X SCAM / IVECO DAILY 4X4" made in Piacenza, Italy by AFAM Srs. Translated to English means The Logic Control Unit for Difflock and PTO in SCAM Trucks and Iveco Daily 4x4 .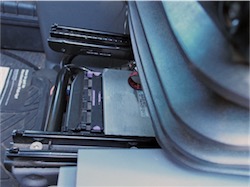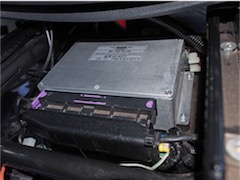 The AFAM is located under the drivers seat and can be accessed by sliding the seat fully forward on its rails. Of course access is easier on the Dual Cab version.
The Original AFAM has no facility to be reprogrammed or adjusted in any way by Iveco or service agents, the Diff Lock presets are programmed into code protected EEPROM at manafacturing level.
Problems with Original AFAM
When a lock is selected, if it doesn't engage quickly, the AFAM will sometimes de-select the lock whilst trying to manoeuvre to get the lock to engage.
When a lock is selected but doesn't engage, it can't be de-selected without turning off the ignition.
The AFAM will only allow selection of one lock at a time. Only after one lock is engaged can the next one be selected. They also have to be engaged in sequence: centre, rear, front.
...Oh one other thing , There is no gasket under the top cover, if you are unfortunate enough to be stuck in water for any length of time your AFAM may need to be replaced,
Genuine Iveco part number 69503157
Vexi price £1,462.62 = AU $2480 ( XE.com 10 June 2017)
---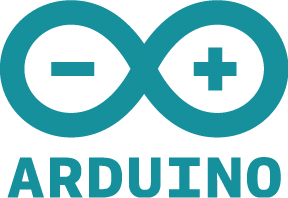 Customised Arduino AFAM Upgrade
The Arduino contrtolled AFAM replacment board is designed by Marcus Tuck. If you are into Arduino or just interested to know how it works , check out Marcus's
AFAM webpage
.
Arduino webpage may also be of intrest.
Advantages of Arduino AFAM Upgrade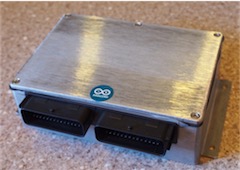 1. When the ignition is turned on, the unit will check the existing state of the locks. If the parameters are still within limits, i.e. vehicle speed and sequence, the lock solenoids will be automatically reengaged as appropriate. If they are no longer required, they can be deselected in the usual manner.
2. If the vehicle is stalled, the unit will remain powered for approximately 5 seconds after the ignition is turned off. This should allow enough time to turn the ignition off and on again, so that the engine can be restarted without any of the selected locks disengaging.
3. To engage more than one differential lock, it is no longer necessary to wait for the previous lock to engage before making the selection. You can now select all the locks you would like and the unit will engage them in sequence as soon as it is possible.
4. To disengage more than one differential lock, it is not necessary to wait for the previous lock to disengage before making the selection. For example, you can now deselect all the locks by simply pressing the 'centre differential lock' button. The unit will disengage them all in sequence as soon as it is possible.
5. To engage the rear lock only, stop the vehicle and press and hold the 'rear differential lock' and the 'front differential lock' buttons. If the rear lock is the only lock engaged, it will disengage automatically at about 30 kph. The centre lock can be selected and then the front lock selected if required. To disengage, simply press the 'rear differential lock' button.
6. To turn off the ABS, press the 'front differential lock' button until the small ABS light illuminates. Pressing the 'front differential lock' button again will turn the ABS back on.
7. Pressing and holding the 'centre differential lock' button until a long beep is heard, will engage the centre differential lock, but the automatic disengagement at speeds above 80 kph will be disabled.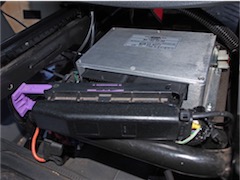 To install Arduino AFAM Upgrade
1. Ensure truck is switched off, wait about a minuite.
2. Unplug the AFAM Cable by slidling the purple grips to the left whilst pulling plug back. (image at right)
3. Undo the Four x nuts and remove with washers, (a 7mm tube socket is handy)
4. Remove the AFAM from truck, cut or peel off security seal, Undo 5 top cover screws & remove lid.
5. Wash hands and discharge any static from your body - only touch Printed Circuit Boards by the edges.
6. Simply lift out the circuit board. Then put in the new board, put the top back on, remount and plug it in.
7. Store original logic board in Anti Static bag & packaging that Arduino AFAM board was delivered in.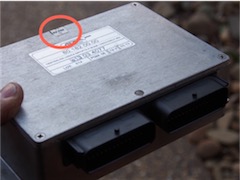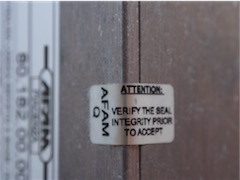 warranty security seal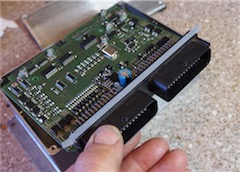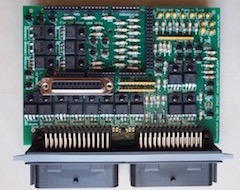 original Logic Control board & Arduino AFAM board
Buy Arduino AFAM
We will be able to offer a limited number of fully constructed and tested AFAM upgrades by mail order only, either as a PCB to put in your original AFAM cases, or as a complete unit in its own case. This is a niche product and at this stage is being individually constructed on a non-commercial basis, and will be made avaliable to order under the proviso it is for "off road use Only".
Caveat Emptor, Be aware that as with any DIY modification your Iveco Warranty may be affected, consult your Iveco Dealer for clarification.
The AFAM Replacement board is fully constructed and tested & is supplied with attached & pre programmed Arduino Due Controller, the optional PTO facility adds extra components onto AFAM board if required, this adds PTO functionality and is only necessary if your vehicle has a factory PTO option. Aftermarket PTO do not require this option. Optional diecast alloy enclosure identical to the original can be supplied if you do not want to void the warranty on your original AFAM by removing the security seal.
AFAM upgrade PCB AU $435.00
Optional PTO facility $30.00
Oprionat 9 Axes Motion sensor $50
Optional Aluminium Enclosure to suit $65.00
(Plus packaging & express post )

Options in Development
LCD Montitor , TFT touch sceen, Temperature & current sensors .
Avaliability late July / early August 2017 click to order
Road Testing

New "Rear Diff Lock Only" function Centre, Rear & Front diff lock test


Centre diff lock with speed drop out disabled Activate 3 x Diff locks plus auto disengage & ABS OFF
Additional Functionality
The Arduino controller uses only a fraction of its processing power in the upgrade has the capacity for additional functionality which could be used for monitoring purposes, such as pressure and temperature.

A short video from Marcus Tuck showing the new AFAM in operation with a remote LCD.
---
Iveco Daily Links