(click any image below for enlargment)
The next generation 4x4, you saw it here first !!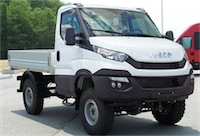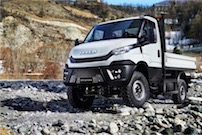 Left, photoshop concept by Goingbush, may 2014.... Right, Official pre release image of new truck, April 2015
More Iveco 4x4's in Australia
---
---
Neil sent me some photos if his Single Cab 55S17W,
Neil says …
"My body was done by a truck body builder in Brisbane and is fixed directly to the chassis without any flexible mounts. The engineer insisted. I have a full-size walk through, front passenger seat swivels to be used at the dining table with the 2 legal passenger seats in the camper. Double bed at the back with storage under, shower and wc, full kitchen with 180 L 2 draw fridge, 2 solar panels, 3 / 120 ah batteries, 3000w inverter, 260lit of water. I have more kitchen bench space then my sisters 19 ft. van.
I have done just over 19,000 km and the standard tyres will be lucky to do 40,000km, I am running 80psi in the front and 100psi in the rear."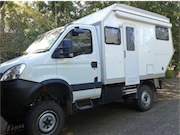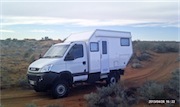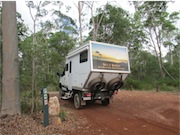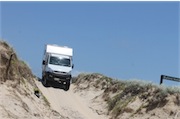 Fuel tank, I have found that I can fill the main tank from the reserve while on the move but as you say it does not register on the gauge. But if I transfer more while stoped it will then measure all the fuel in the tank. I don't know yet how much fuel I have to transfer wile stoped for this to work. I put my reserve tank where the spare tyre was about (180 l) I have both fillers on the same side of the vehicle.
I did extend the diff breathers up under the bonnet and into the rear body storage area but used the standard breathers. I to have had the rear pinion seal replaced and rear of transfer case. And lots of other issues
I too have found shortcoming in engine braking, I thought it may be a problem with my truck. I now know better.
My first run in trip was across the Simpson desert and since then we have been to tip of Cape York. Could not travel the old telegraph track due to low over hanging trees. I have now added aluminium angle above the awning and full length of the roof both sides to hopefully prevent losing the solar panels to low tree branches
I have kept the steel bumper bar but added a tow bar to the front to fit a "back to front winch".
---
Pictures of Dual Cab Iveco 4x4 and Cell Homestead caravan spotted in Broken Hill
courtesty Chris R from Caravanners Forum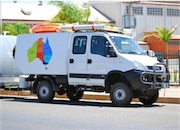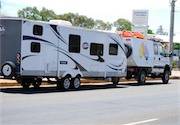 I dont know whose rig it is but its a great setup, I like the idea of moving your house to a new base then touring / exploring and camping out from that base.
---
This is Jim Bendons Iveco.
I have done 11000k, and I am very happy with it. The only small issues are self inflicted, transerring fuel rear to front has been a bit tricky, as the Iveco fuel gauge only registers an increase in fuel if you are stopped - and my transfer pump was wired to only work while I was in motion - so that didn't work. It was also syphoning a bit from rear to front, so we fitted a solenoid as well. Small stuff based on the mods I speced moreso than the Iveco spec. I also fitted a fuel separator/filter in front of the front tank, before the lift pump, and I am considering putting one after the rear tank as well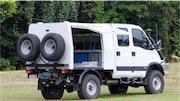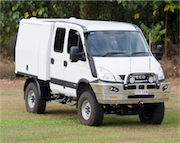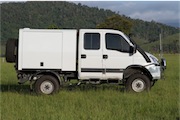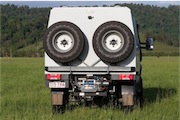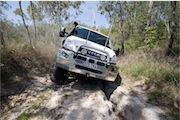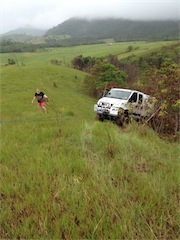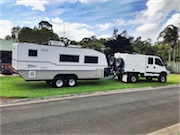 images courtesy Jim Bendon (via Flikr)
The big winch works well, I put it over the side of a very steep gully and it winched out easily - just way too wet and slippery to even be up there, but anyway you have to find the boundaries ha ha. No damage, but very scarey, we slid about 50 meters backwards with the wheels still driving forwards. It was hard to even stand up where we stopped. Never mind.
I am not happy with the front end, and I want to work on the shocks and stabilizer bar in time
The van weighs 2700kg totally empty and there was no weight issues at all, wich was reassuring - the main reason for the Iveco was GVM and the van - the cruiser just runs out of GVM and wouldn't have been legal
My front diff lock is very very hard to engage no matter how I do it, I can get in the centre one, and the rear one but the front stuffs around for ages and most times just wont go in
While in Brisbane I got a second fridge - now there is an 80 lt and a 125 lt National Luna. The thinking is firstly, to support the van, and secondly, when we go bush the beer and food also comes. Seems to work very well, I run the 125 lt at -18 degrees and the 80 at Zero.
I fitted a new radio as the factory one is crap. A basic Alpine, much easier to use, better sound, and the main thing was it has additional inputs sockets (usb, Ipod etc) and a far better Bluetooth
Only other thing is the breather on my rear tank makes for a slow fill. But I have to say the boys at Travel Trucks are straight onto any issues and get them sorted. I expect a parcel today with the new breather..
---
Blueys Truck,
looking good in Desert Sand
We intend fitting one of Kym's Scrub Master pods, all going to plan will start fitting 2nd week in March, when complete will send photos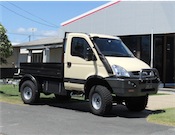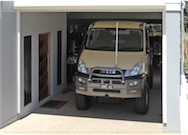 The unit fits nicely into shed (80mm to spare on top of cab) all going to plan won't spend too much time in shed
---
An update on Bluey's Truck, He has now got a TravelTruck Scrubmaster camper pod installed. Looking good Bluey.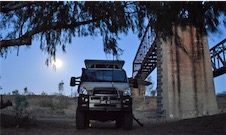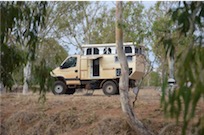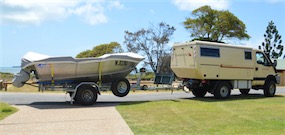 ---
Adrians Build-Up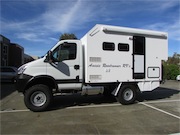 Complete !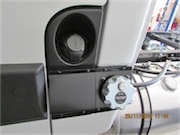 I'm in the process of having a camper built on my single cab. Have done some basic work myself like repositioned the additional fuel tank from the r/h side (Ridgeline fitted) to the l/h side as I like to fill them both from the same side.
As my wife and myself found it difficult to get safely (old Farths) in and out of the cab, I fitted grab handles for the left hands to grab, very easy now.
Buy handle as shown at Bunnings. Cut and flatten the two ends. Drill 4 holes. They are ready now to fit. Remove seat belt bolts on the door column, remove trim, position handle at a location where its convenient and four holes can be drilled and Rivnuts can be inserted. Mark holes and drill to size of Rivnuts. Insert and collapse Rivnuts. Mount handle. The trim needs to be modified to fit over the handle. Hold trim in position and mark where you have to cut two half moons out of the trim. Modifiy trim using rotary drill. Reassemble trim and seat belts. Repeat on the other side. A lot easier now to get in and out of the cabin.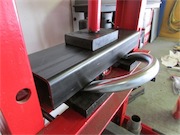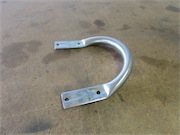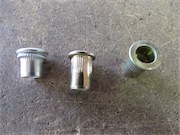 flatten about 90mm drill 4 x 6mm holes use 6mm rivnuts the 'rivnuts'( or 'nutserts')
Next was a spare wheel carrier for two spare wheels lifted by a cheap winch, which I can also use for winching myself back out should I ever have to do so. (had a Isuzu NPS4x4 before, done 100'000kms in 4 years, had no winch and never needed one).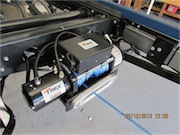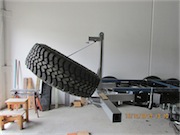 Next was a base for the subframe, spring mounted and sitting on 15mm nylon strips. The truck is now at a body builder to have the rest done and should be ready to go touring in about 3 months time.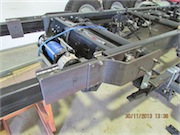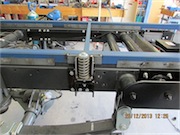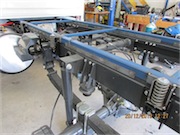 The bolts and springs are at the moment only temporary as there will be cross members welded in between the rails and then joists for the floor on top of that. I get the body builder to weld all that as he will do it on a jig to minimise distortion. The extension for the spare wheel carrier conforms to the 60% rear overhang rule.
Adrians update 18 May,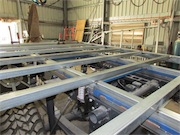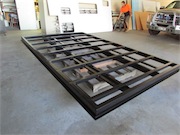 Spring mounted subframe build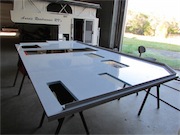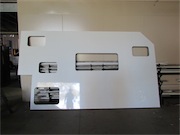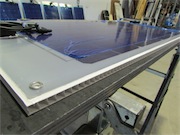 Thin solar panel glued onto10mm Corflute for some airflow, box ready to fit walkthough.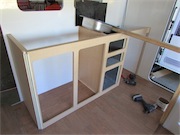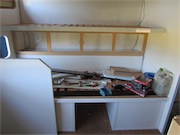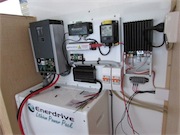 Walkthrough, Kitchen, Bunks and Lithium battery setup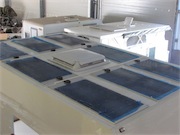 The eight solar panels are flexible 100w monocrystaline panels (ebay) , produce more like 640w.
Adrians update 8 June,
1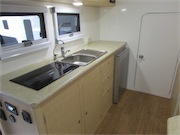 2

3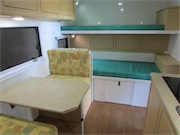 4


5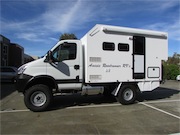 6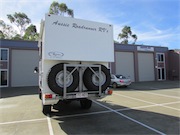 7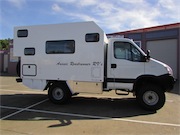 1, Kitchen with Diesel Cooktop Door for walk through to cabin
2, Toilet door on right
3, Seating and bunk beds
4, Toilet, no shower. Shower outside only
5, 130 lt diesel tank up front and 200 lt water tank on the back.
6, Spare wheels can be winched up and down
7, Storage box up front and 200 lt water tank on the back
---
Jasons Truck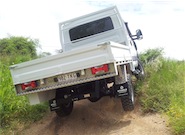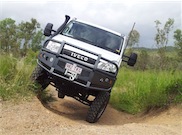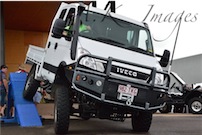 Jasons Iveco in a flex ramp challenge, RTI score 383 (would do even better loaded)
---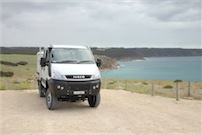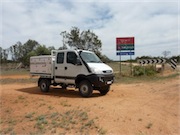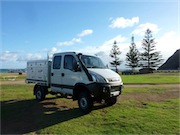 ---
Wayne & Jenny's Simpson crossing
Hi all,
We have just arrived home after completing the Madigan Line in the Simpson in our Iveco 4x4.. We travelled via Port Augusta, the Oodnadatta track, Mt Dare to Old Andado then the Madigan Line to Birdsville. We came home via the Flinders Ranges. Perhaps the first Iveco 4x4 to traverse the Madigan, and Skytrek on Willow Springs Station?
The Iveco performed faultlessly, climbing large dunes with ease and no wheel spin. We averaged 15kph over nine days, and used 26 litres per 100 in the soft sand. Only problems were a fuel leak from the aftermarket fuel tank, and now unable to pump fuel from the auxiliary to the main. The fuel pump is working, we suspect it may be a pickup fault in the tank. Will investigate further this week. We did also lose a headlight protector on the top of Skytrek due to 100kph odd winds.
Barnesy in the Birdsville Roadhouse said he had never seen an Iveco 4x4 before. We have only bumped into one other on the road so far, a sand beige dual cab in Glen Innes on one of our trips to Brisbane.
We were accompanied on our journey across the Madigan by a film crew from Lifestyle Videos who will produce a DVD of the trip later this year, and there I'll be an article in Overlander Magazine also. No doubt this will prompt more Iveco sales!
... Wayne & Jenny.
---
---
Travel Trucks
I recieved some very nice artist sketches, from Kym Bolton, of the 3 ScrubMaster units available from TravelTrucks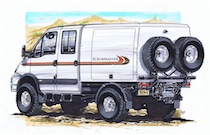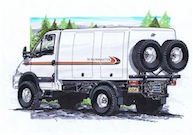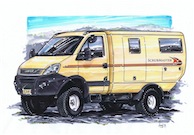 1. The ScrubMaster Explorer, an all fibreglass one piece construction with gull wing doors. Available on the Single and Dual Cabs from end April.
2. The ScrubMaster Expedition, a fully self contained camper. One piece fibreglass module plus fibreglass pop-top roof. Full size double bed, shower/toilet, 1.4m kitchen bench, fridge/freezer, diesel hot water/air, seating for two + table,heaps storage, solar panels, etc etc etc. Optional cab access
Single Cab version demo will be finished end April.
A Dual Cab version will be mid 2015
Launch will be at the Brisbane caravan & Camping show 4-10th June
---
---
Your Iveco, not already intimidating enough ?? wonder if this kit would void my warranty ??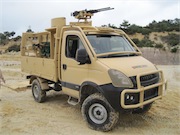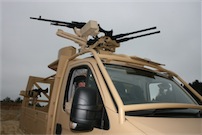 ---
Read all about it !!! Compleat Idiots Guide to Iveco Daily 4x4 55S17W (buy the book :)
Iveco Daily Links
more to come soon, any hints, tips, photos or contributions welcomed email them here !