Hot Link ... highlighting Transfer Case Issues on the Iveco Daily 4x4
---
No Fixed Address
Been talking about living on the road, now we are doing it.
Have put our underground cable locating business on hold and no immediate plans to come back.
We set up this webpage a few years ago for family and friends to keep track of us whilst on expedition in our Land Rover
Use the menu bar at the top to navigate the site
The
menu button (at the top of page, above) contains the Spotwalla map showing our route & track info which auto updates every 10 minutes when we are on the move.
---
Apologies
We are still travelling but have taken a rest from writing the blog. Instead Val has been writing books, first an Autobiography, then The Magic Rock an awesome childrens book. Her first Novel Enya a Time Travel, Scottish history, romance, not a bad read actually. Latest novel is Enemy on Home Soil, an adults Action / Drama.
They are avaliable for purchase as softcover and pdf on Blurb and Amazon soon.
Quick Link to buy The Magic Rock Excellent kids book.
Quick Link to buy Enya Not a bad read, a quite different Scottish time travel romance!
Quick Link to buy Enemy on Home Soil, PDF
and paperback in Amazon and many online bookstores, Enemy on Home Soil, Paperback ISBN: 978-1320478311
---
and I did one on the Iveco :) Compleat Idiots Guide to Iveco Daily 4x4 55S17W
---
Latest Blog Entry (from Last Year)
Tuesday 14th October, Lake Somerset, Qld
We left Munduberra early and headed South to Durong then East to Wondai then South to Memerambi and Kingaroy, the famous peanut country. DrIving into Kingaroy we got our first taste of the suburbia that we had managed to avoid for so long. It was incredibly busy, cars going every which-way. We negotiated our way through the town and found the road East……then kept going. We just couldn't handle all the traffic. Consequently, we didn't take away a lot of memories of Kingaroy, except the beautiful red earth in the fields and the Peanut Vans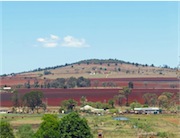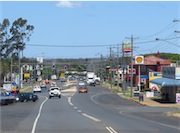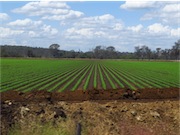 We arrived in Nanango where we stopped for a break. It was a nice town with a number of eating places. We chose a nice looking Coffee Shop and ordered lunch, which turned out to be really good, especially the coffee. After lunch we took a look around the town, stopping at the Peanut Van near the river. We couldn't leave this area without buying some of their famous peanuts.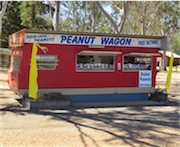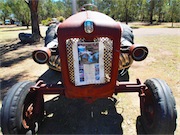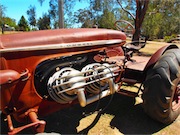 We continued on to Yarraman then Blackbutt through the extremely picturesque Blackbutt Ranges. It was still too early to stop for the day so we continued on to Kilcoy. There was no Caravan park in Kilcoy but a small area near the river had sites available. We went by there but there were a number of vans there already so we decided to push on. The only place that looked like it might have a Caravan Park was further South at Lake Somerset. We were entirely out of luck for roadside camping now that we were this close to the East Coast and in the ranges.
We headed South for Lake Somerset about 20kms on, not knowing what we would find there or if camping was allowed. We were in for a very pleasant surprise. The camping grounds at Lake Somerset were quite extensive and set in amongst a natural bush setting. There was one powered site left but we opted for the unpowered, park anywhere arrangement. The campground was relatively busy down one end, with only a few tents set up amongst the trees at the other so we were very lucky to find a great spot over-looking the water and away from the tents. It was just like a campsite in the bush, except we had paid for the privilege…..money well spent.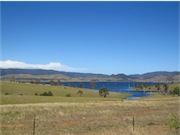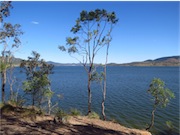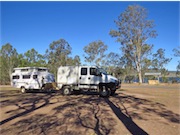 Wednesday 15th October, Bribie Island, Qld
After a really good night we headed back into Kilcoy and then acoss to the Coast to Caloundra. After spending a couple of hours here we headed South then out onto Bribie Island.
Bribie Island is one of those places where you can completely relax and just chill out for awhile, so here we will stay until moving on further South at the end of October. With a gentle surf beach, great bike paths and plenty of good eating places we are looking forward to 'living' here for a couple of weeks.
I will be making this my last Blog for awhile as there is very little I could write about the would be of interest to anyone. We are now getting out of our comfort zone………….more traffic, more people and less animals.
We will be in Sydney to share the New Year Fireworks with family then will be heading off again, but not sure where yet. No need to plan, life has a way of unfolding just as it is meant too.
Best wishes to all, we will catch up on our next adventure.
---
Iveco Daily tourer
Anyone interested in the rig can check this page about our Iveco Daily 4x4
---

---
&nbsp
---